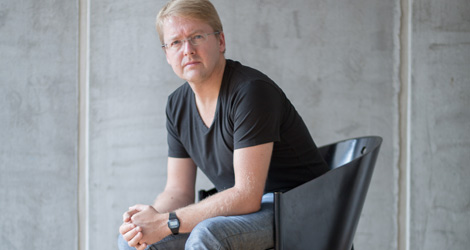 LWE got in touch with Fabrice Lig to find out more about his new album album, his early days of clubbing in Ghent, and what he has gained from more than 20 years in the business. He also put together an exclusive mix for us that is his personal homage to the Detroit sound that has kept him inspired all these years.
Continued »

Little White Earbuds Presents Ital
LWE sat down with Ital recently to chat about Sustain-Release and his latest album Endgame, and he provided us with a recording from the festival.
Little White Earbuds Presents Sendai
When Sendai offered LWE the chance to provide their set from Berlin Atonal 2014 we jumped at the chance. Read the duo's description of that night and their set then listen along.
Little White Earbuds Presents Norm Talley
LWE got in touch with the veteran DJ to talk about his upcoming projects and the incredible amount mix tapes he has recorded over the years. He also kindly gave us an exclusive mix of some of his favorite producers from Detroit and around the globe.

Little White Earbuds Presents Rrose
In anticipation of her appearance at the Sustain-Release festival this weekend, LWE caught up with Rrose for a brief chat about gender and presence, and she sent us a sterling mix of mind-bending techno.
Little White Earbuds Presents MMM
LWE recently put some questions to MMM and found out more about their approach to making music, Erik's involvement in creating soft synths for Native Instruments, and what each of the producers have in store for us with their solo projects and as MMM. They also gave us an advance preview of their forthcoming treats with an exclusive mix of their own work and that of some of their favored peers.
LWE Podcast 200: Prosumer
There is no more suitable capstone for LWE's podcast series than a mix from Prosumer, who rose to the occasion with a fun and funk filled 75 minutes I've been dreaming about since starting LWE.
LWE Podcast 199: Gerd Janson
Gerd Janson last spoke to LWE as part of a Talking Shop interview in 2010, and kindly carved out some time to chat with us again from his home in Lorsch. He offered insights on his soft touch A&R style, how his DJ/critic side influences the music he's making, and his personal connection with every Running Back reissue. Janson also mixed together LWE's 199th exclusive podcast, nearly 90 minutes of musical bliss we've been looking forward to for a long time.
Curator's Cuts 36: Steve Mizek
LWE's editor-in-chief Steve Mizek compiled Curator's Cuts 36. We will post the tracklist later in the week, as the curator discloses and describes it as part of the podcast.
Talking Shopcast with Acid Test
LWE reached out to find out where Acid Test label owner Oliver Bristow is coming from and where he's aiming to go. Acid Test's most frequent artist (and LWE fave) Tin Man returns to add a killer exclusive DJ mix, as well — Talking Shopcast 21.

LWE Interviews Marcus Mixx
LWE recently met up with Marcus Mixx, one of Chicago's underground house heroes, to discuss the origins of his productions, his short stint managing Trax Records, and where he's at today.
DJ Debriefing with John Osborn (Includes Exclusive Mix)
John Osborn reached out with an exclusive mix recorded at a secret location in Tokyo, so LWE decided to catch up with this sought after selector.
Little White Earbuds Interview Francis Inferno Orchestra
LWE caught up with Francis Inferno Orchestra via email to learn about dealing with success, his new label, Superconscious Records, and leaving home.
LWE Interviews Ashley Beedle
In a long conversation with LWE, a passionate Ashley Beedle talked about working with Horace Andy, the similarities between house music made in the 90s and the recent revival house sound, and why he's enjoying his new residency at London's Notting Hill Arts Club.
Little White Earbuds Interviews Efdemin
Phillip Sollmann's work in computer music and drone under his birth name has long been distinct from his career as a DJ called Efdemin, but with his latest album, Decay, the two worlds are becoming ever closer. LWE talked to him recently about the merging of these two worlds, the Internet, and the history of electronic music.
Little White Earbuds Interviews Huerco S.
LWE caught up with Huerco S. in advance of his appearance this Friday at Unsound New York's Mutual Dreaming party to talk about naivité, jungle, and just who exactly he is.
LWE Interviews Francis Harris
LWE interviewed Francis Harris via email to find out more about the thought process behind his complex sound design, which influences poked through on the album, and the ethos of his Scissor & Thread label.
LWE Interviews Samuel Kerridge
In the wake of his A Fallen Empire album for Downwards, Little White Earbuds caught up with Samuel Kerridge over e-mail to discuss its genesis and much more.
DJ Debriefing with DJ Sprinkles
Always outspoken about her experiences and processes, Thaemlitz spoke with LWE via Skype in advance of a tour for Francis Harris' album release, and more immediately before her gig at Oval Space on October 25th.


Little White Earbuds April Charts 2014
01. Alex Israel, "Colugo" [Crème Organization]
02. Zsa Gang, "B1″ [Off Minor Recordings]
03. Tristen, "Streets Of" [Aim]
04. Johannes Volk, "Glare" [Tief Music]
05. Losoul, "Daddy, What's a Rise?" [Hypercolour]
06. DJ Koze, "Amygdala" (Roman Flügel Remix) [Pampa Records]
07. DVS1, "S.O.S." [HUSH]
08. Rick Wade, "Cloud Envy" [Third Ear Recordings]
09. Todd Terje, "Oh Joy" [Olsen]
10. The Central Executives, "High Roads" [Golf Channel Recordings]