Speckbass by DJ Fett Burger and DJ Speckgürtel is certainly worth hunting down wherever it can be found — a special 12″ that integrates many of the signatures of the Sex Tags label family.
Continued »
Family Vacation is a different beast than Axel Boman's 12″s, and he clearly enjoys stumbling and slurring more than the briefer format allows.
Continued »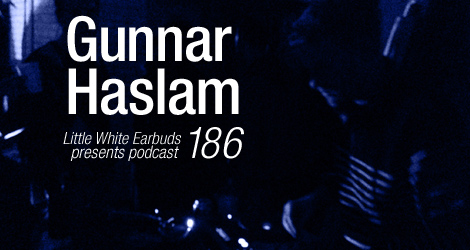 LWE Podcast 186: Gunnar Haslam
Without any real information on Haslam, LWE sought to unearth some vital facts about the New Yorker and charged him with putting together our 186th exclusive podcast. The resulting mix is 85 minutes of top notch techno that reflects both the dance floor and more cerebral sides of Haslam and is a vital listen no matter what your personal preference is.

LWE Podcast 185: Vester Koza
LWE went in search of one of 2013′s most promising new arrivals to get the low-down on the method behind his work. He also mixed together our 185th exclusive podcast which is a mesmerizing, deeply submersive experience in late night techno and house music.
LWE Podcast 184: Benedikt Frey
LWE quizzed Benedikt Frey on his approach to music making, if having his own label gives him more freedom in what he releases, and whether we are likely to see a full length album from him soon. He also gave us our 184th exclusive podcast made up of scintillating exclusives and forthcoming tracks that shows his mastery in the studio also extends to the DJ booth.
LWE Podcast 183: Austin Cesear
LWE sought out Austin Cesear to find out whether his other projects were still active, how his jammed approach drives his sound, and if he feels any pressure to follow up his hugely impressive first release. He also provided us with our 183rd exclusive podcast, an hour long journey of house and techno to sate even the fussiest of tastes.

Curator's Cuts 31: Brandon Wilner
LWE's assistant editor, Brandon Wilner, compiled Curator's Cuts 31. We will post the tracklist later in the week, as the curator discloses and describes it as part of the podcast.

LWE Interviews Samuel Kerridge
In the wake of his A Fallen Empire album for Downwards, Little White Earbuds caught up with Samuel Kerridge over e-mail to discuss its genesis and much more.
DJ Debriefing with DJ Sprinkles
Always outspoken about her experiences and processes, Thaemlitz spoke with LWE via Skype in advance of a tour for Francis Harris' album release, and more immediately before her gig at Oval Space on October 25th.
DJ Debriefing with Edward
In anticipation of his gig at Smart Bar this Saturday alongside Oskar Offermann, we spoke with Edward about the records which make his sets special for himself and his audiences.
Catching Up With Luke Slater
In anticipation of his appearances at Output for The Bunker on Friday, September 13th and Smart Bar for Oktave on Saturday the 14th, LWE sat down with Slater recently for a quick chat about his new album, techno's multicultural roots, and getting billed under his birth name.
LWE Interviews Marcel Fengler
LWE caught up with Marcel Fengler recently to chat about making Fokus in Thailand, ballet, and his DIN project with Efdemin.
LWE Interviews Schwarzmann
LWE caught up with Henrik and Frank via Skype to discuss the roots of the project, why they value improvising, and if or when we can expect Schwarzmann releases.
DJ Debriefing: DVS1
In advance of back to back gigs at Output NYC this weekend, LWE got in touch with DVS1 to have a peek in his record bag and thumb drives.

LWE Interviews Jared Wilson
LWE caught up with Jared Wilson via e-mail to discover the history, method and mentality behind his prodigious output.


Little White Earbuds October Charts
01. R-Zone, "Romijn Ravine" [R-Zone]
02. John Barera & Will Martin, "Reality" [Dolly]
03. Gerstaffelen, "Game On Major" [M>O>S Recordings]
04. Deetron ft. Ripperton & Cooly G, "Thinking" [Music Man Records]
05. Berg, "Vakuum" [Berg]
06. Benedikt Frey, "Seven Corridors"
[Love Pain Sunshine & Rain]
07. TCB, "Monogamie" [Die Orakel]
08. Tin Man, "Hack" [Pomelo]
09. Deepchord, "Tantra" [Soma Quality Recordings]
10. Signature Series, "Canopy" [Bad Party Records]