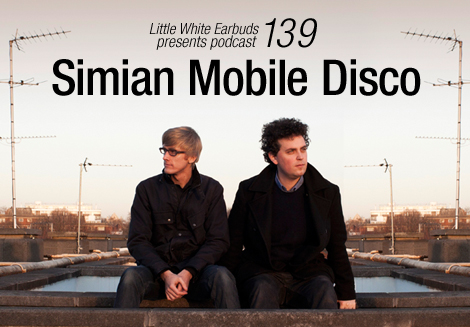 Undoubtedly one of the biggest electronic acts of the 00's, James Ford and Jas Shaw started Simian Mobile Disco as a DJ side-project to the band Simian. After an impressive run of remixes, it would be a remix of Simian's 'Never Be Alone' single by Justice that would vicariously help raise the awareness of the outfit as well as propel the French duo to frantic stardom and a rush of media-led Daft Punk comparisons. The SMD singles "Hustler" and "It's The Beat" lead the way towards their debut album Attack Decay Sustain Release, which helped cement the reputation of the pair and send them to the fore of electronic, crossover mass appeal. With Ford's production work for many of the most popular indie bands at the time and SMD holding court as remixers-du-jour, it was hardly surprising that sophomore album Temporary Pleasure would reflect their achievements. The vocal-heavy album spawned several successful singles and charted around the world but ultimately felt like duo were still on the clock for someone else. Following the album the pair started stripping things back to a largely instrumental sound, swapping the pop structures for classic house and techno tropes. Releasing these EPs on their own Delicacies label and reducing their remixing work to a trickle, they issued Unpatterns in May of this year and the album showed the focus of these studies. Little White Earbuds spoke to James & Jas about the evolution of the group, new EP A Form of Change, why they gave away free downloads of their latest album, and severed spinal columns. When it came to putting together our 139th exclusive podcast, the duo pulled out all the stops, leading us on a wonderfully dark and seductive trip through late night house and techno.
LWE Podcast 139: Simian Mobile Disco (73:06)
Audio clip: Adobe Flash Player (version 9 or above) is required to play this audio clip. Download the latest version here. You also need to have JavaScript enabled in your browser.
Tracklist:
01. Four Tet, "Peace For Earth" [Text Records]
02. MMM, "MMM Meets Tshetsha Boys" (SMD edit) [white*]
03. Hounds of Hate, "Purple Stuff" (ZODA CADE remix)
[How The Other Half Lives]
04. Forward Strategy Group, "Nihil Novi" [Perc Trax]
05. Tin Man, "Falling Acid" [Keys Of Life]
06. Joachim Spieth, "Sensual" [Affin LTD]
07. Tuff City Kids, "Begger" [Unterton]
08. Shake, "Sonar 123" [Peacefrog Records]
09. DBX, "Losing Control" [Accelerate Records]
10. Sei A, "Paraphaze" [Turbo]
11. Dieptepunt, "Feeling Deep" (808 Mix) [Dieptepunt]
12. Roman Flügel, "O.T.H." [Live At Robert Johnson]
13. Skudge, "Convolution" [Skudge]
14. Alden Tyrell, "Rush" [Clone Basement Series]
15. Cosmin TRG, "Vertigo" [50Weapons]
16. Mobius & Beerbohm, "Doppelschnitt" (SMD edit) [white*]
17. Jim Rivers, "Phoenix" [Intec Digital]
18. Simian Mobile Disco, "Wooden" (version) [Wichita*]
19. Kuedo, "Whisper Fate" [Planet Mu]
20. The Mole, "Shifter" [Maybe Tomorrow]
* denotes tracks which, as of the time of publishing, are unreleased

I understand you guys just got back from Ibiza.
James Ford: Yeah we did, so we're having a bit of a chill day today. We were playing at Space and did our first every live show we've done out there so it was really good. Usually we just DJ there because the live show is a bit more of an undertaking, having to move all the gear around. We use a lot of real gear, a modular synth and lots of bits so moving it around just for a one-off show doesn't necessarily make sense a lot of the time. We usually do a light show too but we didn't take the lights over, just to make it more feasible really. But it was a lot of fun.
Playing somewhere like that must be very fun. Over the years I guess you've seen a good deal of exotic locations and cool festivals. What have been some of the more memorable ones for you?
Jas Shaw: In terms of actual festivals I think the bench mark for us is always Glastonbury, which we've played at several times, but the stuff that we're doing now is incredible. Last year we played out at this amazing festival in Japan, right out in the woods in the middle of nowhere. So I think big festivals can be great but the little ones are a bit more intimate and very cool as well.
I was looking at your website and it looks like you've got a pretty heavy touring schedule. How often are you playing and how much time off do you get?
JF: We tend to play, or at least DJ about three times a week really. Sometimes we'll take some time off to do some production or to do some work with other people but generally we're pretty busy. Then on this tour, we're going to be hitting up a lot of different countries and continents, except maybe India and Africa.
LWE: Well tell you what, you get Damon Albarn on the next album and maybe you can do Africa too. (laughs)
JF: Great idea. (laughs)
The last time we spoke (I think it was with you Jas) it was when Temporary Pleasure had just come out. On the making of the album you said that you'd sent out a bunch of tracks to vocalists to see if they would be interested in working on it and they all said yes. Your latest, Unpatterns is noticeable for its lack of vocals. What was the plan for this album?
JS: It was to not do that (laughs). I mean the thing is we're always looking for that point in a track where we sort of lose control of it, and with Temporary Pleasure that definitely happened in terms of the vocal process. A lot of them were already instrumentals that we were playing out, to test them, but then when we got vocals on top of them they really took on a new life. The way we worked with those vocals is that we were pretty nice to them. We didn't chop them up or anything like that. I think maybe we treated them with more respect than we should have done. In doing so we fitted the music around the vocals, and with a verse/chorusy music structure you end up with a verse/chorusy track structure and we were very conscious that that was not what we wanted on this record.
I think we'd been playing more and more instrumental techno, but when we put vocals in they don't sit in the forefront so much, so it was one of things where we knew we wanted to use some vocals but in that traditional verse/chorus kind of way. It actually took a long time to work out how we were going to integrate them and we had lots of false starts and messing about. But once we got into treating them more like synths and looping them up and running them out through synths and all that kind of stuff, it just kind of meshed again and made sense. So I suppose from the outside it looks like a massive detour for us but it's not really; we're just treating things in a slightly different way.
Looking back at Temporary Pleasure do you feel the essence of SMD was diluted a bit by having so many different guests on there?
JF: I think it was a bit, yeah. I think we fell into the trap of making a producer album rather than it being our own album and that was the main remit for this album, to just make a record that we really liked and one that was really us, and I think to that end it's probably the album that we are most proud of out of all of them. I don't think we'd write off using vocals again in the future but I think we'd just be a lot more careful about it. Because I think it ended up being quite opposed to the our original idea of the whole thing.
It must be quite hard because I guess to put it bluntly, you came up on the back of a huge indie/dance music explosion. So you've got a huge base of your fans who love that almost-band aspect to what you do, so the reviews of Unpatterns have reflected that, some saying it's a brilliant piece of what you do best, others bemoaning a lack of vocals.
JF: I think we always knew that was going to be the case though. I mean for us to carry on making music we've got to be able to make something that we like so we can't spend too much time thinking about what it is that other people want from us, do you know what I mean?
Yeah.
JF: We've kind of taken it on the chin and some of our old fans will come with us and some of them won't, but that's just the way it has to be I suppose.
I understand on the day of release you actually made the album available free for download. Why did you do that?
JF: I think we did do that, yeah. I think it was just a matter of making it available really. I mean at the end of the day, anyone with a couple of braincells to rub together can get it for free as soon as it's out, if not beforehand anyway. So it didn't make the label very happy but I think you may as well make it available in a a decent quality for everyone.
Can you tell us a bit about Delicacies label.
JF: I suppose that was a bridging thing between Temporary Pleasure and Unpatterns. We just knew after Temporary Pleasure that we didn't want to go straight back into making an album. It was going back to our roots really. When we first started off we'd make a couple of tracks during the week and play them out in the weekend and that would be that. We wanted to get back to that and back to getting into the studio and experimenting, so Delicacies is a forum for that. Otherwise you just make a bunch of stuff and it doesn't go anywhere so it starts building up and that's not a good thing.
So yeah, the Delicacies thing is kind of a justification of us dicking around in the studio and it's almost a bit of a disclaimer, where we can be a bit weirder and put out stuff that people may not expect of us. We deliberately didn't do any press for it and the intention was to just put it out as a series of twelves but we did end up putting a CD out too… I think we were tricked into that. But yeah that was the intention, because we've got loads of stuff that doesn't necessarily work in an album environment, they're tracks that we make to play out. But going forward we'd like to collaborate a bit more and get some other people on there. I guess it's a bit of a side project for us.
You broke from the gastronomic theme with the last release for the Psycatron release. Was it always the plan to have others on the label?
JS: I think it's definitely something we're going to do more of. I think when we put tracks out on the label we'll keep up the horrible food theme but the Psycatron track was theirs so we couldn't force them to use a stupid name. But yeah, I think similar to that release, maybe have someone else do a track and we do a track and then do some kind of collaboration or something like that. I think we'd like to keep it moving like that because it's always fun collaborating with people you like.
So what is a nerve salad?
JS: I think it's slices of spinal column.
Oh Jesus. That's lovely.
JS: Yeah I think that's a translation from a South American thing, something like that.
OK. Your "Love Ain't Fair" track from the album sounds very much steeped in the current strain of bass influenced house music coming out of the UK. Which of these artists have been exciting you?
JF: There's loads of great British people around at the minute. I think the obvious ones like Boddika, and Untold. Blawan and Lone, they're all making some of the most interesting techno kind of stuff out there at the minute so it feels like a great country to be in right now in that respect. I mean we're conscious of not wanting to just jump on board that whole thing but it is very exciting music.
So we're not necessarily going to see SMD come out on Hotflush under a different name then?
JS: Well I think that under a different name thing is something we're considering doing actually because it is quite refreshing not to have all the baggage associated with us. Like, I read somewhere that Dixon's been playing one of the tracks off the album and had put it in a top pick list or somethi. What he wrote by it was that everyone had been asking him what the tune is and he says it's us and they say, "No, who's it really by?" (laughs) So obviously there are a few preconceptions in the other direction like we were talking about earlier on. So yeah I think the pseudonym thing is a good idea just to get away from all that stuff.
Individually have you both been keeping busy with other projects as well?
JF: Actually there was a period where we were both really busy trying to produce and write for other people as well, and especially when you're doing a lot of DJing too it gets really intense. So we made a decision to step out of doing things for other people just while we were doing this record. But now that it's out, once we've stopped touring I think we'll get back into it. Because it's a very different way of working and it's quite inspiring to jump into other people's processes and get involved in that.
Can you tell us about the new single A Form of Change.
JS: All the stuff on that EP was all part of the sessions for Unpatterns. A few of them we actually tried to fit on the record and it just ticked it over to about 80 or 90 minutes and that was just too long for an album. These days one of the things people moan about with albums is that they're irrelevant because people just pick and choose [which tracks they want], but the flip-side to that is that it takes the pressure off the album. You can still put together an album that is cohesive and works as a single entity and then know that if you've got a stack of extra material, which god knows we do, you can put out a couple of extra EPs or singles and it's super easy to get it out there. So these were tracks we wanted to release but didn't necessarily work with what we'd done in terms of the album being a cohesive thing.
What can you tell us about the mix that you've done for us?
JS: It's pretty representative of what we play but if we get to play a bit more of an underground situation. I guess it's either a late night or earlier on type mix. It's not a super banging mix, it's a bit deeper and a bit weirder and it's the kind of stuff that we like to play when we get the opportunity.
I noticed that some of the places you're playing on tour are quite different to each other. Will this change the sound of your live set much?
JS: Well they are all live sets so that makes things quite flexible, and the point of it is that we can adapt and change things up, strips things out and make it more bare bones or fuller if we need to. So I'm sure they will be quite different and it's good to be quite flexible. I mean we were playing at the discotheque at Space the other night so we had to keep it moving, you know, we couldn't sort of wig out too much.
Cool, so what can we expect from SMD over the next year?
JF: Well there will be lots of touring but hopefully we're going to get back to doing stuff on Delicacies. So there will be some slightly more left tracks and some collaborations. It's all in the works at the minute, so nothings finished. I mean, barely anything's started. (laughs) But yeah, that's what's nice about [the label] is that you don't need a huge plan for it. You just get something done and get it out really fast and it's fun, it just feels much more fun.
And any remixes coming up?
JS: Well we just did one for John Tejada.
Oh yeah, the "Orbiter" one.
JS: Yeah, and he's done one for us in return. But apart from that we haven't really been doing any remixes but I think we're going to start getting back into that again. It was really fun doing that track so if anything else pops its head up then we'll definitely do a few more.