Photo by Pekka Heinonen
Few artists come from as genuine and distinct a perspective as Finland's Aki Latvamäki. In his bio he speaks of dirt, and in the following interview, he speaks of love. Working at the distant boundaries of what can only ostensibly be described as "tech-house," Latvamäki (who also records as Artificial Latvamäki) offers up sounds that are more closely tied to experience than invention. Latvamäki's esoterically titled tracks have appeared on Cocoon's G compilation, Ellen Allien's Fabric 34 mix; EPs for Trapez, Mezzotinto, and Budenzauber Recordings; as well as split recordings with LWE favorite Mark August and Dub Kult on Curle Recordings. Latvamäki is also a member of the "junk percussion" group Transistori, who have recently posted to Youtube a documentary of their live work, Transistori Play Toppilan Tehdas, at the factory of Toppila in Latvamäki's home town of Oulu, Finland. What Latvamäki specializes in is a sound that combines melodic daring, dizzying introspection, and propulsive movement, and this talent is on display both here in this stunning exclusive "mixtape" of unreleased/forthcoming material.
LWE Podcast 23: Aki Latvamäki (51:12)
Audio clip: Adobe Flash Player (version 9 or above) is required to play this audio clip. Download the latest version here. You also need to have JavaScript enabled in your browser.
Tracklist:
01. Aki Latvamäki, "Straightforward" [Morse Recordings]
02. Aki Latvamäki, "We Had Our Good Moments" [*]
03. Aki Latvamäki, "Mandolin" [*]
04. Aki Latvamäki, "It Is Not Now Either" (live in Satiini, Helsinki 2008) [*]
05. Aki Latvamäki, "Bath Tub Of Full Mutated Bees" (live remix in Satiini) [*]
06. Aki Latvamäki, "Äkta Smak Och Sprödhet" (live remix) [*]
07. Aki Latvamäki ft. Eini Pesälä, "Kun Minä Unohduin Ja Se Olitkin Sinä" [*]
*Denotes unreleased track

How and when did you first become interested in making electronic dance music? What led you to start writing and producing tracks?
Aki Latvamäki: This is not the easiest question to answer for me, because it happened a long time ago and it seems I don't have that a good memory. But I remember that somewhere around 1994-1995 I became interested in music with a steady danceable beat. It was my friend who introduced me to artists like Sven Väth, The Prodigy, The Shamen, Westbam, etc. I had previous experience with computer music making with tracker software, so it seemed to be quite easy to me to just change the samples to electronic and go with a techno beat. However this style of music quickly made way for IDM sounds, when I discovered Warp, Rephlex, and IDM in general. I started experimenting a lot and only went back to danceable stuff to amuse myself or my friends. After IDM I got obsessed with electro and computer game music for C64 and Amiga. There was a point when I only did stuff on the old, trustworthy Commodore 64. I also did electro for several years only to find that it was too hard for me to get sounding like I wanted it to be. At the same time I spent a lot of time playing in a junk percussion orchestra, Transistori, and I guess it made me like steady beats again. Also I had been listening to some good techno that was supplied by my friend who had an amazing vinyl collection, but I think it was upon hearing Donnacha Costello's music when I started thinking that I could do that too. Very quickly I did a demo with five songs and sent the first ever demo CD out to labels. Riley from Trapez got in contact with me and asked to have three tracks from that demo, and that's when the techno hell broke loose!
Tell me more about how your first releases came together. Your third release on your official discography is "Curle 001," with Mark August. How did you get in touch with Mark to do that record, and what is your relationship with Curle Recordings?
"Mänty" was definitely the song which made me send the demos out, I just knew that it was better than anything I had previously done. The idea for the song came quite clearly into my head when I was out riding my bike on a hot summer day. While watching the big pine trees and I saw how the drought had made the grass all yellow under the trees. No rain would get to the ground, as the big trees would catch and drink the little water coming down. I remember telling my girlfriend, "Don't you think it would be nice to be able to write a song about that yellow color and how it changes to green, just like you do when you are painting with oil colours? And tell a story of this huge pine tree that would need to take all the water and cause the plants underneath it to dry." With this thought in mind I started writing the song. I took a quite riff-oriented approach to the song — wanting to do it in a way that the main synths would sound and behave a bit like guitars, then layer a psychedelic melody that would "cycle" with the main riff because of a weird time signature, on top of that. Maybe putting it in more metaphorical way: kind of like the riffs would be the tall trunk of the tree and on top of that there would be this huge green canopy with no simple structure or pattern. The vision for all this was so strong that the song was finished quickly. I remember watching out from the window, thinking "this is it!", something that I had been looking for, I had found my style.
Some time after that, perhaps one and a half years or something, Tom from Curle recordings got in contact with me after hearing my first releases and told me about his idea for this split 12″ label. I thought it was a good idea and he paired me with Mark to do "Curle001." The track was well received, though it was a huge effort from my part to get it together. At some point, I ditched almost everything what I had written and left only the main melody and some bass parts, which were all remixed to form the final output. Sometimes you just have to start from scratch and cut everything to tiny pieces to be able to work with it more. I'm very glad now, when hearing "(Song to the) Machine That Built The Sun", that I did it in that way, because it turned out good. It's basically a love song to the solar system for giving me the possibility to live with the greatest girl in the world. She would eventually leave me though, but she's still close to me, and very propably the greatest girl in the world – still. You know, love, is also about letting go and allowing people to pursue their happiness elsewhere, without you. "(Song to the) Machine That Built The Sun" has a lot of important things inside it for me, something that everyone should find for themselves — I don't want to spoil the fun of listening more than I already did!
Tell us more about your influences and your process. It appears that you stake out some musical territory between what's going on in your heart and in your head, and I'd like to hear more about that. Is that a difficult balance for you?
Maintaining balance in life is always a little difficult. But as I say: "It isn't life if it's easy, and it's not water if there's no foam in it." (I tend to like to ironise life with my little proverbs. They are something that make me laugh at everything around me, and in that way make it easier to go on.) Writing out of your heart is not very sustainable development as you never know where your heart is going, but it's the only way to do it right. Music for me is mainly about getting my emotions out and into something you can analyze and dissect. People are my influence. Mostly my friends and loved ones. I would enjoy doing more music with the people I love, because I can't think of a better way to feel and experience a person than to immerse into deep jam session with them, and feel as one.
Processes are bit harder to describe, because every song has their own unique process behind them. But I guess that goes for the composing process as well, that I cannot enjoy something of my own doing until I feel it gives a piece of me to the people listening to it. It's very wearing, but so rewarding. To be able to stand behind what you have done, not in a way that everything should be sounding perfect, but on the contrary, everything should sound like it came from the moment it was made. Moments are the building pieces of music and the perfect song is a accurate and emotional encapsulation of one frozen moment in time. Time is our clay. Time is what we manipulate to create these stories. Musicians make little containers for people to store their own moments into. That's the magic, that's what every musician should pursue.
Your newest release, "Ratts" (Curle 015), has received a lot of great press. It is, for lack of a better word, a unique record, with interesting sounds on both sides. What was the process like for "Ratts," from production to release?
How nice that you like it! It holds a quite bit of emotional content for me and it has also got quite interesting story behind it too. The musical year of 2007 for me was devoted to getting an album together. "Ratts Leaving The Sinking Ship In Nortt" and "Find The Way Into The Heads Completely Alone" were both going to the album. After a really long and consuming process Curle Recordings decided to cancel the album release, and instead picked two songs to be released. And so the "Ratts" 12″ was born. The weird and nice thing about this is that these two songs have been composed in very different moments, but they both deal with issues in a certain aforementioned relationship. And while it might seem that all of my songs draw their inspiration from this, it's not true, these were the only ones from the new songs.
"Find The Way Into The Heads Completely Alone" tells a story about a moment, which must be quite familiar to many of us. The moment when talking and being open isn't so easy anymore, but requires effort from us. When all the promises of openness and sincerity, that were given in the beginning, have been forgotten, and you almost have to be a mind reader to know what's going on. But we were doing great! I remember recording an ambient track to warm up the sound a bit, so I had a microphone wired up to record the sound of my room and speakers (I loved that room's sound!) when all of a sudden my girlfriend rushes into the room and starts talking about her day and how her former teacher has complimented on her paintings and so forth. She was really happy and energetic and she sounded so good! I kept listening to her story and after a while when the music stopped, I told her, "You made it into this song!" to which she replied "Oh no! I didn't know you were recording! I am so sorry, did I spoil it?" "No. You just made it better," I replied. I remember this like yesterday! If you listen very closely, in the second half of the track you can hear her in the ambiance. She did make it better, she gave the song a meaning for me and a soul. That's what I love about music. The accidents that can happen truly make miracles. That's why I use a lot of microphones and record a lot of sample libraries and ambiences. "Ratts Leaving The Sinking Ship In Nortt," on the other hand, is about this relationship as well. The ending of it.
Without my knowing Curle Recordings had chosen a painting, portraying myself, which this same certain girl had painted, to be the cover artwork. And the fact that Curle Recordings picked JUST these two songs to be released! All this made it to be the theme record of the biggest relationship of my life! As you might imagine, it wasn't too easy to do the post-processing work for these songs, as I had just started to get myself back up again after the break-up, which was also the reason that the record got delayed a bit, and the reason that Curle016 came out before "Ratts," which was Curle015.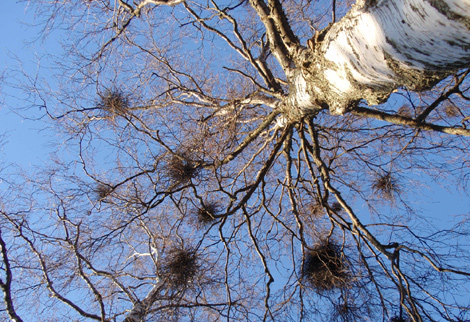 Witches brooms
It's not often you hear about such a deep emotional connection between a techno producer and his work. I don't think I'll ever hear those tracks the same way again; thank you for sharing that story. Do you think any of the unreleased album material will be coming out, or is that project on hiatus? What are you working on now? What do you have lined up for the future?
The amount of unreleased material I have is vast. I'm sure 95% of that will never be coming out, unless I, in some weird mental state, decide to do some "Secret Tapes of Latvamäki" digital release or whatnot. I have played some [of them] in my live sets, but I prefer to give people some "hits" like "Se Tuli Aavikolta" and "Mänty" to dance and have fun to; I'm not really into being too mystical a performer. Playing live should always be fun and uplifting. And I like it when people who are more into 50s rock or something tell me in a bar that they don't really understand what I did on stage but they liked it and have never heard such stuff before. It's a rock'n'roll thing! Haha!
Back to the subject. Unreleased tracks are powerful when you need a new idea. You can take an old one and quickly just turn everything around and pick the best things combining them with the current feelings. Composing should always happen in a fast pace and the right state of mind. Too much sandpapering makes everything dull and meaningless; you need some spikes, some grain, noise, something wrong here and there, a little of "what the fuck was that"-feeling and some good old fashioned distortion. For me, mixing is more about leaving something unmixed than making things sound right. Always remember that perfection is imperfect. If you paint a portrait of a tree, never forget the witch's brooms (the weird fungi that makes the branches grow wildly from one spot), because they are what make the tree AND the painting. Every time I see a tree with those, I think of music and I wonder if anyone else wants to do music because of them.
I just finished working on a three track 12″ for Morse Records, I guess it would be coming out in May or June 2009. And it's going to be named "Mielikutitus EP." This name was [provided by] by my lovely friend Karoliina. She told me she almost typoed the word "Mielikuvitus," which means "imagination," to "Mielikutitus," which means something like "Mind Tickling." With one letter of difference everything is turned around, just like in life, one day, or just one moment can change your perspective about everything including yourself for the rest of your life. I am also working on an EP with this girl who I need to spend time with because of therapeutically reasons, I guess. She's doing the vocals and crazy sound design idea work and some composing, and I take care of the technical stuff; it's going to be wild and weird. We don't have a name for the project yet, and I'm not sure if we have the means for marketing it either, but it doesn't matter. Music and being able to share it with someone else is much more important than getting it released.
I understand that you don't often DJ, but you recently played out as a DJ. How did that go? What was the venue like? What tracks did you enjoy playing? Do you have many live appearances lined up, either as a DJ or doing your live set??
The DJ set went really well, I played a lot of diverse stuff ranging from older electro to new techno and even little shoegazing in the last moments. There's no real club culture here, and perhaps because of that I don't really play records that much. My favourite records… hmm… perhaps Mr. Velcro Fastener, "Laser Squad," Dexter, "Intruder" and The Parallax Corporation, "Autistic Sync." Older disco and electro I guess. Mauno Kalevi is an interesting artist coming from here, however I unfortunately do not have any of his records yet. Naturally there are a lot of important techno records for me as well. Artists on that front who I like to play include Mathew Jonson, Johannes Heil, Marc Houle, Sami Koivikko and Donnacha Costello. I also like to listen to bands like Red House Painters and Slowdive when I'm feeling down. And some black metal when I am eating fish that was freshly ice-fished, haha! I think my musical taste doesn't have genre limitations. Except if you count "getting airtime on radio and TV" as a genre.
The city of Oulu, where I live in, is on the west coast of Finland and there are not so many people living here, a little under 140,000. But we have a strong music scene and a lot of great musicians, and I enjoy working with people who come from different musical surroundings. At the moment I am producing new music for Tuomas Henrikin Jeesuksen Kristuksen Bändi, and as you can hear it's really different from what you expect me to do. Naturally there will be a lot of electronic things going on with the band in the future. I think what we are really doing is breaking a lot of genre boundaries and just having fun with being able to realize all our ideas — even the weirdest ones. I've only worked with them for about a week now, but we are off to a great start and a lot of visions have already emerged to be put into effect. At the moment my live appearances are closely linked to touring with the band, but I wouldn't turn down a chance to play a techno set abroad. I just don't really feel like promoting and booking myself. However I could say that "Mielikutitus EP" is coming out any time now on Morse Records.
Over the course of this interview, you've given me quite a lot to think about, and I'm sure for the readers, as well. Any parting thoughts you'd like to share?
It's been an honour and a pleasure for me to do this interview with you. I have had to think about many important things quite thoroughly and perhaps quite emotionally because of the moment in time in which you reached me. I would like to thank everyone that has read the interview this far and encourage you to challenge everything you see around you and to break those boundaries. We are being controlled with fear to make us act in a certain way, yet deep in our hearts we already know what is the right way to go. Always stay open and throw yourself into the world around you without hesitation, you won't break.
Perhaps it would be best to conclude the interview with words by The Unknown Writer, best known for me from the number one techno song in this world, which is of course "Transition" by Underground Resistance: "There will be people who say you can't – you will. / There will be people who say you don't mix this with that and you will say "watch me". / There will be people who will say play it safe, that's too risky – you will take that chance and have no fear. / You wont let these questions restrain or trouble you. / You will point yourself in the direction of your dreams. / You will find the strength in the sound and make your transition." (interview by James Cardis)
LWE Podcast 23: Aki Latvamäki (51:12)