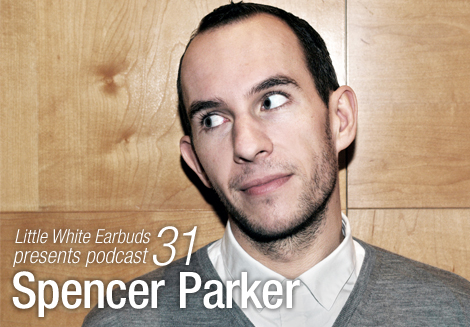 After years spent mastering the art of keeping heaving masses dancing, London's Spencer Parker took on a new challenge: producing his own people-movers. His education behind the decks paid off from the start, quickly garnering releases for REKIDS and Tsuba Records that swelled his fanbase handsomely. Soon after Buzzin' Fly, liebe*detail and REKIDS (again) were knocking at his door hoping for a Spencer Parker release of their own (or a second, or third). Tracks like "Improvised Minotaur" and "Untitled Head," which stitch together catchy loops and rambunctious piano progressions with captivating swing beats, prove his popularity is backed by a generous dollop of production talent. For LWE's 31st podcast, Spencer Parker shows off the skills that put his career in motion with an exclusive mix of lithe and groovy house tracks, including unreleased cuts from Boola, Radio Slave, and Mr. Parker himself.
LWE Podcast 31: Spencer Parker (61:26)
Audio clip: Adobe Flash Player (version 9 or above) is required to play this audio clip. Download the latest version here. You also need to have JavaScript enabled in your browser.
Tracklist:
01. Dan Andrei, "Om" [*]
02. Radio Slave, "Orchestrating Manoeuvres In The Dark" [*]
03. Spencer Parker, "The Beginning" (Michel Cleis remix) [Buzzin' Fly Records]
04. Boola, "Amarijj" [*]
05. Nic Fanciulli & Steve Mac, "10%" [Ovum Recordings]
06. Radio Slave, "Na Und!" [Cocoon Recordings]
07. Kreon, "Jauce" [Cecille Numbers]
08. Coyu & Edu Imbernón, "Burn Myself" [Great Stuff Recordings]
09. Mic Newman, "Fan Hits The Shit" (Spencer Parker Is A Gun For Hire remix)
[Vicious Vinyl*]
10. Spencer Parker, "I Love Nobody Else" [Arearemote*]
* denotes unreleased tracks

What came first, production or DJing? When did you start? How were you introduced to both?
Spencer Parker: Definitely DJing. I've been DJing for a little while now whereas I feel I'm pretty new to the whole production game. With regards to DJing, I came to it completely from a fans point of view. I began to go clubbing and would collect certain records to remind me of certain nights out at clubs like SW1, Ministry of Sound or Gardening Club, say. Pretty soon I had a small collection of good records, my friend was having an 18th birthday and I said I'd play. I'm a huge fan of house music and I see DJing as a way of saying, "Wow, listen to this!" On the production side of things, I'd always been interested in making my own edits and special remixes for my sets, but the advent of programs like Ableton Live meant it was now possible to do this without needing a £10,000 studio. So I taught myself how to edit and mix on Ableton and pretty soon began to make my own tracks. For me it's the most instinctive and easy to use production program around if you come from a purely DJ background.
When/where did you make the mix? Any concept involved?
I made the mix in my newly adopted hometown of Berlin on three CDJ 1000's, a Pioneer DJM 800 mixer and my trusty Redsound Soundbite Pro loop machine. There was no real concept behind it, but the mix was done after a long weekend of gigs including Panorama Bar and the excellent Stereotype in Edinburgh; so after not much sleep and a fair few flights, I wanted to include a lot of the records that had really worked for me at both gigs.
When DJing, what's the balance between playing what you want love/want to hear vs. what you think the crowd wants to hear? How important is it to play to the crowd's demands ("play Sebo K & Metro, 'Saxtrack'" even when you don't want to, etc.) compared with what you think they might like?
In general, I just play what I like. I always keep my head up to see what particular tracks go down better than others, but as a rule I just do my thing. The reason for this is that, when I go and see Francois Kevorkian, Marcel Dettmann or Justin Drake DJ, I don't really want them to compromise for the crowd, I want to here their take on what's the best music in their crate right now. It sounds a lot more militant than I mean it to — but I completely respect the people who pay to hear me play and I want to give them a good night out more than I want to pander to the few people who want something more commercial or obvious.
A lot of DJs have made the switch to Serato-like setups rather than transport their vinyl. Do you think the debate on vinyl vs. mp3 DJing is drawing to a close? Why or why not?
I honestly don't care, to be brutally honest; what's important is the music you play and the quality of it in terms of sound. I personally only play WAV files and have burnt all my vinyl to CD, as I've found that very few venues worldwide have the turntables and CDJs set up at the exact same volume, so this is the best solution for me. I still record shop and buy vinyl every week as there will always be great records released that are simply not available on download sites only.
Who are a few of your favorite DJs past and present? Why?
At the moment I've been really impressed by DJs like Luciano, Marco Carola, Radio Slave, Dean Muhsin (Bearweasel), Marcel Dettmann, Gerd Jansen, Barem and Justin Drake. In the past I've had some great nights out listening to the likes of Francois Kevorkian, CJ Mackintosh and Erick Morillo.
What's coming up from you in the next year's time?
More of the same really. I have dates scheduled at Panorama Bar, Shinding, Studio 80 in Amsterdam and Fabric as well as remixes due soon for Yousef, Mic Newman and Slovenian label Potencial Records. As far as releases go, I have a new single on Buzzin' Fly called "The Beginning" with remixes from Danny Fiddo and Affkt as well as Michel Cleis, a new single on Rekids called "Romantic" with a great D'Julz remix and another single for them entitled "My Heart" with a excellent remix from Daniel Sanchez. I also have a new EP due in September on 2000 and One's Area Remote label, and maybe even an album in early 2010.
LWE Podcast 31: Spencer Parker (61:26)