Delsin certainly has come along way from its humble beginnings 15 years ago. The Dutch label started with 50 cassette copies of owner Marsel van der Wielen's own Peel Seamus productions and continued to slowly build an identity that grew from deep electronica, broken beat and electro to what it's best known for now — post-Detroit techno charting the fringes of the galaxy. While 2010 saw a bit of a slow down and new names such as Conforce and A Made Up Sound being brought into the fold, Delsin appears to be ripe for new conquests of sound. We caught up with van der Wielen to reflect on the long, strange journey the label has taken and where he sees it leading to next. We also drafted Delsin/Ann Aimee cohort Delta Funktionen (who plays the Bunker this Friday) to mix together Talking Shopcast 10 as a special treat.
How did you first become involved in electronic music and what lead you to start Delsin originally?
Marsel van der Wielen: It probably doesn't differ that much from other people of my age. As a young kid I was already into a lot of pop music, taping everything from radio, etc. At that time there were also those things around we simply called mixes, which was done by tape-editing if I'm correct, cutting up of all kinds of tunes. I was also into computers; I fell heavily in love with my Commodore 64, gaming and those things. With groups like MARRS and S'Express, those things kind of came together for me. I was 13/14 at that time, and we simply called it computer music. In 1988 the whole acid house explosion came along, mainly releases through the UK, introducing artists as Royal House/Todd Terry, Phuture, Humanoid, Bomb The Bass, 808 State, Fast Eddie, etc. I was kind of a DJ at a local youth culture venue — although I doubt to which degree it deserved that word — which gave me the ability to buy records and start collecting. From 1990 onwards I got more interested in less 'party'/more listening music like Orbital, The Orb, 808 State. In 1991 it really took off for me with the whole second wave of Detroit, with Planet E, Kenny Larkin, Underground Resistance, shortly followed by the whole UK wave things as Warp/Artificial Intelligence, Aphex Twin, B12, Global Communication, etc. Around 1992 I also bought my first piece of equipment, a Roland Workstation W30. I sent some demos out to my favorite labels back then, like Eevo Lute, ART, etc. With no response, I thought, let's release it myself.
You began with a release by yourself as Peel Seamus and on cassette. What were you aspirations for the label back then? Did you think it would grow to where it is today?
Actually that first release was also my last demo. I pressed 50 tapes, I think. Sent some as demos and sold the rest of them myself, through friends and through the Internet. With no reply to the demo, I took the next step to press the records myself. As a collector I was always already heavily into labels, the whole thing with which artists, which music, which artwork, which order, frequency of releasing, etc. A lot of other people seem a lot more into DJs, mixes and stuff, but for me, being a label boss was always a dream when buying those first records back then. But actually there's never been a big plan; it went from release to release. When I started there was once an idea not to do any CD-releases, but to do 10 EPs or so and then quit, a bit like Basic Channel. But it seems we're at release 84 now.

In the '90s you were involved with a website called Forcefield that in retrospect almost seems like an early version of what music blogs are today. Can you tell us about your involvement with that site?
That was in the very early days of the World Wide Web. I thought it was fun to have my own site, which was actually called Delsin at the time — like six months before I put out that release on cassette. I had put my own music on there, links to other sites, then I thought, let's start adding reviews from records I buy. Then the great Dutch journalist Rene Passet asked me if I was interested in hosting his interviews in English — great interviews with Autechre, Herbert, et al. — and I started to add mixes by myself, re-typed some old interviews with Derrick May from 1988, and so on. Then for a short time I split it into two sites, with Delsin Inside and Delsin Outside, as the content was kind of mixed up. Delsin Outside was then renamed to Forcefield. Actually with Forcefield we did everything that's being done now. I was scanning all the records, adding 30 seconds of audio. After a time I started the Forcefield Jukebox which was actually kind of like Spotify avant la lettre, people could email me to put on rare records they couldn't find (Discogs didn't yet exist) and I made a recording so the track could be streamed to RealPlayer.
Do you think music blogs have improved on or diminished what Forcefield or similar sites of that time were able to accomplish?
It hasn't really changed I think. It's all about the quality of content. As a record label I know a lot of (semi-)journalists are around, asking for promos and only writing positive things about your music as they otherwise seem afraid they don't get music for free. It should be good if we get more independent and more critical. Less fanzine, so to say. It's like information overload, and sites can distinguish themselves by filtering all information around, not overloading their visitors.
I also remember that the mixes you had posted on Forcefield/Delsin were a little different from the norm. There would be shorter mixes and ones very narrowly focused on a specific time, sound or location. In a way they seemed like miniature histories. What was your aim with doing the mixes that way?
Those were on Forcefield, yes! I remember one from UK techno, or one was the second wave of Chicago house. They were all about spreading knowledge, giving people information. I really come from the music-listening side of things, much less from the dance floor side. Maybe I should give myself a new DJ name as The Librarian.

From the artwork for Planet Delsin
Early releases on Delsin were unique and diverse, not always keeping the dance floor in mind. And that yielded some amazing work for that time (Dynarec, Yotoko, $tinkworx, etc.). Do you regret not being able to still be a champion of that diversity?
Thanks for the compliments. Hmm, yeah I think with the change in direction we might have lost some fans, but also won lots of new one. It's also dependent on which material I get sent by artists. There's always a kind of restless feeling in me, maybe starting another label for other kinds of music/styles. But it needs a critical mass, to fit together, to feel good. It also has to do with experience and getting older; Delsin started out pretty naive, but after releasing that amount of releases you see things repeating, there's less of an automatic rush for doing things. You see the same thing for artists, who start producing mostly when they are in their early 20's and everything goes naturally, they are growing and growing, but in a lot of cases that fades when you're doing it for several years. As a label boss it's much easier, as you can depend on the creativity of a pool of artists, but you need to keep it fun and challenging for yourself, and in that way adapt and re-invent the things you're doing. But to answer your question — yes, sometimes I miss the diversity. For that reason I'm very happy we're doing the John Beltran Best of Ambient album on lovely triple vinyl, full of his wonderful music.
Your 50th release, Planet Delsin, was supposed to be your swan song. What made you decide Delsin needed to continue?
I kind of lost the spirit and motivation, so I took a semi-break in 2005 when Shed's single and the Planet Delsin compilation was released. Delsin used to be a broader label, more an "I release whatever I like" label. From Planet Delsin onwards I became more focused and narrowed it so it's more clear to the audience what to expect. You can also call it marketing, if you want. It's more like I'm operating from a bigger distance. It now serves the music and artists as much as it serves me. So what I sort of call Delsin 2.0, which is what the last compilation was called as well, it's more of a broad techno label.
Ann Aimee was started as a "Delsin offshoot for deep electronica." After the first four releases I have a hard time distinguishing it from Delsin. Do you think Ann Aimee has fulfilled that original ambition?
Ann Aimee kind of stopped in 2004, after four singles and four albums. It was the same time as taking the break for Delsin as well. I spoke to Boris Tellegen (cover artist Delta) from time to time, and he was still up for doing those wonderful covers, and I was as well, of course. And around late 2007 I received material from new artists doing more dubby, darker techno, which didn't directly fit with Delsin but I very much liked. So James Kumo's first single was the re-start of Ann Aimee. Actually it's Ann Aimee 2.0 as well, as we have Delsin 2.0. Sorry for all confusion. But to be honest, sometimes I'm not fully aware of what I'm doing — it probably would have better to start a new label, but I was too lazy to figure out a new label name. My apologies!
As you mentioned, Ann Aimee releases have been designed by graphic artist Boris Tellegen. How important is design to either label's overall aesthetic and in what ways is that best expressed through a visual medium?
It adds up to a release. In the beginning and most of all it's still the music which counts. I mean, check Discogs or whatever; white labels also can sell a lot. But artwork can really add to the music, as for the same it could downgrade the music if it's not the prettiest. It should fit the music. You can communicate more, but if the music is not the best, cool artwork won't make it any better.
You have an Ann Aimee compilation coming out soon. Can you tell us what you have in store for that release? New unreleased tracks or a summary of the label's stand out moments so far?
It's a compilation I'm doing together with Niels Luinenburg aka Delta Funktionen. It's all going to be new tracks, bringing together some of our favorite new producers from the last five years, some from the label but also others who to our ears have a sound in common. Artists included are Delta Funktionen, Mike Dehnert, Skudge, Sigha, Peter van Hoesen, Redshape, Roman Lindau, Milton Bradley, Marcel Dettmann, and some others we will reveal later.
Delsin has had a tight relationship with M>O>S Recordings and NWAQ for some time. How did those partnerships come to be? What similarities and differences do you see between Delsin and them?
M>O>S and NWAQ are two labels I co-run, respectively with Aroy Dee and Newworldaquarium. It's mostly to create creative space for them as well. Apart from that, it's fun to work on projects together, and it's a good excuse to release more music.

They do most of the A&R and I take care of production, promotion and financial things. It feels good to have a broader platform.
Delsin was the first label to take a chance on Shed back in 2004. What did you see in his productions that made you want to sign him?
I was working at the mail order for the Rush Hour record shop, so I always heard all the new music coming in. At the time his first EP Red Planet Express came out, very out of nowhere. I remember running from the back into the store, checking what this was all about. It immediately blew me away, a new artist, a new label with this wonderful music. It had the same intense beauty as a lot of releases had on my favourite early '90s years, releases by Carl Craig, Balil, Kenny Larkin, Link/Global Communication etc. Soulful strings combined with shuffling freestyle rhythms.
Delsin has always seemed to place emphasis on the artist album, with some definitive statements being made. Yet we didn't see one come this year. Do you foresee that Delsin will continue with albums or is this less viable in today's marketplace?
Yes, I very would like to. I think it even works better in today's marketplace. With the digital downloads, it's all moving towards more track based consumption of music. I really don't like that myself. I mean, for same tracks it probably works, and probably for DJs as well, as they often see the tracks as tools for what they are doing. This has nothing to do with digital, but I'm very interested in what bigger story an artist wants to tell with his album. It's the same reason I don't often listen to an album in a random order. I want to listen in which way the artist wants to present his bigger story. But not a lot of artists are up for doing albums, it's way different then doing an EP or one track. Luckily there are two new artist albums coming, one by Mike Dehnert and one by Morphosis, and I hope to do more.
So how are albums working better if people are buying just single tracks more and more?
What I meant is since it's much easier to get music, I think people will get a bit tired of the immediate fulfilling their demands. You can compare it a bit with how books work: it feels wonderful to be "offline" or disconnected from the Internet and your mobile, and just be with that one book you have with you on holiday. I mean, there's that rush of getting and collecting new music (or things), and that's a very different aspect from enjoying and listening music. And albums force you more to sit down and actually listen to music, instead of gathering or hunting for those other newer tracks and music.
Now that the buying public knows what to expect from Delsin, do you feel that those expectations have an impact on the direction of the label? Is there a chance that with this Mike Dehnert release we might see Delsin playing to the Berghain crowd's preferences?
Hmmm, not really. I still want to feel all music I release myself, mostly with the simple question, "Should I buy this release myself? Is it relevant to release this?" Genres become popular and popularity fades, sometimes it matches, sometimes it doesn't. As a label boss, it would be stupid to completely ignore the outside world, but mostly I hope the music released is timeless, so the quality still stands after a couple of years.
What can we expect to hear from Delsin in 2011?
Luckily more albums. On Delsin there will be the debut album by Mike Dehnert, bringing pretty straight in-your-face quality techno. And together with the Morphine and M>O>S Recordings labels we will present the debut album by Morphosis, of which a prelude a remix EP has been released. Also almost ready to release is a "best ambient works" album by one of my all-time favorite artists, John Beltran. So needless to say I'm very proud of that one! Then there's the new Ann Aimee compilation, which we will present as four separate EPs and one CD. Furthermore there will be new singles by Aroy Dee, Delta Funktionen, Conforce, and I still have to get together an MK reissue for which I already licensed a track two years ago, as the second in the series of the X-DSR releases (first one was a re-issue by Dan Curtin/Planetary).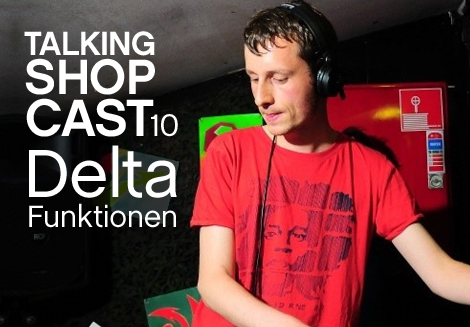 Talking Shopcast 10: Delta Funktionen (61:02)
Tracklist:
01. Donato Dozzy, "Untitled" [Further Records]
02. Unknown artist, "Revolution" [white]
03. Iori, "Spaciotemporal" [Phonica White]
04. Bleak, "Isolated" [Sudden Drop]
05. Marcel Dettmann, "Captivate" [Ostgut Ton]
06. Area Forty One, "Untitled" [*]
07. Steve Poindexter, "Born To Freak" [Muzique Records]
08. Photek, "Glamourama" [Virgin Records]
09. Gesloten Cirkel, "Twisted Balloon" [Murder Capital]
10. Mike Dehnert, "MD" [Fachwerk]
11. Geeeman, "Computer Jackin'" [Clone Jack For Daze]
12. 2 AM/FM, "Desolate Cities" [M>O>S Recordings]
13. Unknown artist, "Lost Tracks" [white]
* denotes tracks which, as of the time of publishing, are unreleased