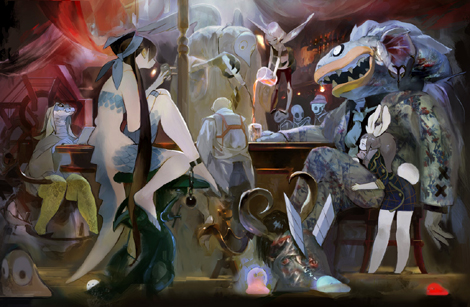 Vanilla Mania
DJ mix CDs are a funny thing sometimes. In theory they're supposed to showcase a DJ's mixing skills and present a set of music that motivates listeners to check out where the music comes from. Brackles first mix compilation, Songs For Endless Cities seems to heavily favor the discovery side, although the man born as Rob Kemp is no slouch behind the decks. The selection here is the key, taking in a survey of some of the biggest names in our post-dubstep world of beats. What makes this mix notable is how it melds together a disparate group of fairly well-known tracks and artists into a cohesive compilation. Techno, hip-hop, dubstep and funky all make appearances here and Brackles treats them all the same, creating one groove line throughout the hour.
Audio clip: Adobe Flash Player (version 9 or above) is required to play this audio clip. Download the latest version here. You also need to have JavaScript enabled in your browser.
The patron saint of pretty much all things off-kilter and global in music these days, Flying Lotus, kicks the mix off with a somewhat obscure track, "My Chippy." The crushing kicks, cracking snares, and bubbling warbles set a sort of mood for what is to follow. Floating Points, Zomby, and Roska take those sharp and angular beats and smooth them out slightly before Brackles and younger brother Martin Kemp swing everything into a funky bridge with Kyle Hall, DJ Dom, and Cooly G in tow. This is partly what the mix is about, using beats to bridge different style of music. DJ Dom's "Sunshowers" falls close to the middle of the mix and creates a brief pause, languid synths and drifting vocals floating over simple percussion. DJ Mystery amps the energy with "Speechless" before Hypno's "Over The Top" lives up to it's name with frenetic staccato melodies and drums. There is much to be said for weaving in these dance floor gems and presenting a slice of what makes the current musical scene so exciting. The ethnic beats of Rishi Romero's "African Forest" are a good lead in to the Eastern feel of "Fatherless" by up and comer Breach.
Audio clip: Adobe Flash Player (version 9 or above) is required to play this audio clip. Download the latest version here. You also need to have JavaScript enabled in your browser.
2562 starts the mix's descent with a sonically complicated monster named "Dinosaur," the beats flipping back and forth and synths sounding as if they are rolling around a clothes dryer. The instantly recognizable and thoroughly insane "Trilingual Dance Sexperience" by Dorian Concept is our penultimate slice of dance floor mayhem. It's a song so wild and different, so difficult to actually explain, that the escalating and falling syncopation of closer Funkineven "Must Move" comes as a relief mingled with surprise, like many of the intricacies of a quality mix. By putting together well-known tracks with a few under the radar gems, Brackles has effectively replicated the experience of a good night out, dancing to your recent favorites and moments that have you scouring the Internet for clues days later. For dance music fans standing hesitantly on the edge of the nameless swathes of bass music it provides stepping stones that make the gap seem much more manageable.