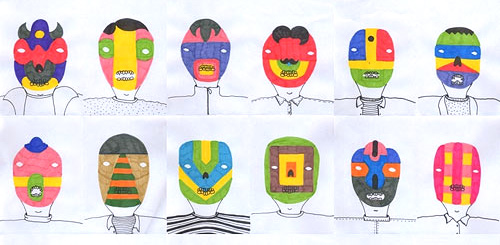 Art by Grzegorz Kowkalcyzk
About this time back in 2007, Bruno Pronsato was finishing up his sophomore album, Why Can't We Be Like Us, and struggling to fit in one final song: an epic, electronic ballad called "The Make Up The Break Up." It was an especially compelling track, and Pronsato did everything he could to fit it onto the album, but in the end it was just too long and had to be left out. Why Can't We Be Like Us dropped at the end of the year — promptly receiving a deluge of praise — and "The Make Up The Break Up" remained a work-in-progress, appearing only in scattered cameos throughout his live sets. Pronsato wanted to release it on its own, but ran into many logistical problems: at 38 minutes in length, with no reasonable flip-over point for vinyl, The Make Up The Break Up was even more of a square peg than his previous productions. After several false starts and many months of haggling, he finally decided to release it himself, as the first title on his own imprint, thesongsays. In the end, all this aggravation only attests to the song's exceptional nature: "The Make Up The Break Up" could be Pronsato's finest work to date, and is surely one of the best records of 2009.
Audio clip: Adobe Flash Player (version 9 or above) is required to play this audio clip. Download the latest version here. You also need to have JavaScript enabled in your browser.
"The Make Up The Break Up" begins with some of Pronsato's favorite tropes: sharp buzzes, wet hand-claps, and a medley of abstract but distinctly organic sounds. The first ten minutes are obviously cut from the same cloth as Why Can't We Be Like Us, focusing heavily on vivid percussion: shakers, brush sticks, and sonorous toms, all of which reflect an audiophile's attention to detail. Faint shimmers of melody appear after a while, and soon the drums subside, making way for a very deep and very familiar female voice, crooning weird incantations over a blur of violins. This moment forms "The Make Up The Break Up"'s glowing center; from here on the piece is illuminated, strewn with dim embers of melody. It all dwindles down slowly from there, and soon the bass drum checks out completely, leaving just a handful of loops to sputter out in the cool green haze of the track's final stretch.
Audio clip: Adobe Flash Player (version 9 or above) is required to play this audio clip. Download the latest version here. You also need to have JavaScript enabled in your browser.
Part of what I love about this record is how it defies categorization: much like "Take 1 / Take 2," his collaboration with Daze Maxim, it doesn't fit into any of the typical techno formats (single, album, EP, etc.), and is best seen as a "piece." In a way, "The Make Up The Break Up" harks back to Manuel Göttsching's E2-E4, but while that long-playing classic is content to bob in place for 45 minutes, "MUBU" stays on the move, leading the listener across vivid and abstract terrain in what feels like far less than 38 minutes. As with most of Pronsato's work, it withstands countless listens, and continues to reveal subtle detail after dozens of plays. "The Make Up The Break Up" shows that, like so few of his contemporaries, Bruno Pronsato can follow his strangest impulses and come up with something truly remarkable.