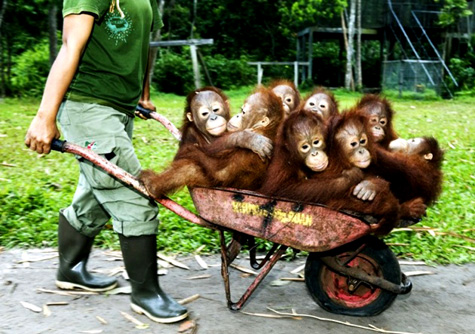 Hans-Peter Lindstrøm can do wrong when he puts his mind to it. That was my second thought when I heard about his new album, Where You Go I Go Too and its epic 29-minute title track. My first reaction, like most people, was either "perfect" or "how perfect," depending on how glib I was feeling that day. Here's why: Lindstrøm builds Rube Goldberg-like compositions from the smallest kernels without blushing at his own impulses. His disregard for self-consciousness might be one of the biggest reasons why he's the poster boy for a sub-genre of disco that uses hippie stereotypes for prefixes — beardo and cosmic are the standards, but I'm still holding out for granola and free-love-disco. So when Lindstrøm talks about going through the history of electronic music in 29 minutes, I'm of two minds: one cringes and the other finds the audacity endearing.
And that's the essential problem with trying to pin down Lindstrøm — he might be innocent of irony, but certainly not of history. In fact, for WYGIGT, Lindstrom stitches influences on his sleeve. Sure, his work has always leaned on disco touchstones like Giorgio Moroder and Cerrone. But recently he's added the high-brow minimalism of Steve Reich, the introductory moves of Manuel Göttsching. All are good places to build epics from small blocks, but the best surprises of Lindstrøm's electronic journey fall on the wrong side of the taste divide. They are cheesy, bloated and irresistible. His melodies zing like Jan Hammer rocking his keytar, or drift off like a new-aged Tangerine Dream soundscape in the middle of WYGIGT's title track. Lindstrøm sounds unafraid to imbibe the sounds of electronic artists already dismissed.
Audio clip: Adobe Flash Player (version 9 or above) is required to play this audio clip. Download the latest version here. You also need to have JavaScript enabled in your browser.
WYGIGT might be one epic track, in three parts and just a hair under an hour. As Lindstrøm's first proper album, it also sounds deliberately "big picture" — calling one track "Grand Ideas" might've been a start but every moment on WYGIGT sounds fixated on the grandiose. Huge handclaps, swiveling background sirens, pulses, Vangelis-sighs, builds and fades that last for minutes. The album is constantly supported by tightly wound synths, but they only accentuate the scale that WYGIGT tries to maintain throughout. There are no signs of exhaustion in the music, but the accumulative effect of WYGIGT can be exhausting; moments like the introduction of the sleaze melody on "The Long Way Home" give the wide-screen a little levity, relief.
While WYGIGT might be audacious, it succeeds because of the details. The pre-programmed and live instrumentation hang nicely together with a seam between the two appearing in the right light (ie. a quick fade up on drums to kick start a swath of sequencers, chimes tickling around motorik churn). The album's small twists, like how the title track can rebuild itself with both tighter and looser melodies than the previous 21-minutes, is what makes WYGIGT worth revisiting.