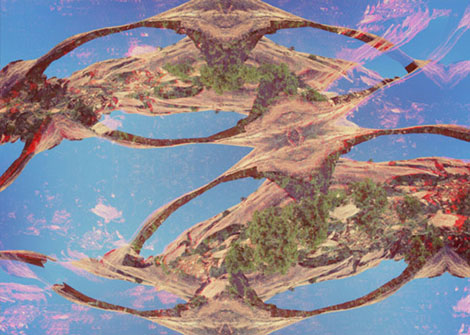 Image by Brock Lefferts
Correction: It has come to our attention that, despite attempts to ascertain the origins of the vocal in PBR Streetgang's "The Downstroke," we were mistaken in stating that it was sampled directly from Mike Dunn's "God Made Me Phunky" and potentially without being licensed. In fact, the vocal line was both licensed from its current copyright-holders, Defected, and re-sung by PBR Streetgang. Its new performance is so true to the original in its nuance that it is nearly indistinguishable. We apologize to PBR Streetgang and Hot Creations for getting the facts wrong.
Before learning that Leeds duo PBR Streetgang took their moniker from a line in "Apocalypse Now," the name had a completely different connotation for me. In the U.S. at least, the beer Pabst Blue Ribbon (PBR) is a stereotypical drink of choice for hipsters, those supposedly feckless taste chameleons. That's not a tag that sticks to Bonar Bradberry and Tom Thorpe's releases together for Red Music, Wolf Music, and Eclectic Avenue Records, which since 2008 have professed a love of funk music channeled through various shapes and tempos of dance music. But the turn they take on The Downstroke, their new single for Hot Creations, is unabashedly populist in scope and lazy in its sampling.
PBR Streetgang, "The Downstroke"
A weighty bass line and jingling accoutrement give the title track a galumphing groove that's pleasant if mostly simple. What many will remember of it, however, are the rambling, pitched down vocals, in particular the refrain, "God made me funky, and I'm glad he blessed me that way." If you were to search for that phrase, you'll find the vocal was taken wholesale from Mike Dunn's "God Made Me Phunky" under his MD X-Spress guise. To the best of my ability, I cannot find Dunn credited on the record. LWE has addressed this subject before with Oliver $'s Kenny Dixon Jr. plundering "Doin' Ya Thang"; and it bears repeating that I have no qualms with any sampling as a basis for a new track. What troubles me is careless sampling — taking everything and failing to make interesting or new use of someone else's hard work — without even attempting to acknowledge the source. The Innervisions crew had it right when they prominently featured and credited Derrick Carter for their track "Where We At."
The Downstroke includes a second PBR Streetgang original, "Vibos," which tries on Chicago house by way of Art Department and suffers a similarly tepid fate. There's also Deetron's remix of the title track, a more thorough digestion of the vocal that makes the whole thing more musical by subbing in bounding Detroit techno chords. It makes you think, if only Hot Creations had packaged this as a remix EP of "God Made Me Phunky" — and it does deserve one — this could have been just as popular and entirely legit. While it's not cheap to release records, skimping on attribution (and potentially licensing) of baldly rapacious sampling is part of what maintains the recording industry's bad reputation. At least call it a remix.