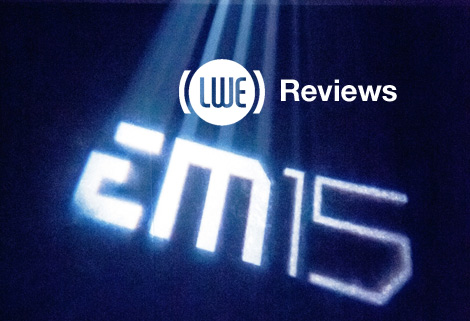 Photo by Miguel Legault
For their 15th anniversaries, the Mutek and Elektra festivals combined into EM15, pushing past musical, visual, artistic, technological, and spatial boundaries for six days of electronic arts showcases, panels, workshops, and installations. Mutek continued to honor its traditions of well-rounded and sophisticated musical programming, booking a variety of avant-garde audio-visual showcases from both veteran and up-and-coming artists while still offering plenty of floor-friendly options throughout the week. The new festival headquarters were located inside the beautiful Musée d'art Contemporain (MAC). And, while many lamented the loss of the Société des Arts Technologiques (SAT) as a performance venue, the museum spaces and centralized location within the Place des Artes complex yielded some inspiring performances and ample opportunities to engage in interactive experiences both indoors and outdoors. This year's attendance was higher than in years' past and the festival's scale was larger than ever, prompting organizers to add a couple of repeat showcases to accommodate more guests due to sold-out performances.
The experience of attending this festival, however, still means being an interactive consumer of forward-thinking electronic and digital arts, with plenty of showcases offering opportunities to get up-close and personal with performers and create an individualized experience throughout the week. Even the downstairs hall of the MAC provided an acoustically pristine and visually-engrossing space to consume the experimental works in the PLAY series, where those taking a break from the main events could enjoy great thought-provoking music and visual give-and-take from the likes of many local standouts including Fake_Electronics, Chat Noir, and Woulg, among others.

Sigrid Vandenbogaerde. Photo by Diego Cupolo
Mutek has a tradition of slotting several big-name artists in the first two days of the festival and, since we arrived on Thursday, we missed much-anticipated and well-reviewed performances from Shackleton and Kangding Ray among others. When we arrived in the Impérial Theater (another new venue choice) on Thursday evening for the A/Visions showcase, Todor Toderoff was providing beats while Sigrid Vandenbogaerde's chilling vocals crescendoed as she smacked her cello between vigorous bowing. The first half of the stirring set of Re: ECM material from Ricardo Villalobos and Max Loderbauer was ambient and ethereal, slowly incorporating more pulse-driven material delivered through the combined setup of a laptop and a modular system. The visuals for this night were subdued, letting the music take center stage. A quick look around the seats in the dark theater and we saw a good number of audience members taking catnaps, an accepted and not uncommon practice for the A/Visions showcases.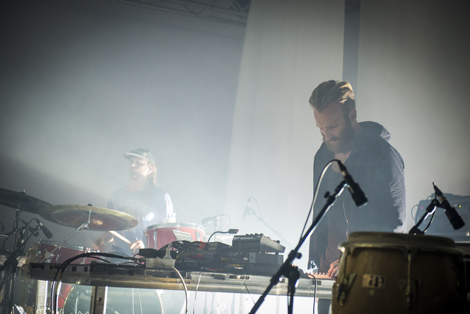 Ben Frost. Photo by Caroline Hayeur

TM404. Photo by Jeanseb Roux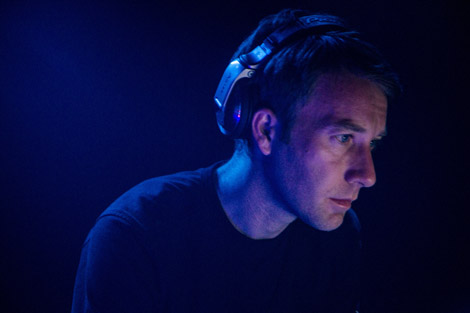 Matthew Hawtin. Photo by Jeanseb Roux
Thursday's Nocturne showcase at the MAC was headlined by a commanding, rib-rattling performance from perennial Mutek favorite Ben Frost, a welcome respite from the relentlessly challenging experiments in noisy oddities coming from Rashad Becker. Up the street, Richie Hawtin brought his ENTER party to Métropolis, which had a decidedly younger and more intoxicated crowd than any other event of the week. A fantastic live PA full of trippy acid tracks from TM404 opened the main room, slowly building from in tempo from sub-110 BPMs to a full-on techno onslaught. Meanwhile, a well-appointed ambient showcase headlined by Matthew Hawtin was enjoyed by a small crowd in the Savoy room upstairs. As the night went on, the music in the main room felt far too monotonous to warrant sticking around.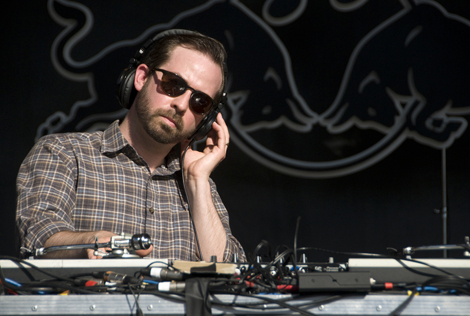 JTC. Photo by Diego Cupolo
Though Mutek ticket prices continue to climb, the free Expérience events are still offered and well-attended. On Friday, Austrian techno jam band Elektro Guzzi was the perfect danceable afternoon soundtrack for the even more perfect weather, especially after a delicious coffee and snack from one of the gourmet food trucks stationed right outside the MAC. Expérience 3 on Saturday hosted an outstanding DJ set from James T. Cotton that blended deep house sounds of the Detroit and Chicago persuasions and a surprise appearance from Space Dimension Controller closed out the showcase.

Audion. Photo by Diego Cupolo
On Friday night, the opening act on the Métropolis main stage was, once again, the highlight of the evening. Voices From The Lake had everyone transfixed with the immensity of their chugging, percussive techno, which was — despite its loop-driven format and lack of melodic presence — as emotive as it was stoic. Matthew Dear certainly had a hard act to follow with his Subverticul live set as Audion. Even barely visible inside a giant led-lit floating spherical structure, Dear didn't lack stage presence. He gave a far less-polished musical performance than usual, however, resulting in some sequencing issues. The crowd didn't seem to mind, going wild with each bass drop, buzz, and squelch. All said, the visual spectacle was a bit too distracting.

SWACK. Photo by Jeanseb Roux
Upstairs in the Savoy room, crowds were grooving to a deep and sensual set of original tracks with vocals from Stefny Winter and Claire Kenway performing as SWACK. Alicia Hush, whose energy was simply infectious and matched the danceable, funky techno being delivered to the hot and steamy room, closed out the night. While we did not make it to the MAC in time to hear the jazzy techno offerings of Archie Pelago, Heatsick was heating up the crowd with raw house completely programmed in real time on a primitive, Casio-like keyboard. Like some of Mutek's live performances over the years, the product sometimes gets sacrificed at the expense of the process. To our ears, the simplistic chord-based synth sounds and limited selection of percussion samples resulted in an extremely repetitive set that dragged on for far too long, but the dance floor absolutely ate it up.

Robert Henke. Photo by Caroline Hayeur
The most innovative and ambitious audio-visual projects are often presented during the last two A/Visions showcases and this year was no exception. On Friday, Robert Henke's "Lumière," an absolutely staggering presentation of sonic delights and laser-induced euphoria, was beyond impressive and rather difficult to capture with words. Following a polite request that everyone keep their mobile devices off until the encore portion of the set, Henke controlled the everything from a desk in the middle of the theater's seats. The constant motion of two high-powered lasers and moving mirrors were mapped to every parameter used to create the highly-textural and intricate music, which ranged from ambient to industrial-like soundscapes using an amazing array of different frequencies. The lasers drew shapes and figures "presenting the archaic sign language of an alien culture communicating via emerging and disappearing traces of extremely bright light," according to Henke's web site. The stimulus of the audio-visual interplay was almost overwhelming, resulting in a truly breathtaking and transcendent experience.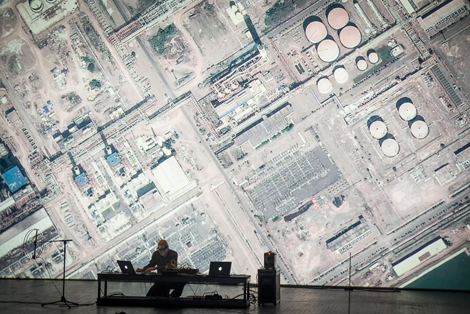 Herman Kolgen. Photo by Caroline Hayeur
On Saturday night, the final A/Visions showcase culminated with the convergence of experimental film and music. Herman Kolgen's "Seismik" was a forceful sonic and optical juggernaut. Thematically-driven by earthquake vibrations, Kolgen used advanced instruments to capture seismic data in real-time creating visual output containing drawings of magnetic fields layered over high-definition landscapes. The performance was, at times, dripping with tension, only to be broken up by startling distorted sounds of crashing airplanes and screeching high-pitched beeps. Intercity-Express & Synichi Yamamoto, who followed, also utilized landscapes, alternating between earthly images and more abstract and geometric offerings. The music was atmospheric and buoyant, providing some much needed release following the intensity of Kolgen's performance.
Magic Mountain High. Photo by Miguel Legault
Late Saturday evening involved a lot of running between venues for stacked lineups. Over at Métropolis, the analogue-heavy trio of Magic Mountain High (Move D and Juju & Jordash), drifted between dubby atmospheric grooves and deep acid lines that got the room moving. The tracks towards the end of the set featured a lot of guitar strumming that didn't add much to the overall compositions, but other elements of improvisation throughout created some unique song structures. At the museum, Pinch gave a tour de force performance, mixing ominous subterranean deep bass tracks into and out of techno and slow-burning electronica. The room was dripping with sweat, which set up the crowd for Lee Bannon's mixture of jungle and ragga-infused drum and bass. We ran back to Métropolis in time to catch most of Ricardo Villalobos's extended early-morning DJ set that hearkened back to a decade ago, when he played a percussive mixture of many different techno and house flavors at a rapid pace.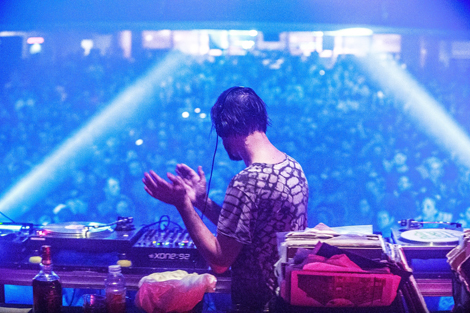 Ricardo Villalobos. Photo by Miguel Legault
This year's Mutek edition of Piknic Electronik drew an absolutely enormous crowd compared to any other year prior and, sadly, the overall atmosphere of the event suffered. The attendance spike produced insufferably long lines for food, drinks, and toilets that caused much frustration. In previous years, this event had a relaxed vibe with a wide age range among patrons, including many families with small children. As day turned into night, the crowd was dominated by non-Mutek participants, especially very young partiers who seemed more interested in getting intoxicated or hooking up than the music.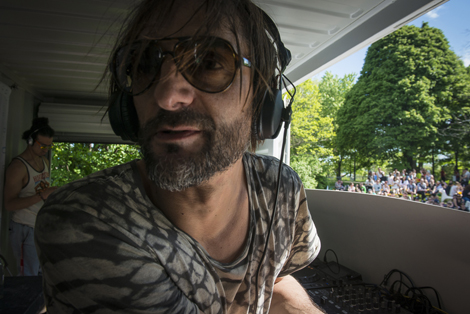 Ricardo Villalobos. Photo by Caroline Hayeur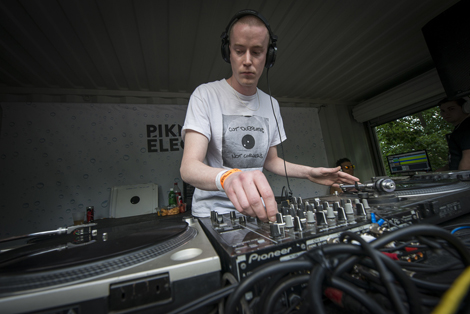 Pinch. Photo by Caroline Hayeur
In terms of musical offerings, however, this year's lineup far surpassed those of the last several years. The smaller stage featured two surprise guests: Villalobos opened, playing a mixture of delightfully weird minimal house, while Pinch followed, curating an excellent series of quirky dubstep tracks that made it impossible not to wiggle. On the main stage, Move D threw down a superb set of classic house and disco tunes that transfixed the crowd and slapped looks of unadulterated joy on everyone's faces, while Dozzy ushered in the night with a flawless set of pounding, yet danceable techno. With an early flight mere hours away, we opted for sleep and missed the final Nocturne event. The showcase featured distinct performances and a cohesive jazzy jam session between Canadian artists The Mole, Mike Shannon, and Guillaume & The Coutu-Dumonts, as well as the polarizing 5-hour "from scratch" improvisational set from Nicolas Jaar and a cast of performers and video artists.

Move D. Photo by Caroline Hayeur

Donato Dozzy. Photo by Caroline Hayeur
Mutek has always strived to be more than just a festival experience and, after 15 years, it continues to succeed in nearly every aspect from the superior sound systems, to the cutting-edge lighting and production designs, to the wide-reaching musical curation, to the selection of spaces, to its unparalleled dedication to fostering connections between artists and attendees. Experimentation and innovation are still valued and, while a few performances invariably fall flat, they are nothing if not thought-provoking and challenging. What sets Mutek apart from other festivals is that you don't simply leave entertained, you're left feeling inspired, enriched, and educated.