All photos by Nazar Vojtovich except where noted otherwise
The electronic music festival taking place in Detroit over Memorial Day weekend has been known by many names and has endured some ups and downs over the past 15 years. Now that the production and promotions group Paxahau has wrapped up its ninth edition of Movement, it's clear that the festival only continues to grow in size and scope, as evidenced by a record-busting attendance estimate of over 107,000 people and an announced confirmation of next year's tenth edition. Ticket prices reached a new high, but three 12-hour days of music on five stages still makes for a bargain when one considers the increasingly professional event production. Movement's continued growth is in part the result of attempts to reach broader audiences and tap into mainstream electronic music culture. But respect is due to Paxahau for showing great respect to Detroit's electronic music history through music-driven programming and dedication to showcasing the talent of artists formerly and currently based in Detroit. Here is LWE's belated review of the festival, representing just one of the many different experiences fest-goers could have this year (including a few notes from LWE editor Steve Mizek).
Peaks
Saturday
Metro Area was a standout on the Red Bull-curated main stage on Saturday. The massive rig proved none too large for the house duo, having just revived their live set for touring within the last year. Deep, soulful, and funky, their performance became a fitting soundtrack for a lovely sunset as they closed out their set with "Miura."
But, the night belonged to Daniel Bell, whose live set as DBX featured stripped down updates of his body of work were weaved together utilizing an all hardware setup and live vocals for minimal classics like "Baby Judy." It was an unforgettable set from a techno legend. The icing on the cake was a surprise appearance from none other than 7th City labelmate John Tejada on the drums.
Detroit's Underground Resistance presented Timeline on the main stage to close out the night. Like a love letter to Detroit, UR kept tradition alive with their own brand of hi-tech jazz. One of the only live bands to play at the festival besides the other UR affiliate, Los Hermanos, the group engrossed the massive audience around the main stage with an extended set heavy on improvisation and marked by tight ensemble playing. In addition to their own productions, the group treated the crowd to jazzed up covers of techno classics like Joey Beltram's "Energy Flash." No matter what iteration of Underground Resistance plays the festival (as they have several times), the moment always feels both nostalgic and fresh.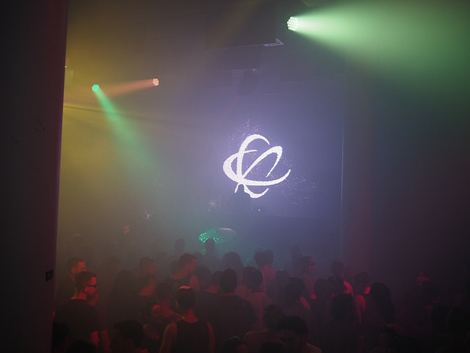 The Underground stage
Sunday
Move D somehow overcame some serious record-skipping to treat afternoon revelers to some classic house-laden grooves on the Moog stage. His good natured jabs at the production team — "What a surprise that they're not prepared for vinyl at Movement!" — also helped leaven the mood. The crowd when wild when he dropped Floorplan's "Never Grow Old," which seemed to be the track of the weekend for both house and techno DJs alike, including Radio Slave and The Black Madonna.
Voices From The Lake's live set was driving and ominous while Function's devastating kick drums were complemented by just the right amount of squelch and celestial atmospheres that made the set feel totally otherworldly. Unfortunately, the subtleties of their music were lost within the setting of the cavernous underground stage.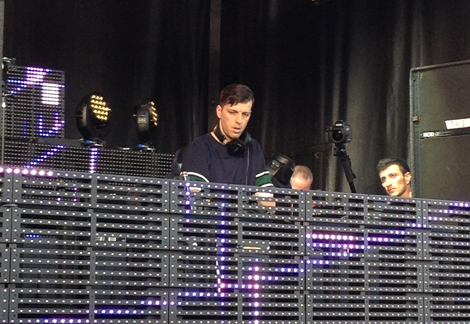 Photo by Steve Mizek
Steve's Take:
One of the better DJ sets I saw during Movement was Dixon's perfectly time sunset slot at the Beatport stage. Offering the rapt crowd a precisely-paced selection of unfussy grooves, pointed melodies, and whimsical vocals, Dixon proved once again why he's at the top of the game. His was one of few sets to keep me at the Beatport stage for more than a few minutes.
Monday
Daniel Avery's much-anticipated slow-burning house set ushered early Memorial Day attendees down to Hart Plaza in the afternoon, toeing the line between hypnotic dubby numbers and blissful melodic tracks. Heidi was also an early standout, bringing her infectious energy to the Beatport stage alongside her brand of jacking tech-house.

Perennial crowd favorite, Techno Grandma
Valleys
Once again, the most impressive techno sets fell sonic victims the concrete underground area adjacent to the main stage. Many felt frustrated that otherwise excellent performances from the likes of Orphx, Function, Voices of the Lake, and Black Asteroid, among others, sounded muddy.
Many of Detroit's up-and-coming locals, along with a handful of internationally-renowned artists, had the unfortunate job of DJing on the newly added Silent Disco stage. Silent Disco sets usually seem like a novelty best-suited for events inside an art gallery or museum rather than a large outdoor festival. It was difficult at best to justify missing any other artists in favor of anything on this stage. Perhaps the underground stage would be a more appropriate venue for this concept if it is to continue during future editions of the festival.
Another unfortunate truth about a long-festival growing larger and better attended each year is its diminished diversity in terms of the performer genres, cultures, and, most noticeably, genders. In response to this, stickers popped up during the weekend with the words "WOMEN MAKE MUSIC–so why are we still invisible?", directing festival-goers to this website. It's a fair question worth exploring, as the number of female artists on the lineup seems to dwindle with every passing year.
Afterparties
Friday
The easy choice for techno on Friday night was the Electric Deluxe event at The Works. The back room was transfixed by the dynamic sounds of Midwest hero DVS-1 as he pounded out a seamless mix of old and new techno with mesmerizing technical ability. Subjected was the true surprise of the night, keeping the front room dancing to chunky bass-heavy techno while, Mike Dehnert, who rarely plays in North America, played an outstanding set to close out the event.
Saturday
One of the best sets of the weekend came from the combined efforts of Marcel Dettmann and Radio Slave, who tagged together at Chris Liebing's CLR label event. A repeated pairing from a previous edition of a CLR night in Detroit, these two veteran DJs have an interesting dynamic. Tagging every three records, they built their set on a steady stream of dark grooving techno with the occasional house bomb weaved in to keep everyone guessing. What could have been an explosive crowd-to-DJ connection, however, seemed to be a bit dulled by the choice of venue. Bleu seemed far too posh and sterile compared to the sweaty basement setting of Elysium where the duo played a few years prior.
Steve's Take:
One party I check every time I attend Movement is Deep Detroit, held at 1515 Broadway. Organized by NDATL's Kai Alce, the annual party thrives in the no-frills event space of this cafe, offering excellent music from front to back. This year offered sets from rising selector Jay Daniel, scene veteran Mike Huckaby, and Alce himself. This year was no exception to the trend, as each brought their A-game in both selection and mixing. If you attend no other afterparties while in Detroit, make sure to hit Deep Detroit.

Sassmouth at Industry Brunch
Sunday
The Naughty Bad Fun Collective's Industry Brunch, which took place in the backyard of Comet Bar, was an excellent outdoor day party and a thriving alternative to the Need I Say More Event at Old Miami, which had a 2-hour line on Monday morning. A well-chosen midwest crew of both up-and-coming and veteran performers played to a friendly crowd throughout the day and early evening. When we arrived, the crowd was all smiles as Titonton Duvanté was unabashedly throwing together funky house, techno, and party classics with plenty of deck trickery. He was followed by an outstanding live performance from Shawn Rudiman on a number of envy-inducing pieces of vintage analog gear.
The annual No Way Back event, thrown by The Bunker and Interdimensional Transmissions, took place inside the historic building at 1515 Broadway. Now something of a destination event during Movement weekend and well-attended by industry folks, this is the kind of event worth losing an entire night's sleep over. Picture a dark sweatbox where you can get up close and personal with the DJs, experience crystal-clear sound, hear boundary-pushing techno, acid, and electro, lose yourself and dance like your pants are on fire, and enjoy a cafe open all night long to sustain you with iced coffee and bagels. It's hard to get much better. Canadian duo Orphx, who were forced into an early festival slot in the poor-sounding underground stage, could now be properly appreciated. Their texturally-intricate live set took the crowd into deep territory while bringing in techno and industrial sounds. Mike Servito's high-octane set of mind-bending acid techno was transformative and did an absolute number on the crowd. All reports indicate that the mad genius of Carlos Souffront and Patrick Russell continued to tear the roof off the building. I'm not sure my brain has fully recovered from this party.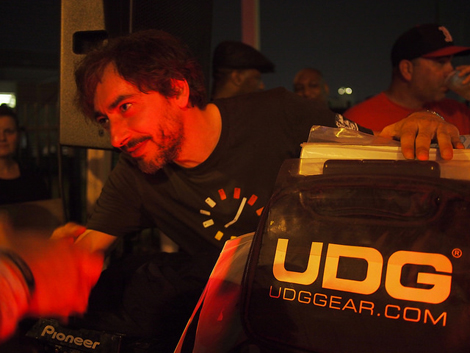 Move D
Steve's Take (Monday edition):
Despite facing an early shutdown time, the As You Like It/Safe party held at TV Lounge was an excellent way to cap off the weekend. Move D played the set everyone wished he could have during the festival, going as deep and funky as you like with a stoned grin spread widely across his face. Marcellus Pittman, Honey Soundsystem's Jason Kendig, and Daniel Avery all turned in exemplary sets as well. Bicep was just getting going when the night screeched to a halt at 2am, an hour earlier than expected, but the little they played had fans begging for one to five more records.