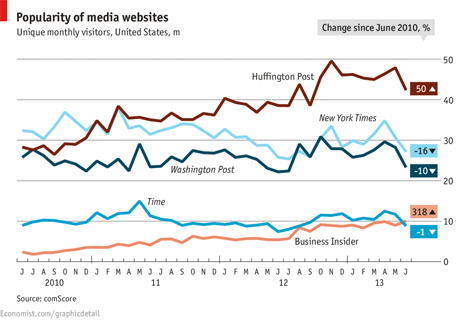 Chart courtesy of The Economist
01. Matti Turunen, "Fall (Feat. Dora Gray)"
[Muhk] (buy)


I feel like I owe Muhk an odd apology. The label has sent me both of their two releases so far, and each time I've reviewed them only long after their respective release dates. My reasoning/excuse is that I've played both of Matti Turunen's records so regularly they no longer make it to my review pile, rather found exclusively on my turntables or in my crate. Where his previous standout, "Elokuu," exuded a live wire warmth from its raw cut frame, Turunen's latest, "Fall," puts a deep-house lampshade on that analog glow to make it even more approachable. It start with typical elements of the style — melancholic pads, a slumping, syncopated Juno bass line — but what emerges from inside seals the deal. Synth lines twinkle like cities seen from far above, streak as if caught moving on camera, and generally well up like sneaky tears. But the crowning achievement is Turunen's treatment of Dora Gray's vocals, which are mostly used as another pad — albeit one trembling with a singer's vibrato and shaped by her phrasing. When she separates from the other melodies it feels unusually profound, which speaks to the quality of this thoughtful pairing. If they keep this up, I doubt I'll wait so long to cover Muhk's releases and Matti Turunen's output more generally again.
Audio clip: Adobe Flash Player (version 9 or above) is required to play this audio clip. Download the latest version here. You also need to have JavaScript enabled in your browser.
02. Tuff City Kids, "Meshnerize"
[Cocoon Recordings] (buy)

Busy as they are with their solo pursuits, Tuff City Kids members Gerd Janson and Phillip Lauer are easily forgiven for not cranking out more TFK releases. There have been, however, two contributions to compilations this year, including the brilliantly named "People Is A Crackhead" for LARJ's Lifesaver comp and more recently "Meshnerize" on Cocoon's annual lettered comp. As with their stellar EP for Unterton and several compelling remixes, "Meshnerize" finds the sweet spot between playability and musicality, emphasizing rhythm with more than enough melody to stand on its own. Musically it's somewhat close to Lauer's own releases, featuring a familiar bass pattern/timbre; but the use of synth strings, both as pads and as sawing, rhythmic progressions, sets it apart as well. So even though Janson and Lauer pack a lot of sound into "Meshnerize" it still has the utility to slot into DJ sets with relative ease. These Tuff City Kids continue to impress, even at a drip-drop pace.
Audio clip: Adobe Flash Player (version 9 or above) is required to play this audio clip. Download the latest version here. You also need to have JavaScript enabled in your browser.
03. Archie Pelago, "Breezy Whey"
[Archie Pelago Music] (buy)

There's something quite inspiring about how an oddball group like Archie Pelago have continued to stay fresh and relevant these last couple years. With live sax and cello as vital to their sounds as drum machines and synths, it would have been easy to paint themselves into a corner of pure novelty. Instead, as the trio's first two releases on their own label have shown, these Brooklynites are malleable and smart enough to adapt and stay true to their core sound simultaneously. Case in point, "Breezy Whey," a sensual yet jacking cut which fully embraces house structures while playing footsie with bass music acolytes under the table, courtesy of stupendous sub-bass rubs. The sultry air flowing through harmonizing sax progressions is kept lively by frenetically plucked strings, so it's ready to keep the sweat flowing or sooth home listeners without either feeling put out. Music this lively and thoughtful seems destined to have a longer shelf life than the hundreds of scuzzy house or techno tracks being churned out these days. So when we look back at this period in dance music history, don't be surprised when Archie Pelago and tracks like "Breezy Whey" make the cut and so many limited white labels don't.
Audio clip: Adobe Flash Player (version 9 or above) is required to play this audio clip. Download the latest version here. You also need to have JavaScript enabled in your browser.
04. Moonstarr, "Complications"
[Love What You Feel] (buy)

Leave it to Love What You Feel to showcase a longtime artist audiences should already know but probably don't. The PTA-run label's second VA comp, Love What You Feel 005, contains tracks by Santiago Salazar, Lerosa, and Jason Fine, but it's Moonstar who delivers my favorite of the bunch. Born Kevin Moon, the Toronto producer has been releasing since the late 90s and racked up 12″s for Compost Records, Sonar Kollektiv, Groovement, and mostly his own Public Transit Records. Pedigree aside, "Complications" is the business, fusing together Moon's stated influences (Detroit techno, hip-hop, and Brazilian bossa nova) into a sturdy dance floor bomb. Think Roman Flugel's "Bahia Blues" with a fresh black eye and a mission of dancing the pain away. The brooding organ stabs seem to lean forward, aided by claps landing on two and four between tinny ride cymbal hits to strengthen the neck snapping groove. It's great to hear a tough cut which doesn't default into brutalism, especially one that turns you on to an active artist like Moonstarr with a healthy back catalog to explore.
Audio clip: Adobe Flash Player (version 9 or above) is required to play this audio clip. Download the latest version here. You also need to have JavaScript enabled in your browser.
05. Powel, "Cloud City"
[Fina Records] (buy)


When seeking out new talents, one label I like to keep an eye on is Fina Records. A sub-label of 20:20 Vision run by Simon Morell (no relation to Ron Morelli, I presume), Fina has released some excellent records by up-and-coming producers still in their ascendency. 2011 brought us Morning Factory; 2012 featured Francis Inferno Orchestra; and now 2013 sees the highest profile release to date from Powel. Floating by on a raft of cumulus pads, the title track of his Cloud City EP is a meditative deep-house shuffler. Many of the elements Powel utilizes are admittedly a bit boilerplate, leaving the little details to lift it above the norm. These come in the form of shakers and claps that fit each other like gears in a clock, giving the shoulders a cause to shimmy. I especially like the heavenly rays of the payoff synth riff, as well as the swirling notes arriving right behind them. It's enough to take listeners to Bespin in their minds, relaxed and ready to let the good times flow.
06. Sabre, "Cosmic Carlos" [W.T. Records] (buy)
07. DJ Rashad & DJ Manny, "Way I Feel"
[Hyperdub] (buy)
08. Oskar Offerman & Edward, "Paranoid"
[Thema] (buy)
09. Black Sites, "N313P" [PAN] (buy)
10. Samantha Vacation, "Samantha's Vacation"
[Long Island Electrical Systems] (buy)
Staff Charts
Brandon Bussolini
01. Max Loderbauer, "Jea" [Non Standard Productions]
02. Untold, "Glare" [50 Weapons]
03. Mountian Range, "Untouchable" [Aniara Recordings]
04. Osborne, "Hold Up (Feat. Joe Goddard)" [Spectral Sound]
05. Donato Dozzy, "200.3" [electronique.it]
06. Powel, "Falling in a Black Hole" [Fina Records]
07. Seldom Seen, "Catwalk" [Frigio Records]
08. Pegasus Heat, "Yum Yum" [Episodes]
09. Drumcell, "Departing Comfort" [CLR]
10. Donato Dozzy, "Vaporware 05" [Spectrum Spools]
Dino Lalić
01. Oneohtrix Point Never, "Problem Areas" [Warp Records]
02. Donato Dozzy, "Vaporware 05" [Spectrum Spools]
03. Willie Burns, "Frozen Tunnel Shuffle" [Beyond The Speaker]
04. Lukas Nystrand von Unge, "En slags popmusik" [Studio Barnhus]
05. ItaloJohnson, "Untitled A1" [ItaloJohnson]
06. Sabre, "Nightdrive to Bolland" [W.T. Records]
07. Modular Cowboy, "Untitled A1" [Modular Cowboy]
08. Batu, "Stairwells" [Cold Recordings]
09. Leisure Connection, "Jungle Dancing" [No 'Label']
10. Nic TVG, "Then I Disappear" (Anstam Remix) [Subtle Audio]
Kuri Kondrak
01. Andras Fox, "Soft Illusion" [Home Loan]
02. Bridge & Tunnel Kids, "Omnii" [Echovolt Records]
03. Charles Cohen, "Version 1 – 200Series" (Morphosis Remix) [Morphine Records]
04. Greg Beato, "3" [Apron Records]
05. John Barera & Will Martin, "Reality" [Dolly]
06. Auntie Flo, "Water of Life" [Autonomous Africa]
07. Leisure Connection, "Jungle Dancing" [No 'Label']
08. Diesel/Jarvis, "Dies Dominas" [Moton Records Inc.]
09. Francis Bebey, "Coffee Cola" (Young Marco Mix) [Born Bad Records]
10. Steve Moore, "Lwaxana" [Future Times]
Chris Miller
01. Donato Dozzy, "Vaporware 05" [Spectrum Spools]
02. Jahilyya Fields, "Pleasure Sentence" [L.I.E.S.]
03. Pev & Kowton, "End Point" [Livity Sound]
04. Kerridge, "From The Shadows That Melt The Flesh 4" [Downwards]
05. Max Loderbauer, "Ssseq" [Non Standard Productions]
06. Blondes, "Elise" [RVNG Intl]
07. Anthony Parasole, "My Diary" [MDR]
08. Black Sites, "N313p" [PAN]
09. Shed, "Fluid67" [50Weapons]
10. James Ruskin, "Into A Circle" [Jealous God]
Brandon Wilner
01. Ian O'Brien, "Made Mike Disease" [Sharivari Records]
02. Sade, "Couldn't Love You More" (Florian Kupfer Edit) [white]
03. Kelpe, "Monte Verità " (Kevin Reynolds Truth Mix) [Don't Be Afraid]
04. Powel, "Cloud City" [Fina Records]
05. Pittsburgh Track Authority, "Now's Tomorrow" [The Harmony Society]
06. Rene Hell, "Merci Cheri" [PAN]
07. DJ Rashad & DJ Manny, "Way I Feel" [Hyperdub]
08. Gilder, "Meta Station" [white]
09. Donato Dozzy, "Vaporware 05" [Spectrum Spools]
10. Lawrence, "Etoile Du Midi" [Dial]