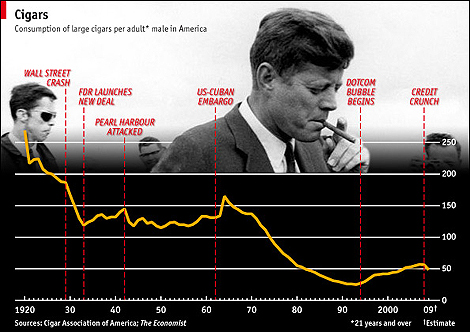 Chart courtesy of The Economist
01. John Roberts, "White" [Laid] (buy)

One of the most fascinating parts about John Roberts' musical development is how he's progressively knocking down the wall between home listening and dance floor material. "White," which arrived with Laid's hotly anticipated sixth release, is quite possibly the finest example of this maturation. His ambling rhythms tread so nimbly and are built of such nuanced textures, yet they pack a wallop that belies their complexity. While running rings around dancers caught up in searing leads and sapphire pools of sustained piano chords, "White" reveals its tender core in a constantly shifting wallpaper of dusky layered pads; when prudently deployed it offers DJs a chance to create a sublime moment for their appreciative audience. Roberts' development so far has me spellbound and "White" is just one apogee in a much longer climb.
Audio clip: Adobe Flash Player (version 9 or above) is required to play this audio clip. Download the latest version here. You also need to have JavaScript enabled in your browser.
02. Martyn, "Seventy Four" (Redshape Mix)
[3024] (buy)

It's hardly a stretch to say Redshape's remix of "Seventy Four" was the best of the Great Lengths bunch. Zomby's pleased his own fans most, Ben Klock's overshot the mark by a wide margin, and Illium Sphere mostly added percussion to "Brilliant Orange" without doing much else. Redshape was the only producer to maintain the flavor of Martyn's original while casting it in his own image such that both perspectives shined through. The familiar punchy drums, damp synth stabs and stuttering count-off make so much sense in 4×4 patterns, pressed on by looming waves and eerie drones. Redshape inserts just enough of his own stadium-size synth and organ progressions suitable for big room sound systems and more modest mini-raves with similar ease. On par with much of his standout 2009 album, this remix is a fantastic addition to Redshape's already well stocked discography.
Audio clip: Adobe Flash Player (version 9 or above) is required to play this audio clip. Download the latest version here. You also need to have JavaScript enabled in your browser.
03. Chris Harvey, "Funky Freak"
[Imperanza Recordings] (buy)

Information is sparse about Chris Harvey and Imperanza Recordings is not a label that often demands my attention, yet "Funky Freak" made it worthwhile to put aside both prejudices and just listen. Perhaps I'm just craving a floor-gobbling Audion track after a couple years spent wading through some admittedly mediocre releases; Harvey takes a similarly overhead view when constructing "Funky Freak" to channel angst, aggression and hedonistic zeal in a pitched battle for track's trajectory. Deafeningly simple drum programming leaves plenty of room for a zig-zagging progression to buzzsaw its way across the club, growing faster and slower as if carried by inertia. It jockeys for control with whipsaw rips, chilly overtones and plucked undertones, unleashing a sonic cyclone that's incredibly easy to get sucked into. It may not be the next "Mouth to Mouth" but don't be surprised when it has a similar effect when booming from stacked PAs.
Audio clip: Adobe Flash Player (version 9 or above) is required to play this audio clip. Download the latest version here. You also need to have JavaScript enabled in your browser.
04. Vincenzo & Elmar Schubert, "Wanna Love You" [Freerange Records] (buy)

With rafts of filters and decent editing software it's easier than ever to turn a single sample source into the basis for a house track. Often these amount to little more than an overcooked edit of a "corny" disco track, which makes the ingenious deconstructions sound even better. Vincenzo & Elmar Schubert have hit that sweet spot with "Wanna Love You," the last track on the Freerange Records Colour Series: Pink 07 Sampler. Having broken apart a gleaming loop into dreamy bed of pulsating chords, the pair bolt the effervescent tune to the floor with a solid beatdown house pattern that'll keep heads nodding. Unlike many tracks in this vein, the vocals arrive halfway through and are used to compliment the duo's synth work, together cultivating delicious anticipation for the track to turn the corner. Don't let this one languish on an easy to overlook sampler.
Audio clip: Adobe Flash Player (version 9 or above) is required to play this audio clip. Download the latest version here. You also need to have JavaScript enabled in your browser.
05. Rob Belleville, "Pulchritude" [aDepth Audio] (buy)

Even if the proliferation of "deepness" has grabbed the most headlines, the overexposure of dub-styled delays is one of the major stories of the last few years of dance music. A washed out feeling is deadly for a sound so closely tied to specific effects, forcing more than a few producers to sharpen their focus and enhance the strongest parts with a generous dose of ingenuity. Dutch producer Rob Belleville offers a few different takes on his Sounds Of Introspection EP for aDepth Audio, and the best by far is the galloping strides of "Pulchritude." With a name that means physical beauty, the tune's uptempo percussive thrust engages sweaty bodies as swaying tech chords give the track a mental undertow that's rather intriguing. Recalling some of Robert Hood's spacey, melodic material for Peacefrog spiked with adrenaline, "Pulchritude" is a potent reminder of the style's versatile appeal.
Audio clip: Adobe Flash Player (version 9 or above) is required to play this audio clip. Download the latest version here. You also need to have JavaScript enabled in your browser.
06. Steffi ft. Elif Biçer, "Kill Me" [Ostgut Ton] (buy)
07. Joy Orbison, "So Derobe" [Aus Music]
08. Manaboo, "Unhuh" [Steadfast Records] (buy)
09. Nico Purman, "Chamomile" [Vakant] (buy)
10. Pawel, "Panamerican" [Dial] (buy)

Staff Charts:
Per Bojsen-Moller
01. Mark E, "White Skyway" [Under The Shade]
02. SCB, "20_4" [Hotflush]
03. Joy Orbison, "The Shrew Would Have Cushioned The Blow" (Actress' Neu Haus So Glo Mix) [Aus Music]
04. Red Rack'em, "In Love Again" [Untracked]
05. Iron Curtis, "Großreuth" [Mule Electronic]
06. Santiago Salazar, "Your Club Went Hollywood" [Wallshaker Music]
07. Black Jazz Consortium, "Applied Vibes" [Laid]
08. Cherry, "When The Truth Is" [Four:Twenty Recordings]
09. John Daly, "Meltdown" [One Track Records]
10. Gadi Mizrahi, "Oh Love" [Spectral Sound]
Chris Burkhalter
01. Kuedo, "Starfox" [Planet Mu]
02. Reggie Dokes, "Until Tomorrow" [Royal Oak]
03. Baz Reznik, "One Arm" [SD Records]
04. Jimmy Edgar, "Sleight of Mouth (Subtle)" [Semantica]
05. Wbeeza, "Candle Groove" [Third Ear]
06. Nebraska, "A Weekend On My Own" [Rush Hour]
07. Joy Orbison, "The Shrew Would Have Cushioned The Blow" (Actress' Neu Haus So Glo Mix) [Aus]
08. D'arcangelo, "Mad Carillon" [030303]
09. Marcello Napoletano, "The Fall" [Quintessentials ]
10. Eric Johnson, "In 2 Deep" [Deep Explorer]
Anton Kipfel
01. Steffi ft. Elif Biçer, "Kill Me" (Instrumental Dub Mix) [Ostgut Ton]
02. Tevo Howard, "Glass Ceiling" (Full Edit) [Hour House Is Your Rush Records]
03. John Roberts, "White" [Laid]
04. Nico Purman, "Chamomile" [Vakant]
05. Aufgang, "Barock" (Robert Hood Remix) [Infiné]
06. Santiago Salazar, "Your Club Went Hollywood" (Aaron-Carl Remix) [Wallshaker Music]
07. Mike Monday, "Touch" [Get Digital Music]
08. Alland Byallo, "War Zero" (Ed Davenport East 2 West Remix)
[Nightlight Music]
09. A Made Up Sound, "Untitled (Original Shortcut)" [A Made Up Sound]
10. Maayan Nidam, "Don't Know Why" [Perlon]
Kuri Kondrak
01. Arto Mwambe, "Love Lift" [Brontosaurus]
02. Red Rack'em, "In Love Again" [Untracked]
03. Falty DL, "Groove" [Rush Hour]
04. Conforce, "The Land Of The Highway" [Meanwhile]
05. John Roberts, "White" [Laid]
06. Anton Zap, "You Are Not Alone (Kingdom)" [Millions of Moment]
07. Mr. Fingers, "Waterfall" [Alleviated]
08. Santiago Salazar, "Your Club Went Hollywood" [Wall Shaker]
09. Wbeeza, "All Those Beats" [Third Ear]
10. Jaime Read, "Messages From Outerspace" [Elektrosouls]
Chris Miller
01. Peter van Hoesen, "Terminal" [Time To Express]
02. John Roberts, "White" [Laid]
03. Scuba, "You Got Me" [Hotflush]
04. James Blake, "The Bells Sketch" [Hessle Audio]
05. Donnacha Costello, "Leaving Berlin" [Poker Flat]
06. Marcel Dettmann, "Shift" (Norman Nodge Remix) [Ostgut Ton]
07. Alex.O.Smith, "Skynet 2B" [FXHE]
08. A Made Up Sound, "Sun Touch" [A Made Up Sound]
09. SCB, "20_4" [Hotflush]
10. Kyle Hall, "Kaychunk" [Hyperdub]