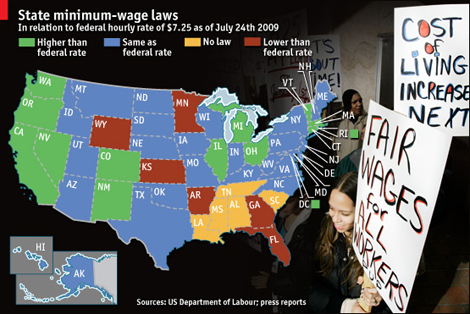 Chart courtesy of The Economist
01. Toby Tobias, "In Your Eyes" (Tensnake remix)
[REKIDS] (buy)


I think it's fair to say Hamburg's Tensnake has been on a roll for the last year or so. Following on his incredible "In the End (I Want You to Cry)" for Running Back, Tensnake reshapes Toby Tobias' "In Your Eyes" to fit his neon-lit disco template. Full of popping bass lines, colorful whooshes and pitched down vocals, all heard through a fluttering delay, the tune is instantly recognizable as a Tensnake production and benefits great from his lighthearted moods. Here's hoping he can find it in himself to keep the ball of fine releases rolling.
Audio clip: Adobe Flash Player (version 9 or above) is required to play this audio clip. Download the latest version here. You also need to have JavaScript enabled in your browser.
02. John Tejada, "Liquid Mirror"
[Palette Recordings] (buy)


John Tejada offers a good example of producers who stay sharp in spite of their prolific release schedule with the latest single for his Palette Recordings, "Vertex." Never resting too long on one style or set of sounds, the EP contrasts the biting impact of the jagged title cut with the adventurous and curvy "Liquid Mirror." Tejada wraps listeners in a web spun by a finely tweaked arpeggio, allowing a beveled bass line to prod them onto a dance floor drizzled with sparkling leads. Tuneful and moving without lapsing into excess, "Liquid Mirror" is as much a full blown song as a DJ's instrument.
Audio clip: Adobe Flash Player (version 9 or above) is required to play this audio clip. Download the latest version here. You also need to have JavaScript enabled in your browser.
03. Margaret Dygas, "Frankly"
[Perlon] (buy)

Only three releases into her production career, Margaret Dygas has quickly earned a reputation as one of techno's most unconfined producers. Her "Invisible Circles" 12″ for Perlon will only add to that stature: a bold two tracker whose title track sketches out a haunting outline of dubstep in an ectoplasmic form, and a more functional yet still wide-eyed B side, "Frankly." Palpable dread hovers like a storm cloud over impeccably programmed percussion as the lengthy track winds it way through flamenco guitar motifs, sneering trumpet licks and a patchwork of unearthed souls. If her current trajectory holds, Dygas will soon join Pronsato and Villalobos on the cusp of outré techno.
Audio clip: Adobe Flash Player (version 9 or above) is required to play this audio clip. Download the latest version here. You also need to have JavaScript enabled in your browser.
04. James Ruskin, "Sabre"
[Blueprint] (buy)


Many artists who stay in the game long enough find their work comes back into fashion as successive new generations learn about the old. London's James Ruskin, founder of the Blueprint label, has watched the tide come and go since 1991; and these days the style of gruff, pounding techno he's been caning ever since has returned to prominence. DJs have taken note of his new O/V/R project with Karl O'Connor, though his solo "Sabre/Massk" EP deserves an even closer look. "Sabre" demonstrates the completeness of Ruskin's command of his gear, flinging a thrumming sample around the stereo channels before constraining it in a cage of stony kicks and astringent percussion. It's the sort of sound design we've come to expect from Marcel Dettmann and Norman Nodge with fewer restrictions. Not bad for scene veteran, eh?
Audio clip: Adobe Flash Player (version 9 or above) is required to play this audio clip. Download the latest version here. You also need to have JavaScript enabled in your browser.
05. Jimpster, "Just the Kind of Girl"
[Freerange Records] (buy)

Although Freerange Records' releases and his remixes are legion, Jimpster tends to be rather selective about his solo work. This usually means his tunes are worth hearing and that DJs and fans alike chime in with support. Perhaps anticipating a low key reception, Jimpster named his latest "Sleeper" and watched the EP slide under the radar. This is a shame in our estimation, not least because B side "Just The Kind of Girl" is both at home in the current milieu and a head above its peers. A clipped horn ostinato pierces, then reverberates in aquamarine tone pools coating the floor, culminating in moody breakdowns and fiercer riffs. So adept is Jimpster at developing a sublime atmosphere that we're willing to overlook the tortured vocals crowing the title in the latter half. Certainly not one to sleep on.
Audio clip: Adobe Flash Player (version 9 or above) is required to play this audio clip. Download the latest version here. You also need to have JavaScript enabled in your browser.
06. Pépé Bradock, "Path of Most Resistance" [Atavisme] (buy)
07. Bsmnt City Anymle Kontrol, "Perfekt Sin"
[Wild Oats] (buy)
08. Rndm, "Third Hand Smoke" [Laid] (buy)
09. Isolée, "Albacares" [Mule Electronic] (buy)
10. Audio Werner, "Dito" [Minibar] (buy)

Staff Charts:
Per Bojsen-Moller:
01. Mount Kimbie, "Sketch On Glass" [Hotflush Recordings]
02. Margaret Dygas, "Invisible Circles" [Perlon]
03. Ben Klock, "One Remixes" [Ostgut Ton]
04. Lusine, Two Dots [Ghostly International]
05. Pearson Sound, "PLSN" [Hessle Audio]
06. Steinhoff & Hammouda, "Touch" [Smallville Records]
07. Ramadanman, "Revenue" [2nd Drop Records]
08. Nosaj Thing, "Drift" [disques corde]
09. Langenberg, "Alternate Rhythm" [Dessous Recordings]
10. Bodycode, Immune [Spectral Sound]
Shuja Haider:
01. Pépé Bradock, "Path of Most Resistance" [Atavisme]
02. Rick Wade, "Ricky's Groove" [Laid]
03. Steel an' Skin, "Afro Punk Reggae Dub" [Honest Jon's Records]
04. Kinoeye, "Mean Old World" [W.T. Records]
05. Dplay, "Tschaka" [Running Back]
06. Bsmnt City Anymle Kontrol, "Perfekt Sin" [Wild Oats]
07. Tony Lionni, "Aurora" [Wave Music]
08. Walter Jones, "Living Without Your Love" [DFA]
09. Margaret Dygas, "Frankly" [Perlon]
10. Solomun, "Carnivale" [Phil e]
Anton Kipfel:
01. John Roberts, "Maroon" [Dial]
02. Roman Flügel, "Discofiasco" [Turbo]
03. Pépé Bradock, "Path of Most Resistance" [Atavisme]
04. Kinoeye, "Mean Old World" [W.T. Records]
05. Brackles, "Get A Job" [Apple Pips]
06. Moritz Von Oswald Trio, Vertical Ascent [Honest Jon's Records]
07. Unknown Artist, "Point and Gaze" [Thriller]
08. Precious System, "Voice from Planet Love" [Running Back]
09. Bodycode, "Imitation Lover" [Spectral Sound]
10. Discovery, LP [XL Recordings]
Kuri Kondrak:
01. Patrice Scott, "Excursions" [Sistrum Recordings]
02. Brawther, "Endless" (Ultra Deep Mix) [Balance Alliance]
03. Walter Jones, "Living Without Your Love" [DFA]
04. Scott Grooves, "Detroit 808" [Natural Midi]
05. Denny Trajkov, "From Chicago to Detroit" [Logos Recordings]
06. Kinoeye, "Mean Old World" [W.T. Records]
07. Jeroen Search, "Earth" [Figure SPC]
08. Shawn Snell, "Forces" (DJ 3000 12inch mix) [Motech]
09. Memory Foundation, "Words" [Yore]
10. Peverelist, Junktion (Shed remix) [Tectonic]
Will Lynch:
01. Margaret Dygas, "Invisible Circles" [Perlon]
02. Alan1, "Sniff Them" [Final Frontier]
03. Baaz, "Peeps" [Quintessentials]
04. Daze Maxim, "Organ Message" [Hello? Repeat]
05. Joss Moog, "Drivin' On Up" [Robsoul Recordings]
06. The Zohar, "Fingers and Clay" [Quintessentials]
07. Bruno Pronsato, "The Make Up The Break Up" [Thesongsays]
08. Linkwood Family, "Miles Away" (Intrusion Sunrise Dub)
[Firecracker Recordings]
09. Scott Grooves, "Classic 909" (Panther Mix) [Natural Midi]
10. Kiki, "Good Voodoo" (Visionquest remix) [Bpitch Control]
Chris Miller:
01. Pearson Sound, "Wad" [Hessle Audio]
02. Rndm, "Third Hand Smoke" [Laid]
03. Ramadanman & Appleblim, "Justify" [Apple Pips]
04. Moritz Von Oswald Trio, Vertical Ascent [Honest Jon's Records]
05. Moderat, "Rusty Nails" (Shackleton remix) [50 Weapons]
06. Marcel Fengler, "Twisted Bleach" [Ostgut Ton]
07. Frozen Border, "Frozen Border 03" [Frozen Border]
08. Thomas Brinkmann, "Isch" (Soulphiction Remisch) [Curle Petite]
09. Peter Van Hoesen, "Strikethrough" [Morse]
10. Planetary Assault Systems, "Om the Def" [Ostgut Ton]