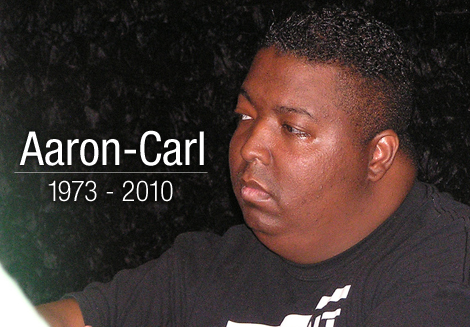 Photo by Angie Linder
"There's something to be said about a person who bares his soul to the world," Aaron-Carl Ragland wrote when launching his personal blog in August of 2005. Being candid was a familiar experience. As an acclaimed musician and record label owner, as well as a friend, father and partner, Aaron-Carl wasn't afraid to put himself into his art or speak his mind. Through his intensely personal lyrics and heart pounding beats he formed connections with audiences around the world. Despite his considerable reputation it was always the real person on display, his raw emotions and experiences inspired dozens of records. Approachable and patient, generous with his time, it was difficult not to become his friend, whether you were an an artist looking for advice, a fan willing to say hello, or a journalist pointing a recorder at him. Even in the age of social networking when audiences expect their artists to regularly reveal personal minutiae, Aaron-Carl's "bittersoulfulsweet" candor stood out.

Aaron-Carl Ragland, born August 19th, 1973
In many ways Aaron-Carl's outspokenness was the catalyst for his musical career. While peers escaped their problems with drugs and other risky activities, he channeled his emotions into songs that read like brutally honest journal entries. With a Casio keyboard, four track recorder and his tremendous singing voice, Aaron-Carl began committing raw, affecting songs to tape in the early to mid-1990's. His demo caught the attention of Mike Banks, owner and leader of Underground Resistance, who signed the young producer to UR's sub-label, Soul City. "He was a rookie [who had] good content with bad mixes caused by a lack of gear," Banks said, "His shit was real. People need to hear real."
In 1996 his twin debut singles defined his candid style: "Crucified," a moving deep-house work which doubled as a suicide note, was released on Soul City. "Down," a growling electro track released by Ghetto Zone Records, proclaimed in no uncertain terms this young gay man would not be denied his carnal desires. Although the latter tune divided opinion, its notoriety helped launch Aaron-Carl's career and became a Detroit standard. Fellow Detroit musician/producer Maurice Herd aka Pirahnahead was stunned when he first heard "Down" during his residency at Detroit venue Regine's. "I was in a funk rock band at the time and I wanted to do a live punk version because it was so raunchy and raw," he said. Angie Linder, founder of the Detroit Techno Militia label/collective, was exposed to the track in 1998 when it was licensed by Juan Atkins' Metroplex imprint and heavily featured in Gary Chandler's WJLB's radio mix shows. "I almost couldn't believe my ears when I paid attention to the lyrics!" she recalled.

Aaron-Carl, Brett Dancer and Larry Heard. Photo by Tommi White
Being under the Underground Resistance umbrella, and working with Banks, helped Aaron-Carl refine his songwriting and expand his knowledge of production and recording techniques. "He was like my father in a way," AC wrote on his blog, "Because of him I know the difference between a good idea and a great song." The label provided the means to release his records, but he was shocked to find out his contract did not grant ownership of his work. Furious, AC left the UR roster in 1998 and soon founded his own imprint, Wallshaker Music. Although Aaron-Carl continued to record and remix for a variety of labels, Wallshaker was the primary outlet for all facets of his musical personality, not just the ones sought after by fickle A&R reps. One of its first releases, the prescriptive "My House," was licensed by Ovum Recordings in 2000, remixed several times and landed at number 36 on Billboard's Hot Dance Music/Club Play chart. Altogether the label released more than 30 records by artists such as Santiago Salazar, InBetween DJs, Lady Blacktronika, and of course Aaron-Carl.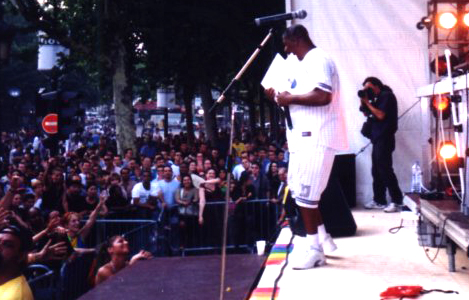 Aaron-Carl playing the Paris Gay Pride celebration, 2003
But running his own label was hardly a panacea for his musical woes. His creative freedom was yoked to the burden of recouping costs and turning a profit from record sales. With the international renown he'd cultivated — not only through his tracks but also DJ gigs which doubled as live performances — the demand was there. Instead Aaron-Carl's challenge was getting Wallshaker's records onto stores' shelves, not least because he refused to work with Submerge, Detroit's biggest distributor owned and operated by Mike Banks. Piecemeal arrangements and royalty fees helped keep the lights on but often left thin margins. In his typically open style, AC broached the subject repeatedly on his 2005 album, Detrevolution. "This is a true story," begins the track "Brokedown Blues" whose chorus admits, "I need money, a whole lotta money." Throughout the mid-2000s his doubts about being able to afford his musical career led him to consider putting it aside in favor of a day job. Yet the support and encouragement of those around him, especially his life partner, Mel Winders, helped him persevere.

Mel Winders and Aaron-Carl. Photo by Angie Linder
Stefan, Jevon and Aaron-Carl Ragland. Photo courtesy of Paxahau
As important as it was, music came second to family in the pecking order of Aaron-Carl's life. The second of four children, AC — known as Boogie to his family — was especially close to his mother who he counted as his number one fan. In 2000 he decided to start his own family and applied to be a foster parent to two young boys, Stefan (then 6-years-old) and Jevon (only 10-months-old). Although the relationship wouldn't last, Aaron-Carl adopted the kids and was as loving a father as any child could hope for. During a two-year period spent living in North Hollywood, he met Mel Winder, the man who would become his partner for nine years and a caring father to the kids. "Aaron was always a dedicated, devoted father," Winders attests. As a parent herself, Angie Linders bonded with him over parenthood. "[He] was very proud to be a parent. Through thick and thin, he was there by their sides trying to make sure they grew up in a positive environment."

DJ Trench, DJ Bone, and Aaron-Carl. Photo by Angie Linder
Aaron-Carl's desire to create a positive environment extended into his community as well. In 2004, he met Stephen Smith aka DJ Trench who was tasked with designing the cover for AC's single "Tears." Bonding over music and much else besides, the pair shared a sense that Detroit's dance music clubs weren't living up to their potential and underground events were too often under attended. "Music was divided [by] genres, and crowds were split between locations," Smith said, "so we decided to do something about it." In late 2005 they launched Jackit!, a bi-monthly club night with an open music policy — you could often hear rap and rock amongst dance tracks — and a goal of showcasing local talents. This inclusive approach proved popular, and by Smith's account, "we were just a bit ahead of the curve, as many of our featured performers have started popping up regularly in the media over the last two years." Jackit! continued until Smith moved away in 2008, but it was the starting point for Aaron-Carl's most ambitious project.

DJ Chyll, Quentin Harris, and Aaron-Carl in their W.A.R.M.T.H. gear
Inspired by the success of Jackit!, the sense of family he admired among the Detroit Techno Militia, and the disparities in the reception he received Europe and Detroit's scenes, AC founded the W.A.R.M.T.H. 313 collective in late 2009. The group's name was also its mission: We Are Revolutionizing the Movement of Techno and House. Initially the goal was "to honor Detroit's history… to insure the future for Detroit electronic music," he told me, starting with providing support for local artists and throwing large live events. But as time went by, the inclusive attitude that informed Jackit! became a guiding factor, and AC took W.A.R.M.T.H. international. He picked talents from across the country and around the world to join the group, from DJ Israel in Dallas and DJ Chyll in Detroit to Larry Cavelle in Britain and long-time friend DJ Mourad in Sweden, among others. Besides their events, W.A.R.M.T.H. operates a 24-hour Internet radio station. Now anyone with an Internet connection can be a part of the of community AC worked so hard to build and maintain.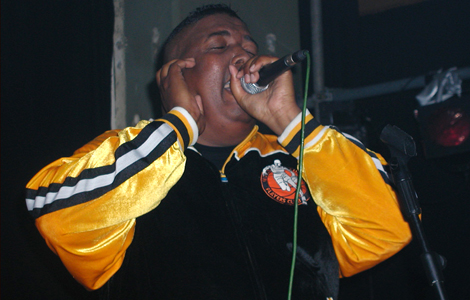 Aaron-Carl singing live. Photo by Christian Koenig
For all he accomplished and all the hardships Aaron-Carl endured to live his life on his terms, one challenge he wasn't able to overcome was cancer. Just before his planned 2010 European tour, AC was admitted to the hospital after suffering a ruptured aneurysm in his right kidney. Although it was a painful and upsetting experience — especially having to cancel his tour — he was hopeful that time and rest was all he needed to heal. Instead it was necessary to return to the hospital several more times as his symptoms worsened, and on September 23rd the doctors diagnosed him with lymphoma, a fact he confirmed in a heart wrenching video. Through it all AC was outwardly upbeat and confident about his chances of beating cancer, frequently updating his many followers via Twitter and Facebook. But in the early hours of September 30th, only a week after receiving his diagnosis, Aaron-Carl passed away after several attempts at resuscitation.

Aaron-Carl in the hospital
His strength and poise during this incredibly trying time came from his faith and the support of those who loved him, but perhaps also from having pondered over death for years before then. After the sudden loss of his mother in 2005 while he was in Europe, AC occasionally wrote about the inevitability of his own passing and how people might react. "You know, we're not promised tomorrow," he wrote, continuing, "I wonder who'd miss me. Just a reminder that if you love someone, SHOW THEM while you're here!" Death was also the subject of his 2008 song, "If There Is A Heaven," wherein he sung, "One day we'll all face the same thing, we should not be afraid." But the line was soon followed by "the thought of leaving just terrifies me" and "I don't want to go anywhere right now." By tackling the issue head-on instead of ignoring the unavoidable, Aaron-Carl seemed more at peace with the cards life had dealt him. The last days of his life clearly put many things in perspective, such as the size of his accomplishments and the abundance of people who cared deeply for him. "For years, I've noticed I was 'hated'," he admitted, "Now at this time in my life, I realize that I'm actually loved."

Aaron-Carl DJing at a Jackit! party. Photo by Erik
There is no measure for the Aaron-Carl-sized hole left by his absence. The world lost a true artist whose enduring commitment to honesty, both in music and in life, was rare and affecting. Yet the truths he told live on in the many songs he recorded and in the spirits of those whose careers and lives he inspired. Even Wallshaker and W.A.R.M.T.H. International, although left somewhat rudderless after, continue on with his acolytes and loved ones at the helm: Mel Winders has committed himself to keeping Wallshaker operational, digging through a wealth of unreleased material and ensuring its proceeds benefit their children. W.A.R.M.T.H. is being overseen by DJ Chyll and his wife, Michelle Weeks (who were introduced by AC), and DJ Mourad.

Jevon and Aaron-Carl. Photo by Doug Coombe
But the greatest tribute to Aaron-Carl is how he lives on in the memories of the people he reached. "People will always remember him as a giving and helpful person who had no secrets," Winders told me. Pirahnahead said, "I'll always remember him as a true brother and giving spirit, trying to bring the very segregated dance music world of Detroit together by any means necessary." DJ Mourad told me, "I hope people will remember him for the man he was," and added, "He was somebody with a huge heart; a very sensitive man, a very good man." DJ Trench attested that "he touched the world through music, but more importantly he touched many, many lives around him. I am thankful for the times we shared, and I am thankful for all he taught me." Angie Linder remembered how "he always looked for the best in people and would put a hand out to help them." Mike Banks put it most starkly: "Don't feel sorry for Aaron, he accomplished his dreams. Not many people get to do that. I'm proud of him forever."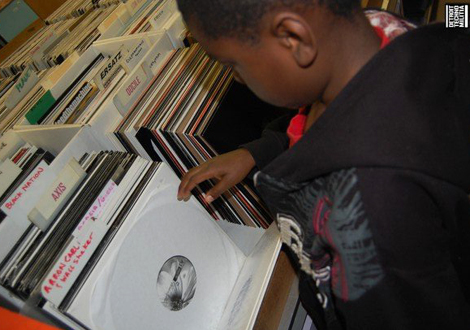 Jevon looking through Aaron-Carl records. Photo courtesy of Detroit Techno Militia
Although I had only a few conversations with Aaron-Carl, he was quick to include me in his life. During the 2010 Movement Festival in Detroit he invited me to his house. We time spent sitting in his studio, discussing the current state of electronic music and its future with AC, DJ Chyll, DJ Israel and one of his friends, Vergel Evans. All I did to deserve this was to conduct an interview, which was more like a conversation with a friend. One of the bravest and most giving artists in dance music made me feel special, and this tribute is the least I could do to repay his kindness and celebrate the life of a spectacular human being.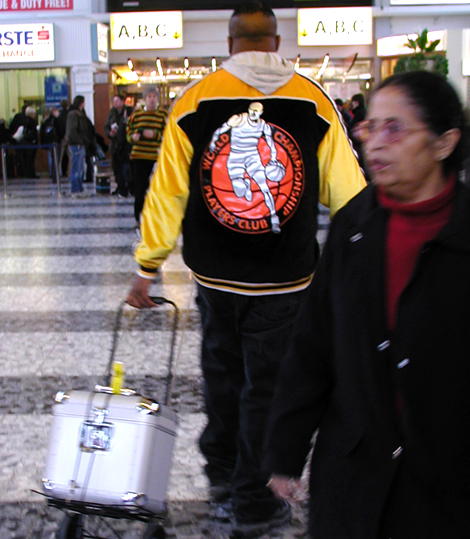 Aaron-Carl heading out. Photo by Christian Koenig