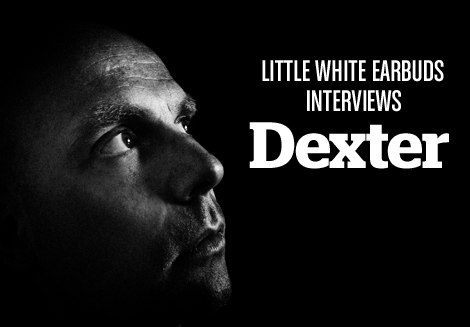 If the press put as much store in quality as we do in stylistic consistency, Remy Verheijen might well rank among dance music's upper echelons. But the Dutch producer, who has produced in a wide breadth of styles as Beserk, The Noodle Project, Skindeep, Butterfly Kiss, and most famously as Dexter, is only now garnering the reception an artist with his talents deserves. Those who have been clued in have found much to enjoy in his catalog which stretches back to the mid-90's: Rich in melodic hues and scored with texture, his tracks for Clone, Rush Hour Recordings, and his own Klakson imprint, as well as remixes for everyone from Ellen Allien and The Hacker to Fischerspooner and Alton Miller, are strong because they're all in the service of masterful songwriting. Lucky for us, it seems Verheijen is prepared to keep delivering the goods now that more have caught on. We chatted with the man known as Dexter in anticipation of his September 3rd appearance at Public Assembly for The Bunker in New York City.
Since you started making music you've been present in a variety of sub-genres, from electro and trance to house and techno. Would you say you're adaptive to the musical climate you're in or do you produce what interests you at the time?
Remy Verheijen: Not trance. I just produce what interests me at the time. I have a very wide taste in music and when I listen to a certain kind of music I think, I'm gonna make something like that! Or it's a new piece of equipment that sets me in a mood to produce a kind of genre. I was in Berlin for gigging and some studiowork for a few weeks ago, that made me want to do house/techno stuff. And after that I was playing at an electro party in London and now I've just finished four new electro tracks. I just making everything I like if it's in my reach.
It seems the Netherlands really grabbed on to electro back in the day and still holds tightly to the sound. Why do you think electro resonates so much with Dutch producers?
I don't know really. I know that electro was quite big already in the past. In the bigger cities you had these radio pirates who played electro and the early hip hop. I remember that a lot of us were taping all these shows. We called it "space" and we knew about it because of older friends who were really serious in breakdancing and even became Dutch champions. So we were kids, around 12 years old, all listening to Kraftwerk and Egyptian Lover, et al. I know from guys from The Hague that there was a really big Italo scene and I think maybe that had something to do with it as well.
How does electro music inform your productions now?
Well at the moment I'm in a kind of "electro modus" if you mean that by inform? But it's not the purist electro that's out there. I've heard some 808 electroish kind of stuff with dubstep from the UK that really inspired me. In the UK they are mashing up everything at the moment and that's something I really like.
Listening to some of your more recent productions, especially your remix of Midland's "Play The Game," it seems like you strive to make your productions accessible and catchy in a way some might deem "poppy" (not that it's a bad thing at all). I'm curious what influence historical pop music has played on your music making sensibilities? Do you feel more comfortable making accessible music now than you did in the past?
I want to do both. I want to do more accessible music but also more experimental/underground stuff. Historical pop music influenced me more than I realized. Well, maybe more funk and hip hop than pop music. At the moment I'm working together with two guys who are kind of musical geniuses and that's gonna be more "poppy." They play a variety of instruments and we have this incredibly talented singer who is actually my neighbor in the building were my studio is. So this is gonna be more accessible and poppy.
Although you've made a bunch of solo records you've also done a lot of remixes for a very varied bunch of artists. What do you enjoy most about remixing? What least? How important is it for you to retain the original elements or their essence?
With remixing I like that you get to do to very different kinds of music and reach people who normally wouldn't buy your music. The Midland remix was a dubstep track that I turned into a rave kind of track, it's stuff like that I like to do. I mostly like to remix vocal tracks. With instrumental tracks it's important to use original elements but with vocal tracks I almost never do. For me it's important to really turn it into a new track and not like a lot of remixes with some snippets of the original vocal with delay and most of the time isn't even in tune. What I enjoy the least is when people try to get me in a certain direction. Remixing for me works the best if you leave me completely free.
Many producers take comfort in the fact that even if their tracks are NOT very complicated musically, they are effective at keeping dance floors moving. When you're making your tracks, are you thinking about what would be effective on a dance floor, what you're trying to achieve musically, or some combination of those? What factors are most important in how your music takes shape?
A bit of both I think, but I think more effective on a dance floor. At the moment I'm finishing a track that's mainly a vocal sample with a beat and bass line. Other tracks I've put in more chords and melodic progressions and stuff, but it's not necessary for me. It just depends what works.
What inspired you to start Klakson?
To put out music that we couldn't buy at that moment, but also just the love for music and releasing it.
How did you meet Steffi? I noticed you were a co-producer on her excellent track, "Kill Me." What is it like working with her in the studio? Do you have plans to work on more music with her?
We meet through Steven the Peven, a mutual friend of ours, who was also part of Klakson. We were on the same level right away and been friends 'till this day. Working with her goes really smooth, I must say. She's really becoming a very good producer and really gets the sound that she wants to make and that can be a struggle. We just did a track together for her album on Ostgut Ton and we are going to work on a release of us together, I think next month.
How did her Klakson sub-label, Dolly, come about?
Dolly is for more house-y/techno/deep stuff, I think, and Klakson for funk electro and stuff.
I know you started out as a DJ but these days you only do live sets. Why have you opted to stop DJing in favor of live PAs?
I just get a bigger kick out of playing my own music. And everybody is a DJ these days. I just think it's a bigger challenge to keep people dancing and having a good time with my own music.
So far you've only released singles; do you have any desire to release an album?
YES! 2011.
What is coming up from you and from Klakson?
The album and more releases than I did the past few years. More collaborations. More genres. More gigs. I've left Klakson to focus more on my music, it's in good hands with Steffi.