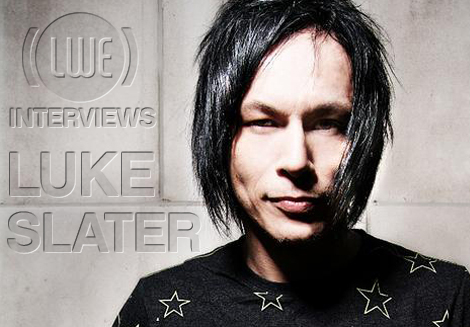 Photo by Chris Davison
Luke Slater is, as they say, a man who needs no introduction. A stalwart of the international electronic scene for almost 20 years, much of contemporary techno owes Slater a debt of gratitude. Without his mid-90's releases as Planetary Assault System, it's hard to imagine the output of labels such as Sandwell District, Ostgut Ton or Do Not Resist The Beat! sounding quite the same. His shadow looms large over Toby Frith's recent list of 20 classic UK techno records for FACT magazine, and his new album under the PAS moniker Temporary Suspension is a blistering tour de force; so it's an apt time to ask Slater a few questions about his new album, his renewed love for DJing, and his future ventures into the world of ballet.
Luke, you said in an interview in 2001 that you were retiring the Planetary Assault System: "I haven't really got the time or the feeling I used to have to do Planetary and I don't wanna keep on doing it just because I can sell a few records or whatever… You suddenly realise that things have changed and you have just moved on." You revived it in 2006 with "Deep Heet" on your own Mote-Evolver label. Why did you resurrect it, given your earlier comments?
Luke Slater: The word "never" has always been something [that] I know as soon as I utter it I will probably come back to bite me, but essentially I did retire Planetary. I really needed to let it go for a while so it could come back for the right reasons. The reasons being the same reasons I adopted when I first started Planetary: the music.
Tell us a little bit about the new album Temporary Suspension. When and where was it produced, and what were some of the influences behind it?
I started work on Temporary Suspension around September 2008 at Spacestation 0 [Luke's studio]. I gave myself one rule that really never applied to past Planetary music and that was I had to road test every track before it could be considered worthy for the album — that's to say to see how audiences reacted to it beforehand. Some tracks didn't cut it so they didn't make it, some did. I chose the single based on two tracks that no matter where I played them seemed to make the crowd go mad, that being "Temporary Suspension" and "Mark Me."
It was released on Ostgut Ton, the label associated with Berlin's infamous Berghain and Panorama Bar club. How did this hook-up come about? Maybe you could talk a bit about your experiences of the club? What other clubs around the world have you enjoyed playing in?
Yes, it has become infamous hasn't it? Well I have quite a history with Berghain, going back to when they were called Ostgut, in a different venue in Berlin. I just love those guys, the club, the sound, the freedom. It's a bit of a second home for me in DJing terms and music. A very creative atmosphere. Very creative people. There's a few clubs around the world I do on some kind of regular basis. Berghain, Nitsa [in] Barcelona, Ageha in Tokyo, Japan, Balance in London, to name a few. I'm actually enjoying DJing more now than ever. I think the superstar thing has subsided since the 90's and clubbers are much more music orientated now than before. That's a good thing. The groove is back.
You also contributed a track under your 7th Plain alias to their Shut Up And Dance! Updated compilation, recorded for a contemporary dance performance at Berghain. What is your interest in music outside the nightclub, and do you have plans to move further in this direction?
I originally did a piece of music under my old name 7th Plain called "Symphony For The Surrealists." This was for a very unusual and interesting collaboration between Berghain and the Staatsballett Berlin. Ballet to electronic music. I happened to be working on some 7th Plain stuff at the time so I put it together for them. Afterwards doing a Planetary album seemed a natural idea, I was feeling it, so we did it. Now the back catalog of 7th Plain material is being reworked for another production by the Staatsballett including new 7th Plain tracks and unreleased material. It's a good home for the 7th Plain. The music has found its purpose. Very exciting. Planetary-wise we have started the live shows and kicked off at Berghain on the 20th June album release party, a night I'm still buzzing from quite frankly. Excellent.
The Ostgut Ton "family" of producers such as Marcel Dettmann, Len Faki, Ben Klock etc are explicitly influenced by your work as Planetary Assault Systems in the 1990's. What do you think of their music, and in turn, which current producers are you excited or inspired by?
Oh, I love what they are doing, some great releases. I'm playing their tracks, they're playing mine, that's what it's all about — keeps everything alive. Keeps me inspired. It's great they are influenced by what I was doing with Planetary, but I think more importantly for me is that we are writing music now, playing each others music in long sets, growing the invention and vibe. Creativity gets me every time. I love it.
In your almost twenty years producing electronic music, you've released records under a wide number of monikers (e.g. PAS, Translucent, 7th Plain, Morganistic, etc), and in a wide number of styles. Which project or release are you most proud of, and which one is most personal to you?
You know, my reasons for different names in the beginning was really born out of the problem where I was writing so much music, and different labels were taking different tracks. That was about 1993 I guess, later on this became a problem. Planetary kind of took on a life of its own and my own name took on another life, so essentially by the end of the 90's I had two personalities. Maybe that's a Gemini thing, I don't know. I don't plan to revive Morganistic, Translucent… but hey, that's another "never" eh! I think Luke and Planetary are the closest they have ever been. I'm proud of all my little children.
In particular, your albums under your own name on Novamute in the early 2000s showed you to be traveling in a more explicitly "pop" direction. You seem to have stepped away from that period a bit now, can you talk about your experience of moving from being an underground techno guy towards more mainstream acclaim? What made you shift back to producing more stripped down stuff like the Temporary Suspension?
I'm really pleased with the Novamute albums, Freek Funk in particular for its diversity. One thing I was really adamant about and always have been is that Planetary should never be sold as something its not. It's not pop music, it's underground club music from the world I inhabit as a DJ and my mindset that goes with it. When Novamute came about back then I didn't want to move Planetary over to it for that reason. I thought Novamute was a good label to push something more diverse that didn't have to be club based, and allowed for more of a story in music rather than club tracks, but carrying over to people the same production values that I like. This proved successful.
However, the nature of success with a large label, especially back then when there were large independent labels, meant that the pressure was on. By the end of it, the pressure I was under was becoming very similar to something I always tried to avoid, where the music becomes third place to the vessel to get it out there. I grew uncomfortable with that after Wireless. Alright On Top was an electronic pop experiment. I didn't enjoy that world, but I'm glad I checked it out. I always think you don't really know how to drive your car until you've taken it to the brink of crashing on a corner. Then you know your car. And I apologize for using a car comparison! Then I waited until Planetary came knocking on my door again, demanding some kind of action, first in the form of two releases on my own label Mote-Evolver. This was an important test for me, to see how people liked Planetary, released low-key and un-promoted. Back to the roots, so to speak.
You talked a few years back about using four turntables when DJing as it pushed the boundaries of what could be achieved. Have you embraced technology in the form of Ableton, Serato etc. when you spin, or do you still use vinyl?
We use [Ableton] Live for our "live" shows amongst other equipment. I''m also using Vestax VCM-600's for the live show; these are great pieces of kit, very hands-on. DJing wise, I use vinyl and self burnt CDs. I don't use computers for DJing. I like action not standing behind a laptop, selecting a track. I spit venom to anyone thinking of trying to plug the decks into an audio interface while I'm playing

It ain't gonna happen.
What does this year hold for Luke Slater? What are your plans both in terms of your label, taking PAS on tour and your next production project?
Very busy. Checking and playing new music. The Planetary live shows, the ballet 7th Plain production, DJing, and new releases on Mote-Evolver in the autumn. Remixes. Then working on a new Planetary album. No rest. Life is short.