Photos by Sarah Ginn
Kevin McAuley has long provided a tense, shadowy musical counterbalance within the Hessle Audio camp. From his early days releasing sparse and rolling dubstep, he has latterly connected the dots between jungle, grime and techno with ease, lending his tracks a queasy tautness — tangible unease that threatens to uncoil at any minute. 2011 saw the release of his two most assured 12″s (Inna Daze/Won't Hurt on Hessle and Hex/Fatalist on Hemlock), both of which showed a fierce commitment to driving futurism, albeit with a healthy nod to a dark UK rave/soundsystem lineage. However, it is on his longer sets that Pangaea has best represented the different shades of his sound. The Pangaea EP, released on Hessle in 2010, included both upbeat vocal cuts with overtly techno-influenced material while new double EP, Release, is his most fully realized work to date, running the gauntlet from fierce techno to hazy drone and grime imbued bass savagery. Little White Earbuds caught up with Pangaea to talk about the early days of Hessle Audio, the perils of "listener fatigue," and why techno may well be the way forward.
Your tracks often reference the grimier outposts of UK sound system culture — jungle, grime, ragga etc. Has this music played a big part in your life? How did you initially arrive at electronic music?
Kevin McAuley: To some extent it has, yeah. Dubstep of course, and DnB was the first dance music I actually went out and danced to. But my introduction to electronic music was in 1992. I loved the dance music that crossed over into the charts. My parents noticed this and bought me a keyboard to play around with and some compilation cassettes. I found stuff like "Hurt You So," "Everybody In The Place," "Injected With A Poison," etc, a bit scary and weird but exciting at the same time. I was just a young kid though, I didn't start actively following the evolution of hardcore or jungle or anything like that! If anything my preference became 4/4 stuff, so when I was finally able to afford my first decks and mixer I was buying commercial house and trance in HMV, rather than DnB.
Then I hit my mid-teens and found Warp and Planet Mu around the time that Drukqs was released; I remember seeing posters about for it and buying the CD after hearing some clips. It sounded amazing and that IDM side of things was a breath of fresh air from a listening perspective, as it was more emotionally and structurally complex. So, when dubstep came along it made perfect sense to me, as it was experimental but still dance floor. It was almost like all my musical preferences had led naturally to that point.
What was it like setting up Hessle initially and, relatively quickly, finding yourself at the forefront of dubstep? You guys were in you're late teens, how did the label operate on a day-to-day basis in the early days?
We just wanted to contribute to the scene at the time. We had our Sub FM show, David and I were writing tunes and wanted an outlet to put some of them out so it seemed like a good idea. Initially we were thinking about a split 12″ between the two of us as our first release, then the TRG tunes came along and it made sense to put those out as our first single. Then I wrote my first EP, Untold sent us music which we put out for 003, Martyn remixed "Broken Heart" …we just built on what we had, one release at a time. I never thought that we were at the forefront of anything to be honest, let alone dubstep. As far as I was concerned the big players there were labels like Tempa, DMZ, Hyperdub, Tectonic…
In "scene" terms, what are the main differences between those days and the present? Do you still feel part of a movement, broadly speaking? Do you still feel an affinity to the labels that Hessle was sometimes associated with (Hyperdub, Hemlock, etc)?
Obviously everything is more fractured now and 2007 was a long time ago, things change. But there's always been an affinity with the Hemlock guys and Peverelist's projects — Punch Drunk and Livity Sound, the Night Slugs and Numbers guys as well. I do feel there's a UK movement still, even if the parameters are wide and pretty fuzzy at the moment
Thinking about Release, you've been quite pointed in calling it a "double EP" rather than an "LP." Why is this?
Well, just because it didn't feel as cohesive as I'd want a debut album to be. Having that label put on a project is a lot of pressure, too, as I think albums are big statements, and it's not something I wanted applied to this. I think I'm getting closer to where I want to be, but I'm not quite there yet. Also I was never going to do more than two pieces of vinyl, and the record was the main format consideration rather than the CD. So I thought it was essentially a double-pack format without any obvious A-sides.
But it certainly flows like an album… I feel that with your music it takes a certain amount of time to decipher it and truly "get it."
If it plays like an album to you, that's great. It's difficult to be objective with your own music, though. I can remember when I was about 16 I got into particular Bjork albums — Homogenic and Vespertine — and like really got into them with repeated listening. Same with Druqks, like I mentioned before. Once that happens they kind of take on a life of their own and become part of you in a weird way.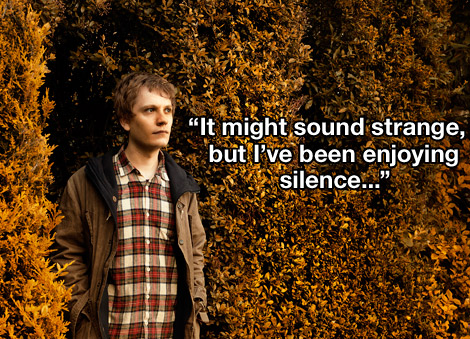 I think it's really important to make the time for proper listening, get away from the endless bombardment of new music…
Yeah, I know what you mean, because these days it does feel like a continual bombardment. I want to keep up — not just electronic stuff but more abstract things, all sorts — but it's just impossible, the sheer amount of music out there is unreal. You could dedicate all day every day to listening and still miss loads. It might sound strange but I've been enjoying silence recently; I'll just sit listening to the ambient noise around me when I'm traveling about instead of listening to music. I carry my MP3 player everywhere but I haven't been using it as much lately. Producing music and DJing — and I also work part time as well — it's just too much sound sometimes.
Like listener fatigue?
Exactly. But then you hear something like the new Andy Stott LP…
Absolutely incredible, isn't it?
Yeah it's amazing, and something like that which I'll keep listening to almost becomes a palate cleanser. [laughs]
I also wanted to talk to you about Hessle, and your A&R process — how does this work? You have producers like Elgato or Bandshell or Joe, for example, who pop up, we know nothing about them, they drop some music, pop up again a year or so later.
It's just been a natural process up to this point, working with people we've gotten to know. People will send us things and when it's ready and everyone agrees on something we'll do something. It's not necessarily a case of, "We want a 12″ and we need it in exactly one month." For example with Elgato, the track "Luv Zombie" was quite a bit older than "Zone" and we were kinda waiting for the track that would go with it. So when he wrote "Zone" we thought the two would make a great 12″. On the other hand, Bandshell makes loads of tracks. For his EP we went through them all until we found the four we thought would work together.
How about your own music? I've noticed you don't play a huge amount of it. Why is this?
I'd like to think that my DJ sets are an extension of what I'm trying to do musically, but this doesn't mean I'll just play a load of my own tracks if they don't fit in with a set. I'll play my music when things fit in, of course, but I'm not one to turn up and play a load of my own tunes out of context, I never have been. The next thing I'm trying to do is make music which is more aligned to my style of DJing — I want to bring the two things closer together. Up to this point I've never sat down with the intention of making things like DJ tools, the writing process has been very fluid and ideas will come without me doing any thinking about what specific thing to write. There are both positives and negatives to this.
Techno is really important in the UK scene at the moment — I'm thinking specifically of producers like Blawan and Pariah, but also yourself — your recent RA podcast had a load of straight up techno on there and Release has a serious techno edge to it…
Definitely — it's where I'm heading. Techno is a very broad area, a blank canvas. It moves the dance floor, you can lose yourself in it, but then there's also such a massive scope to put your own stamp on it and experiment. It feels like the perfect combination of functionality and freedom. It certainly hasn't come out of the blue, though; techno-influenced dubstep tracks by people like 2562 were making an appearance way back in the earlier days. And from a personal perspective my first EP had a 4/4 ambient-ish track on there, I was mixing Sandwell District and T++ tracks into dubstep at the time I made "Router." It's just that the techno side of things has taken a firmer hold as time has passed, and you can trace the BPMs dropping from 140 down through the 135, now 130 and below. UK Funky was big catalyst for that drop in tempo as well.
Following the same trajectory as techno itself, in some ways, you had the pounding 140 bpm late 90's stuff, minimal and where we are now. I think its exciting to have producers coming at it from new angles — very different from being involved at a macro level for years, the pointers will be different.
I'd hope so, you don't have to have been there for the whole story, you know? Like how Blawan came from the percussive 140 thing as well, but through that he's become responsible for a whole new sound palate in techno. I think I can come at things from my own angle as well, just through where I've come from musically and the type of vibe I'm on.
Do you think there is a danger of the spirit of experimentation within electronic music regressing?
Electronic music is so broad; there'll always be people trying things out even if it isn't hyped up or flavor of the month. In terms of dance music, I think it'll become more and more difficult to create something sonically new, just because technology has made anything possible for a while now. So new trends or movements might come from certain moods or feelings as a response to the status quo, like how dark garage and grime seemed to be direct responses to the commercial pop garage of the time. I don't know, I hope people aren't afraid to carry on making weird music with a groove anyway!
Can you ever see yourself going back to 140? It sometimes feels like the most radical thing somebody from the current bass spectrum could do is say, "You know what, here's an EP at 140 — four half step tunes."
Well Release has a 140 4/4 track on there, there's a halftime track! I've never been a producer that's stuck rigidly to something like 140bpm half-step, so I don't feel I've left anything to come back to.