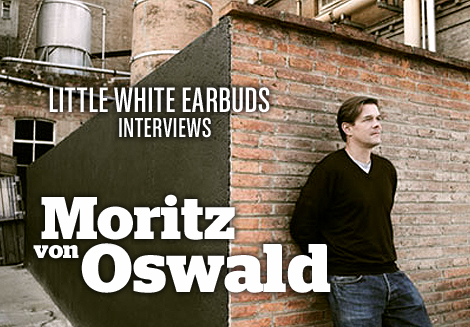 Moritz Von Oswald is simultaneously one of the most influential and enigmatic figures in techno. As part of Basic Channel, Maurizio, Rhythm and Sound, and other configurations with Mark Ernestus and a revolving cast of musicians and vocalists, Von Oswald became one of Europe's first techno innovators. Basic Channel defined dance minimalism early on, both through a love of repetition as a form of change, and a willingness to let the music speak for itself. More recently, Von Oswald has demonstrated that his reach extends far past the dub-inflected electronic soundscapes he helped introduce to dance music, with stunning remixes of not just Tony Allen, but also Ravel and Mussorgsky. Finally, last year's Vertical Ascent matched Von Oswald with Sasu Ripatti (Vladislav Delay, Luomo) and Max Loderbauer (nsi, Sun Electric) in an improvisational group, yielding a standout release of 2009 by any measure. LWE had the distinct privilege of speaking with Moritz Von Oswald in advance of his trio's American debut at New York's Unsound Festival. Like his music itself, Von Oswald's approach to thinking about music is simple and direct. But like his music, depth and complexity are immediately apparent.
How did you get the idea to start an improvisational group, and how did you get connected with your collaborators Max Loderbauer and Sasu Ripatti?
I knew Sasu for a long time, because he did a record on one of our labels, Chain Reaction. So I've known him for 10 years or so. And I also knew that he's interested in jamming, and I wanted to have a group that plays without any rehearsals, very simple. That just goes into recording without knowing each other too well. So very advanced improvisation was one of the key points. Making strong sounds and live playing, keeping it simple. As simple as I could. I've known Max for maybe 20 years, because when he came to Berlin we did a little collaboration on some — I wouldn't say major stuff, but some small work. If you have a group with not too many members, you have to have trust in their facilities. And that's what I had from those days. I knew that Sasu has a very great knowledge of sound and playing, and that's exactly how it came out. With Max, I knew he has a very good sense of melody, and very, um — cute sounds, you know? This is what always attracted me to his productions. What he was doing was always very sweet-minded. And I liked that. If you listen to the record, you notice there's a heavy dance rhythm. So Max breaks this up. It doesn't affect the richness of the whole thing. It's actually the opposite. It adds another layer to it.
A fully improvisational group in electronic music is pretty rare. Were there any groups, electronic or not, that you wanted to use as a model?
Not so much. I just wanted to have live playing, simple and spontaneous, with trust in the facilities of the other members, to develop a strong collaboration.
Have you done any projects like this in the past?
Not really, it's the first time I tried this out. It came out because I worked in the studio for such a long time, which can sometimes be the opposite of this. Not so spontaneous. I like that, I like to focus on details. But I also like to just play! I mean, this is quite detailed. The record is very detailed in its sound picture. But it's not overproduced.
The Moritz Von Oswald Trio in action. Photo by Rene Passet
How does the typical session proceed? Does everyone have a particular compositional role?
We get together and just play. We record from the first note.
So everything is new? Nothing is pre-written?
Nothing.
So how do you prevent things from going wrong, so to speak?
There is nothing wrong! I like the leftovers. I like when something is not precise, not just in "the right place." I left everything we did and tried to work with it. Because nowadays you have all these precise records, and everything is in the right place because you can have access to it so much. I try to avoid this. And I think it worked, you know? With live playing, it's a chance to try out stuff that you would never have imagined is possible.
So when people attend the Trio's upcoming American debut performance in New York, are they going to hear something entirely different from the record?
Not entirely, but quite different. It will be improvised and very spontaneous.
What instruments will you use live? What's your gear setup?
It's just keyboards and percussion. We'll also have a guest: Carl Craig from Detroit. Same thing — no rehearsal, just respect and trust.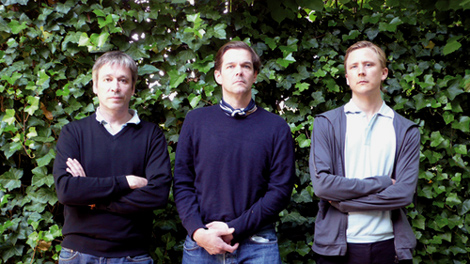 Allow us to introduce ourselves: (left to right) Max Loderbauer, Moritz Von Oswald, Sasu Ripatti
You have another group with Carl Craig as well, along with Francesco Tristano, called Shape.
We formed last year.
What's the approach to that? Is it a similar method?
Not really, because Francesco is a very well-trained pianist. It's more like a club beat, very clubby. But also improvised, with some sax players and some different musicians. It's quite different. We have a performance in London on the 12th of February. It's gonna come out beautiful, I think.
It sounds like you're moving in a lot of different directions with your current work, getting away from the conventional style of techno and approach to techno. Do you mostly listen to music outside of techno these days?
Yeah, I do. I listen to jazz, to classical, to experimental and avant-garde. A lot of dub as well. I just have fun with some sounds. Not too many concepts, just fun.
Will you continue producing club records?
Yeah! I'm doing remixes; these are going to come out as well. ReComposed is a very good example of how house can work with electronics from a different source. That's why I like the record a lot. It broadens the mind, or at least I think it should.
It's clear from your collaboration with the members of your group that you keep up with contemporary producers in dance music, in electronic music. Are there any other producers or DJs you've been listening to currently?
DJs, not so much. But I like what Carl is doing all the time. So we might work for together for some more projects. I don't know, we'll see.
Would you like to have more DJ gigs, playing techno?
Yeah, why not? No problem. I like club stuff.
Have you been doing much of that?
Not so much.
Did you get bored with it, or have you just been busy?
It's just a question of having time. Time is short. That's the main reason I don't have so many releases for the club. But they will soon come.
Yeah? Do you have any upcoming projects you can tell us about?
I can't tell.