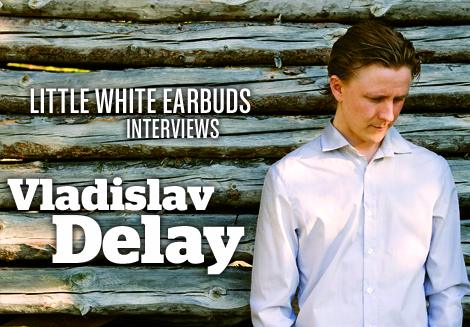 Luomo. Vladislav Delay. Uusitalo. Whichever name he used, Sasu Ripatti has been pushing boundaries for his whole career. His legendary Multila album on Chain Reaction took dub techno to places it had never been before (and has never been since), while Anima on Mille Plateaux continues to astound eight years after its release. As Luomo he practically defined "micro-house" with Vocalcity, considered by many to be simply the finest house album of the decade, while Uusitalo is an outlet for his reduced techno excursions. Recently he has received praise as the all-important drummer for the Moritz von Oswald Trio, released Tummaa as Vladislav Delay and collaborated with partner AGF on Symptoms. We caught up recently with Sasu to chat about his history, his future and just what exactly those "drums" are on Vertical Ascent.
Tell me about your early musical history as a jazz drummer. Who were some of your influences and how exactly did you start producing electronic music?
I was really intensively into jazz and drumming and my plan was to become one of the greats. I was maybe 14 then. I spent all my time studying and playing drums, so much work and dedication it's crazy when looking back. Anyway, at some point I realized all the visions I had about jazz were from 60's and that it wouldn't exist anymore these days. I realized it wouldn't be possible to do what I wanted to do and basically gave up on drums and percussion. That lead to experiments on all fronts, drugs and new music, travels to Jamaica, etc. I got really lost for a moment, shocked from this realization I couldn't do what I had so much wanted and planned.
Along the way I begun expanding from drums to experimental percussion, trying to look for new directions and challenges. Eventually I hooked up with electronic samplers and digital percussion controllers, which then led me to first look at synthesizers and sequencers, learning about possibilities to make music by myself with machines. I had tried producing and composing music with some bands but had found it impossible with so many people all going different directions. So given a chance to try out making my own music by myself I jumped at the chance, giving up all the rest. The only thing was, I didn't know about any electronic music then except for some commercial stuff like Prodigy et al., which I thought was ridiculous. I was still trying to do some kind of jazz whatever stuff which actually was quite close to what they would call electronic or ambient music I'd learn later.
How did you hook up with the Chain Reaction guys?
Eventually I learned about what was going on in Germany and about interesting electronic music, and bought some vinyls and heard about Chain Reaction. And they were the most influential outlet I had heard and I really wanted to release stuff on their label. I sent a C-cassette to them and Mark called me one day saying they wanted to release my stuff.
How do you translate the extreme complexities of your Vladislav Delay work into a live performance?
Technically it's not possible to do live sets as I do it in the studio but the principle is the same. I just throw in whatever available and force it to make some musical sense, to me at least. I believe a lot in random elements and not too much controlling them but rather letting them do their things. Basically in a live situation I don't construct a track from small elements like in the studio but rather push bigger elements together to make new soundfields.
You sometimes reference your work under other monikers in your music, for example, Uusitalo's "Notke2." How do your various guises influence each other? Does something you learned or a technique used while making a Luomo track carry over to a Vladislav Delay track, for example?
In the beginning when I was still trying to figure out my things it happened more than these days that [monikers] were really mixing up. I didn't know what the whole techno thing was but I began experimenting with bass drum grooves, and sometimes I would just take a Delay track and make a groove remix out of it. Eventually I put that stuff out as an Uusitalo album. Also back in the early days I was just sitting in the studio long hours and making lots of stuff and not always having an overview of what was what, and it didn't help I was doing quite a bit of drugs back then. I don't have an intentional plan to mix between these projects these days.
What about with your groups? Does something learned while working with the Moritz Von Oswald trio influence some of your solo work?
Of course everything influences everything but I'd say all this is very subconscious. Nothing I could point my finger at and describe.
The Moritz Von Oswald Trio started in a live format. How did Vertical Ascent come about? Were these "patterns" that you had previously worked on live, or were they completely new studio ideas?
We made first patterns for this one concert in Berlin which was kind of a plan to see if the whole project would work and how. Seeing it did we continued working on these patterns and they ended up on the album as well albeit in quite refined versions.

What was the drum setup you used? Obviously it was no standard drum kit…
No kit at all. Lots of strange stuff I have been collecting and using on my solo stuff in very "hidden" ways.
Metal percussion sculptures hand-made by Pete Engelhart from New York City, Udu drums from Africa, Berimbau from Brazil, water cylinder drums, strange shakers and voodoo toys, etc. That's my passion, the sounds. Nowadays I also play lots of conga drums and other hand drums which has again expanded the palette really nicely.
What is the idea behind your own Vladislav Delay Quartet? Do you use the same kinds of drums as you do in the Moritz von Oswald Trio?
No. With the Quartet I use a more traditional jazz set but I try to play it in original way and make it also sound unlike a traditional kit or drummer playing it even. With the Trio there's lots of programmed beats from Moritz while with Quartet I will provide all the rhythms with the kit.
One would think that a move from Berlin to a small island in Finland would result in more solitary efforts, but this has proven to be quite wrong. In fact, your move seems to have signaled a shift in your work towards more collaboration. Is this a fair assessment? How else has the move impacted your productions?
Well many collaborative things began before moving, but really I have learned it doesn't matter where you live, even with collaborations if you really want to do them. And I guess I'm more and more happy to do more than just solo work even though I still like that most. The move has impacted great results in my private and family life which will in turn of course greatly influence the work as well. I think the move was the best thing I could have done. Even if I'm a bit far away from everyone I feel more interested in doing things and inspired creatively, which I can't say was the case while living in Berlin. Naturally that was the reason to move out of Berlin. Also, these days with planes and Internet it really doesn't matter where you live. Every single interview I have done since I moved to Berlin has been at least partly about Berlin. To be honest the whole Berlin thing begins to come out of my ears. It's just a city after all. Not a piece of diamond or Mecca or something.
Why did you choose to have collaborators for Tummaa under the Vladislav Delay name?
First of all, I wanted to make an album with Delay aesthetics but not use synths and samplers — sources I had used on previous albums. I wanted to use live elements and expand on sound sources, and because I can't play that many instruments I had to look for potential contributors.
You decided to release Tummaa with the Leaf Label instead of on your own Huume. What was behind that decision? What lies in the future for Huume?
I think nothing lies in the future for Huume. It had its moment and time, but now times have changed so much from since I started the label and I am not willing or able to adjust to these changes. Such as selling less, pushing more, not having any fun anymore, dealing with business solutions instead of creative decisions, etc. I don't have time for all this, and neither interest. So I decided to step back on this and look for labels that still seem to be able to be creative in these times. Maybe again in some years time I will decide to get back to releasing music by myself but a lot will have to change for that to happen.
What can we look forward to in the future from you in your many groups and monikers?
Quite a bit of new music in all fronts. I have spent the last year building a house and studio on the island and now that all that housekeeping stuff is more or less finished I can get back to what I really know and like doing. I feel really an urge to make new music and explore new possibilities. Even thought it might look like I have been busy I didn't really have a chance to make music the last 12 months which has been healthy in a way but also troubling as I'd rather make music than anything else.