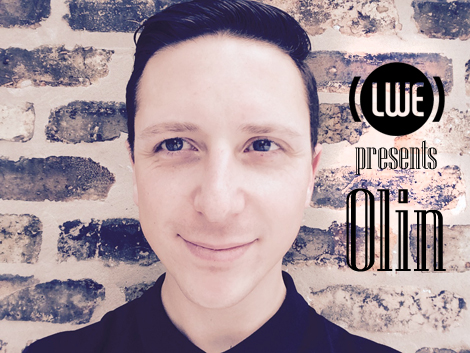 Somehow I knew this day would come. LWE was just finding its footing in the dance music press when I first met Jason Garden in 2008. We were both still on the outside of Chicago's dance scene looking in. But when I first heard the Kansas native's early productions and saw him spin at a small afterparty on Chicago's west side, I had the sense someday he would contribute a podcast to LWE because he would earn it. Since reinventing himself under the Olin moniker, Garden's sound has matured and widened greatly, both as a producer and DJ. He's made clever, inventive techno and house tracks with dancers clearly in their cross-hairs, releasing on Discovery Recordings, God Particle, Wazi Wazi (with collaborator Savile), and even on my own label, Argot. He's joined Smart Bar's roster of resident DJs and founded the unique Slack residency for DJs (like Garden) who demonstrate the breadth of their taste and abilities over longer sets. And as of last year, he's been a crucial cog in the show production machinery at Smart Bar, making sure every event goes so smoothly no one notices his fingerprints on it. In anticipation of his appearance at As You Like It's February 7th event at Public Works, featuring the Black Madonna, Daniel Bell, Robag Wruhme, Sassmouth & Richard Korach, Bells & Whistles, and myself, I finally took the opportunity to shine the spotlight on one of Chicago's local heroes. Olin also provided LWE with a stellar podcast that highlights both his wide ranging taste and exceptional ability to tie these threads together in an engaging way.
What was your musical background prior to producing electronic music? What spurred you to start producing? What came first, DJing or producing?
Jason Garden: I don't have a musical background insomuch as I could rightly say I came from a musical household or "am a classically trained musician." I was lucky enough to live in an area where music education was a required part of the public curriculum, so that was definitely a blessing. I played guitar for probably 10 years (and I guess in theory, still do), and was in half a dozen punk bands. We threw shows in Carey Skate Park in Hutchinson, Kansas. You know, usual Midwest rock kid stuff.
That said, dance music wasn't popular (or really socially accepted) at all where I grew up. My first real experience with it was when I bought a disco complication from a gas station. It had the hits: Chic, "Le Freak," Heatwave, "Boogie Nights," Hues Corporation, "Rock The Boat." Wore that little guy out. I had messed around with Fruity Loops in high school, but mostly as a way to make backing beats for my guitar stuff. I really had no idea what I was doing.
I first started "DJing" by basically being the only one in college who had a bunch of house party music on my computer for when my friends threw parties. Turns out, I really liked playing music for people and seeing everyone having a good time, so, like so many suburban white kids in 2004 or so, I laid down my guitars and started trying to DJ — very poorly and publicly on my college FM radio show, which was the only place that actually had turntables. So, to answer your question, I guess production came first, but DJing is definitely my One True Love and actually the reason I produce at all.
You've tackled a number of different styles, including a stint under the alias Thunderous Olympian. Can you take us through your musical history and what's brought you to your current sound?
When I started DJing, I really had no idea what the hell was going on in electronic music. It was completely, 100% foreign to me, so I really had to just sort of feel my way through it (thanks, internet). Very few people in Kansas knew any more than I did, so it was quite a struggle, honestly. Dance music, even for me today, can be a tough road to hoe, in as much as there is just so goddamn much of it. So, you can imagine my frustration/terror as a 19-year-old trying to find my sea legs on that ocean.
As far as my musical history, it started with Daft Punk and blog house kind of stuff, because that was the most immediately available to me in 2004/5. I did that kind of stuff for a while, along with ghetto house and party music like that, as Thunderous Olympian. I realized over time that my true loyalties lay with some of the more minimal and subtle sounds that I had came across, so I reinvented (read: renamed, mercifully) myself and started down that road, which has been even more winding than I anticipated. Now I just listen to a lot of music and borrow ideas from that to create a mish-mash of things I like and hopefully other people like, too. Production is mostly a way for me to have (hopefully) cool tracks to play out when I DJ. Accordingly, my production style is at least as much a reflection of all the kinds of things I like to play out when I DJ as anything else.
You're originally from Lawrence, KS, I believe. Was there any electronic scene there? What was it like coming into Chicago's scene and getting involved here?
I'm actually from Hutchinson — Lawrence is where I went to college (Rock Chalk!). However, Lawrence was definitely the only one of the two that had any sort of electronic scene to speak of. Lawrence is a prototypical college town and, historically, an indie rock bastion of sorts. People love music there, but electronic music, at least when I was there, never seemed to resonate quite like it does in Chicago. There was an amazing weekly dance party that ran for seven years called NEON that was thrown by DJ Konsept (who was a very busy DJ here in Chicago after he left Kansas). That party, although not strictly electronic in terms of programming, really showed me that you could have parties where the foundation was simply a really good DJ (Konsept was, and still is, that in spades). So, armed with that exciting knowledge, I started to throw parties in bars or even in DIY punk venues (it was surprisingly easy to sell techno to the punk kids if you already knew them and they trusted you a little bit). I even made a "mixtape" series called "Techno Is Punk" to that end. Techno is pretty punk, when you get right down to it.
I moved to Chicago in 2008 and knew literally two people, Konsept and now Smart Bar resident, Chrissy (FKA Chrissy Murderbot). I was definitely amazed by how prevalent dance music was and how many options I had as a dancer and party-goer, but it took me a while to really figure out what was going on, especially with regard to underground parties. I'm a fairly cautious person sometimes, so I mostly hung back and tried to get the lay of the land before I approached anyone. I remember actually asking a person, who is now a good friend and party promoter here in Chicago, if I could come to the private afterparty she was throwing after a Smart Bar event. I knew was happening but wasn't actually invited to it. It took some convincing. Seriously, I had to talk to her into it, and I understand why after having seen my fair share of completely wasted assholes show up and ruin a perfectly good afterparty, but she gave me the address and unwittingly let me put my foot in the door, so to speak. I remember going back to my apartment and putting all the booze I could find in a paper grocery bag so I didn't show up empty handed. I was so excited. After that happened, things really got interesting, and I haven't looked back since.
Remind me, what's your title at Smart Bar now? What does that mean in a practical sense?
At this point, I'm sort of the jack-of-all-trades at Smart Bar. I'm the head of production down in the club but I also work in the office dealing with contracts and logistics. In a practical sense, it means I'm here a whole lot and am proud to be a part of such a historic and downright awesome place.
Prior to working at the club you used to throw underground parties with Marea Stamper, aka the Black Madonna. Tell us about that period and what you've learned about the club world since transitioning into working at a full time venue.
Marea and I met at Movement Festival in 2009 and were instantly close friends. When she moved back to Kentucky for a stint, we started to throw parties there and in the surrounding area with several other people who were very instrumental in the success of the events. We'd basically find an art gallery or something that looked like it needed money, offer them some cash to let us use the space, and then hit the streets to try and get a good mix of people there. Some of them were, to this day, the best parties I've ever been to, and some were kind of disasters. We also continued to throw smaller parties in Chicago that had the same ethos as those "abroad." We've been Still Believing since.
The big difference between doing underground and parties in the club is just the scale, I would say. When you do underground events, there is a lot more to do because you have to do everything. Events at the club, there is usually less to do per event, but you have to do 20 a month (we're open Wednesday-Sunday every week). The worlds themselves are mostly the same, though. I would say that the crowd at underground events is typically a little more esoteric in terms of taste, but that's about the extent of it.
Who are some of your biggest musical influences now, and which artists have always been influences on your musical output?
Right now, I would say my biggest single influence is Traumprinz/Prince of Denmark/DJ Metatron. Dude is scary talented and only maybe even a real person. I'll believe he's real when he comes and plays a show at Smart Bar. I love how his sound transcends all of the different styles he tackles. He's got such a great way with vocals that might not work in other settings or in the hands of other producers.
Speaking of Giegling guys, Kettenkarussell has also been a big influence for me. I came across a 3-hour live set from them in 2006, and then another one in 2008, and then the mix they did for LWE in 2008, and I was always completely amazed by how well they utilized minimalism and melody, even in the wake of the Great Capital M Minimal debacle of the early-to-mid 2000s. They were, at least until recently, very mysterious. They became kind of a white whale obsession for me, since they didn't have a much of a web-presence. Those guys have always stuck to their guns and have made some of the most subtle and beautiful music I've come across. I finally got a line on them when I overheard Oskar Offermann and Edward chatting about them after a Smart Bar show last year. I grabbed their email from Oskar and after a few false starts, a friend and I finally had them come play a small private camping event here in Chicago, this summer. Not only were they absolutely delightful and genuine people, they exceeded every artistic expectation I had for them, which is really saying something.
Other notable influences include: Nile Rogers, Patrick Cowley, Metro Area, Audion, Dan Bell, Donnacha Costello, Basic Channel, FXHE Records, and everyone who has ever yelled "HOT MIX!!!" after I fucked up a mix while DJing. You know who you are.
A few of your releases have been collaborations with other producers. Who are your collaborators and how did you end up working with them? Any more collabs in your future?
Yes! Most recently, I've been working with Savile, who I also worked with on an EP for Nils Penner's Wazi Wazi label. Savile and I started working when he approached me shortly after moving to Chicago and sent me a few tracks. I thought what I heard was great so we decided to hit the studio. We finished "Horizon," the title track on the Wazi Wazi release, basically in a few hours, and had the rest of the EP plus a few tracks done shortly thereafter. We have a very good workflow and he's a great engineer, so it works out nicely. We've also got a 12″ coming out on Argot shortly, called "Thanks, Karl" which is our thank you to one of the bouncers at Smart Bar who has also just been an enduring presence in the Chicago scene for decades now. Thanks, Karl!
I've also done a collaboration with a lesser known Chicago producer, Company Processing, who is really excellent by the way, and I hope we'll hear more from him in the near future. We did a track called "Compton" for Discovery Recordings out of NYC a few years back, which, coincidentally featured a remix from Nils Penner of Wazi Wazi. The circle of life, y'all. I've got a few other collaborations in the works that are not done enough for me to not want to talk too much about them too much, but suffice it to say: bangers only.
What's a musical trend you think the world would be better without? What's a facet of electronic music you wish were more popular?
There are a lot of things I could nitpick about here, but I'll stick to one sort of meta-pet peeve of mine: As someone who had ZERO access to dance music growing up, it really irks me when people who have been lucky enough to be around it their whole life write off certain styles or genres wholesale without any real attempt to listen to or understand those genres. Or, maybe more accurately, when people decide on a few genres they like and write everything else off as unnecessary, unimportant, uncool, or whatever.
It's hard for me to understand people who really only like one or two current micro genres and can dismiss disco as a relic of the past — as something they could never be into for whatever reason. So many different types of music that could be accurately described as dance music are so important to me that it kind of seems offensive to me that so many are willing to write off so much, wholesale, based on presuppositions that are almost never accurate. If you're a student of dance music, as I hope most DJs and producers are, you should go out of your way to experience as much of it as you can. You might be surprised by how things you may not even really like can inform your art.
My message: dance music is really fun if you let it be. There's a lot of really bad stuff, but you'll surprise yourself with the amount of good stuff you can find if you're looking.
There seems to be some kind of expectation of Chicago's producers to somehow incorporate the city's famous past into their present sound. Do you feel that at all, and have you ever tried to link your music with the city's musical heritage?
Not really, to be honest. I try to be eclectic, so I feel like there's enough "Chicago" worming its way into my productions and DJing to not have to stress about not being "Chicago" enough. At the end of the day, I don't really feel like it's my job to sell anyone on the Chicago sound, mostly because there are so many people doing that so much better than I ever could, eg. Stripped & Chewed Records, The Black Madonna, the Queen! residents, and so, so many more awesome artists. Besides, my productions are probably at least as closely linked to the city's industrial heritage as the house side of things — especially lately. As I mentioned, my production process is almost entirely based around making tracks for when I DJ, so it's not something I really think about all that much in the moment.
Which of your currently released tracks or remixes do you feel most proud of, and why?
Hmmmmm… that's tough. The one I'm most proud of as an artist is probably "Tomorrow's News" on Argot. It was just a track that came out very naturally and is something I think I'll be able to be proud of for quite some time. It's very musical, which isn't always my natural inclination as far as production goes. My favorite in terms of what works best when I DJ is probably my recent remix of Covio's "Turkey" on Sassmouth's label, God Particle. Definitely serves its purpose as well as any track I've ever done and fits perfectly with the kind of older English and American techno sounds that I've been playing out, lately.
In addition to working at Smart Bar you've recently started a series of parties called Deep Turnt. What can you tell us about the mission or ethos of Deep Turnt, and where do you want to take it?
Well, to be candid, "Deep Turnt" is something I tweeted once that I just thought was funny and then realized, in spite of its ridiculousness, kind of actually described my DJ style really well. Very 2015: DJ makes Pepé Bradock pun on Twitter, turns it into a made up genre, starts a party. I maybe should have just let it die, haha, but here we are. Anyway my definition would be: minimal, often dubby techno that is still a bit more uptempo and jacky. The first 30 minutes of the mix I did is stuff I would consider to be Deep Turnt, actually. For us (I do this event with Studio Casual), the mission is basically to do smaller, more intimate parties that push this kind of restrained party techno. The last one we did with Eric Cloutier was incredible, as was the first with Sassmouth — packed from pretty much open to close with people who were crazy into the music. We were so happy!
As someone with the word TECHNO tattooed on your arm it's clear the genre means a lot to you. Can you put into words what makes it so important?
Well, connotatively, the TECHNO on my arm means something a little different from what the average informed LWE reader might think. In Kansas, literally every genre of electronic music was just called techno, because no one really thought about it enough to have a reason to parse it out much further. So, the TECHNO on my arm is meant to mean techno in that sense, and acts as a reminder of how lucky I am to have found my way to the place where I'm at from a starting point that seems to be light years away, as I look back on it. I do really love techno, in the traditional sense, though. So, it works out. It sounds like an exaggeration, but quite literally my whole life is devoted to dance music at this point. So, the TECHNO on my arm is as much in solidarity with those who are looking for the proverbial party in places where the party might not be so easy to find as anything else.
What were the last five records you bought? What coveted record do you have your eye on next?
Let me hop on Discogs real quick. So, the last 5 records I bought according to my Discogs are:
Donnacha Costello, Grape (only need two more in this series, finally!)
Jacek Sienkiwicz, Slope EP (always been a fan of Jacek)
Paranoid Jack, Slave Driver (Remixes)
Pop Up, 3
Garrett David, A New Room (Check this out! Gramaphone records here in Chicago recently (re)launched their label and it's very good!)
As far as coveted new records, I'm patiently waiting for the new Brawther as well as the reissue of the amazing classic Bjorn Torske LP, Nedi Myra. As far as older stuff I've got my eye on, I'd actually really like to find a nice copy of Der Dritte Raum, Hale Bopp. Muscle trance all the way (another made up genre). I also need to get my ass in gear and grab as many of the Basic Channel reissues as possible. Oh, and copies of Oni Ayhun OAR003 and OAR004. I'll just take one of all the good records, please.
What's coming up from you in 2015?
A lot, hopefully! Still doing my residency, Slack, at Smart Bar, which focuses on eclectic DJs who will grace us with an extended set. Doing more Deep Turnt parties when we can. Hopefully DJing a lot, generally! As far as production, as you well know, Savile and I are excited to be releasing Thanks, Karl on Argot. I'm also finishing up an EP for Nite Owl Diner and another for the Detour records crew out of Pittsburgh (check out Detour 001 if you haven't — killer). And then hopefully in between all that I'll find some time to put the finishing touches on another EP for God Particle I'm working on. I'm excited to be so busy on the production side of things.
Download: LWE Presents Olin (78:05)
Audio clip: Adobe Flash Player (version 9 or above) is required to play this audio clip. Download the latest version here. You also need to have JavaScript enabled in your browser.
Tracklist
01. DJ Slip, "Untitled A" [Missle Records]
02. Brinkmann & Scanner, "Adria" [Force Inc. Music Works]
03. Restaurant Tracks, "Don't Get Us Wrong!" [Cheap]
04. Covio, "Turkey" (Olin Remix) [God Particle]
05. Aerea Negrot, "All I Wanna Do" (Efdemin Remix) [BPitch Control]
06. Mr. G, "Zam Zam" [Phoenix G.]
07. Sleeparchive, "Track 4 (Recycled)" [Sleeparchive]
08. DJ Metal X, "Doomsday" [Djax-Up-Beats]
09. Yanu, "Poot" [Toolbox Tunes]
10. User, "Change Constant" [Organised Noise]
11. Traumprinz, "Intrinity" [Traumprinz]
12. Giovani & Mosler, "Untitled B (4)" [Giovani & Mosler]
13. Olin & Savile, "Thanks, Karl" (Olin Version) [Argot*]
14. Brian Aneurysm, "Das Element Des Menschen" (James T. Cotton Version) [Spectral Sound]
15. Sound Stream, "Love Jam "[Sound Stream]
16. UnknownmiX, "The Siren" (Losoul's Hot Edit) [Playhouse]
17. Yello, "Lost Again" [Vertigo]
18. Azul Y Negro, "Mar Del La Tranquilidad" [Mercury]
* denotes tracks which, at the time of publishing, are unreleased