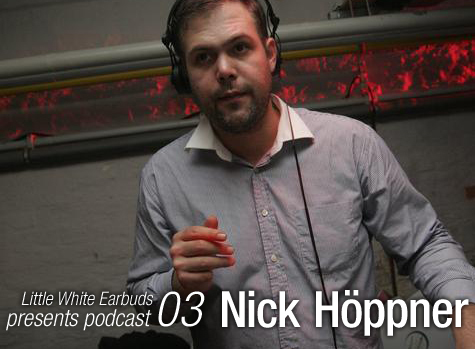 MyMy member and quality producer/DJ in his own right, Nick Höppner, kindly assembled this mix exclusively for LWE.
LWE Podcast 03: Nick Höppner (75:00)
Audio clip: Adobe Flash Player (version 9 or above) is required to play this audio clip. Download the latest version here. You also need to have JavaScript enabled in your browser.
Tracklisting:
01. DJ P. Funk, "Can't Boogie" [Strength Music]
02. Manmadescience, "Smoke" [Philpot]
03. Eric Kupper presents K-Scope, "Deepest Desire" [Nite Grooves]
04. Brothers' Vibe, "Cuero Parami Gente" (Altered Vibe Mix) [Jersey Underground]
05. Yann Solo, "Borderline" [Arearemote]
06. The Persuader, "What's The Time, Mr. Templar?" [Svek]
07. The Mole, "Alice, You Need Him" [Wagon Repair]
08. Minilogue, "Doiicie A" [Minilogue]
09. Tony Lionni, "Papaia" [Versatile]
10. MyMy, "Day For Night" [Playhouse]
11. Itamar Sagi, "Black Gold" (Chymera Remix) [Be As One]
12. Jeroen, "Partial Simulation" [Cache]
13. Grimes Adhesif, "Fearless Fun" (Efdemin's Confused Live Jam) [Petite]
14. Tsu, "Take Control" [Cool Play]
15. Forces Of Nature, "Afroshock" (Broken Rule Remix) [Headinghome Recordings]
16. Idjut Boys & Quakerman, "Copulating Drum" [Glasgow Underground]

Check out an interview with Mr. Höppner after the jump.
When and where did you make the mix?
Nick Höppner: On a Monday afternoon in my living room, using 2 turntables, a mixer, vinyl and the occasional track played through Traktor Scratch.
What's the concept behind the mix?
Not much of a concept here, to be honest. Just wanted to show what my DJ heart is beating for: from breaky jams to chunky, straight up house music, darker techno and dubbed out messiness 😉
Who are a few of your favorite DJs and why?
I just played with Dixon at our monthly MyMy party and he is the mack, really. Everything he plays is in tune, he's got an incredible flow and is very versatile. Some of the stuff he plays is a bit too sweet for me, but he always manages to present it in such a convincing way, I end up liking those tracks very much. One DJ who really surprised me a lot was Shonky. I heard him for the first time and unlike his own production, he played a very energetic set of chunky, pumping, percussive and warm house music. Really blew me away. I also like Efdemin a lot. He's not only a good friend, but also one of the most consistent DJs I know. Margaret Dygas can be amazing, too. She is on a more minimal tip and her mixing is very creative. She drives crowds crazy and you never know exactly why, because she is so subtle.
What can we expect from you for the rest of the year?
There's a new MyMy EP coming out on Playhouse on July 21st. Lee [Jones] and I will start to work on a remix for the Brut! label this week and there will be another MyMy EP on Playhouse later this year. Hopefully, there will be a new solo EP from me coming out in October on Ostgut Ton.
LWE Podcast 03: Nick Höppner