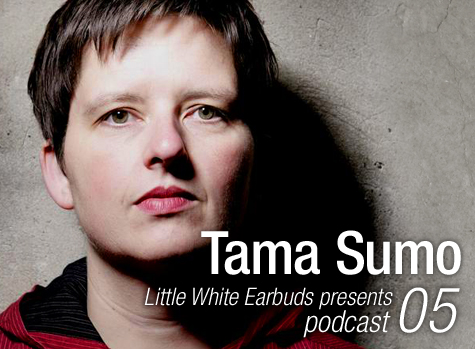 Before she made her vinyl debut for Ostgut Ton earlier this year, Tama Sumo (Kerstin Egert to her friends) was already a celebrated DJ with Tresor and Panorama Bar residencies under her belt. So it's with great excitement that LWE offers this exclusive mix from one of Berlin's finest. LWE HQ hasn't stopped shaking since this one arrived.
LWE Podcast 05: Tama Sumo (65:38)
Audio clip: Adobe Flash Player (version 9 or above) is required to play this audio clip. Download the latest version here. You also need to have JavaScript enabled in your browser.
Tracklisting:
01. Basic Soul Unit, "Mmme" [Mathematics Recordings]
02. DJ Koze, "I Want to Sleep" [International Records Recordings]
03. Toby Tobias, "The Feeling" (John Daly remix) [REKIDS]
04. Niggemann & Poppcke, "L'aurora" (Agnès Chicago Take) [Moonpool]
05. Octave One, "DayStar Rising" [Underground Resistence]
06. Tony Lionni, "Shuffle" [Versatile]
07. Kerri Chandler, "Hexadecimal" [Deeply Rooted House]
08. Wbeeza, "Disco Dayz" [Third Ear Recordings]
09. Ricky L, "Nothing But…" (Skin dub) [Ibadan]
10. DJ Funk, "House the Groove" [Dance Mania]
11. Gemini, "U Know How I Feel" [Relief]
12. Dee D. Jackson, "Automatic Lover" (The Innovative Mix) [Power Records]
13. Nick Chacona, "Tonka" [20:20 Vision]
14. Motor City Drum Ensemble, "Escape To Nowhere" [Four Roses Recordings]
15. JC Freaks, "The Rock" [wandering]
16. Prosumer & Murat Tepeli, "Serenity" (Soundstream's Dusty Machine mix) [Ostgut Ton]

When and where did you make the mix?
Tama Sumo: I did the mix at home yesterday (July 28).
What's the concept behind the mix?
Puuuh — having fun, feeling good and groovy. Combining different things (if I do longer sets, I usually combine old and new house, techno and a bit (electro) disco stuff. But one hour for me is a bit too short for telling this story ;o)
Who are a few of your favorite DJs and why?
Some my favorite DJs are my Berghain and Panoramabar collegues: Prosumer, Steffi, Stephan Hill, Cassy, nd baumecker, Marcel Dettmann, Ben Klock, Shed, Marcel Fengler. And besides Berghain: Rolando, Redshape (live), Tobias Freund (live), Carsten Klemann, Mike Huckaby, Larry Heard, Moodymann, Patrice Scott, Omar-S, and Laurent Garnier. They all inspire me because while listening to their sets I have the feeling that they are or give: positive vibrations, moods, grooves, for being authentic, for creating ups and downs during their sets, for telling stories, for laying a lot of love and passion in music.
What can we expect from you for the rest of the year?
Another track from Prosumer and me on a Diamonds & Pearls compilation and maybe a track from Stephan Hill and me on Vidab.