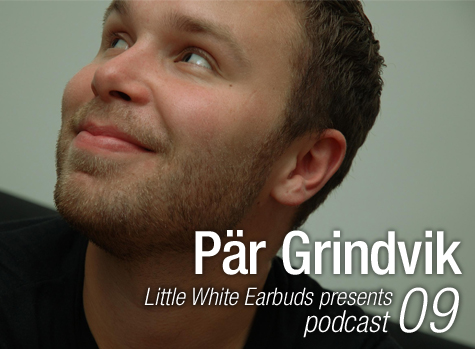 As owner of the record shop Illegal Stockholm, Pär Grindvik established himself as a pillar of Sweden's techno scene in the 90's; the next step was making releases to appear on its shelves. His stark, rhythmically-focused productions cloud the air with delightfully malicious tension that only his breakdowns can resolve, fitting in well on Drumcode, Spectral Sound, Syndikaat Records and Truesoul. Grindvik also owns, operates and releases on Stockhold Ltd and Isles & Islets, home to Staffan Linzatti, Van Rivers, Hardcell and his own alias, The Hollow. For his exclusive new mix for LWE, Grindvik whisks listeners away to a murky, uncertain and largely unreleased world governed by drums and deep pools of delay. Grab a torch and take the plunge.
LWE Podcast 09: Pär Grindvik (62:00)
Audio clip: Adobe Flash Player (version 9 or above) is required to play this audio clip. Download the latest version here. You also need to have JavaScript enabled in your browser.
Tracklisting:
01. Roll the Dice, "The New Black" [*]
02. Maus & Stolle, "Taxi" [Klang Elektronik]
03. Mood II Swing, "Move Me" (Dub) [Earth, Sun & Moon]
04. MLZ, "OneState" [Modern Love]
05. Gadgets, "Be Real" [Gadgets]
06. Bluetrain, "Factory Dubs" [Bluetrain]
07. Van Rivers & The Subliminal Kid, "Simple As That" [Islands & Islets*]
08. Aberrant, "Kirkbride's Dungeon" [REKIDS*]
09. Van Rivers, "Tough Life" [Islands & Islets*]
10. Van Rivers, "Steelpan" (S. Linzatti Remix Sketch) [Islands & Islets*]
11. Van Rivers & The Subliminal Kid, "Super Sladd" [Islands & Islets*]
12. S. Linzatti, "Saisaisai Tool" [*]
13. Dimi Angélis & Jeroen Search, "Metheor" [Outland Records]
14. Senor Coconut, "Chocolatina" (Mirco Violi remix) [Be Chosen]
15. Kerri Chandler, "Pong" (Ben Klock remix) [Deeply Rooted House]
16. Pär Grindvik, "I'll Give" [Truesoul]
* = presently unreleased

Read an interview with Pär Grindvik after the jump.
When and where did you make the mix?
Pär Grindvik: I recorded this mix in our combine bed/work/studio room in Berlin.
What's the concept behind the mix?
I meant to come up with a well carved concept for this mix, as LWE and its podcast section means a lot to me! But suddenly time was gone and I just recorded it on the fly, grabbing some older favorites from the shelter that I've been thinking of lately and upon that I tried out new music that I received recently from some of the artists on our labels. I think that it turned out great and I would say that it continues a collection of music that inspire me right now, that's why it's called "Inspiration Take I" That and the fact that "Inspiration Take" sounds so Jamaican and dub. just as this mix turned out — bass, drums and a huge amount of reverbs and delays.
Who are a few of your favorite DJs and why?
These are favorites right now:
Seth Troxler: It feels like he is the new Lil' Louis. Romance and faith, love the way he collects gems from past and plays them with future sound of Seth. Cassy, Ben Klock, Marcel Dettmann, actually everybody at Berghain I would say. Having a coffee or a shot listening to any of the residents is a great start for a Sunday. Otherwise I love listening to podcasts like LWE, Beats In Space, Lazpod and the Bunker Podcast from New York.
What can we expect from you for the rest of the year?
I will try to get some studio time in between all the traveling and label work. However, I have some remixes in the pipe line, one interpretation of Seth Troxler's masterpiece "Love Never Sleeps" on Crosstown Rebels, the original is easily one of my favorite songs this year. Then I have one remix that I've done for a Swedish rock/pop artist called Tiger Lou. Not to forget, I will release a new record under my alias The Hollow on Stockholm LTD called "Treat Me Bad" which will continue where the last one "We Want It Bad" ended. People has asked me about this subject and I thought it would take ages before I went back recoding new The Hollow material, but then it just happened. And also I'm super excited about all new releases coming out on my labels Stockholm LTD and Islands and Islets.
LWE Podcast 09: Pär Grindvik