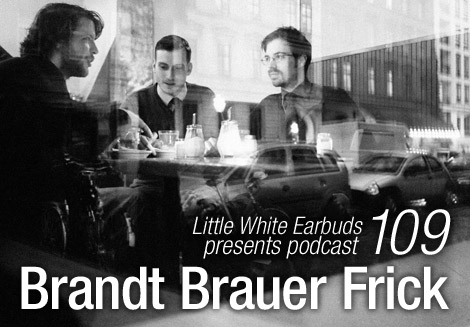 Photo by Harry Weber
Glued to our smartphones and reliant on all manner of high-tech gadgetry, the line between human and machine has never been harder to discern. For Brandt Brauer Frick, this porous boundary is a source of great inspiration to their music and ethos. Since 2008, Daniel Brandt, Jan Brauer and Paul Frick have pushed themselves to this edge in pursuit of classically rooted, organically sourced techno that demands precision in recordings and during live performances. The last two years have seen them form the Brandt Brauer Frick Ensemble, whose horns, strings and percussion add depth to an already intensely detailed sound, especially live. Their recently released second album, Mr Machine dazzles as it offers new interpretations of previous highlights and their expansive revamps of songs by Emika, Agnes Obel, and Scott (Brandt and Brauer's first project). Having last spoken to Paul Frick in early 2008, LWE caught up with Daniel Brandt about the creativity hatched by the Ensemble, working with Rashad Becker, and how UK bass music is inspiring their new material. They also created LWE's 109th exclusive podcast, a genre-promiscuous mix placing many of their favorite 2011 releases between classic techno sides and seminal classical music.
LWE Podcast 109: Brandt Brauer Frick (61:18)
Audio clip: Adobe Flash Player (version 9 or above) is required to play this audio clip. Download the latest version here. You also need to have JavaScript enabled in your browser.
Tracklist:
01. Gustav Mahler (played by Claudio Abbado with Berlin Philharmonic), "Andante Commodo" [Deutsche Grammophon]
02. Luc Ferrari, "The Dress Rehearsal Performed Before Brunhild On 24.10.08" [Sub Rosa]
03. John Cage (played by Klára Kormendi), "Sonatas And Interludes V" [Hungaroton]
04. Helmut Lachenmann (played by Herbert Schuch), "Guero" [Oehms Classics]
05. Steve Reich (played by Amadinda Percussion Group), "Piano Phase" [Hungaroton]
06. Roman, "Goodbye Bunny" (Brandt Brauer Frick Reinterpretation) [Kalk Pets]
07. Jeff Mills, "Revolt" [Tresor]
08. LCD Soundsystem, "45:33" (Theo Parrish's Space Cadet Remix) [DFA]
09. G.H., "Ground" [Modern Love]
10. James Blake, "Give A Man A Rod" (Second Version) [Hessle Audio]
11. Robert Hood, "Resurrection" [M-Plant]
12. Bodo Elsel, "Fantasie Mädchen" [Playhouse]
13. Pearson Sound, "Untitled" [Night Slugs]
14. SBTRKT, "Ready Set Loop" [SBTRKT]
15. Wax, "No. 20002" [Wax]
16. Emika, "Pretend" (Brandt Brauer Frick Rework) [Ninja Tune]
17. Crazy P, "Make Me Wanna" [20:20 Vision]
18. Mr. K Alexi, "Don't You Know" (Ron Hardy Muzic Box Classic)
[Partehardy Records]
19. Amon Tobin, "Lost & Found" (Brandt Brauer Frick Skiffle It Up Dub)
[Ninja Tune]

I know your live set provides opportunities for you to change it from set to set, but as a three piece you've been playing mostly the same set for a long time. What keeps it interesting for you?
Daniel Brandt: Our three-piece live set is based mostly on improvisation between the three of us, so while we sometimes add new tracks — it's always improv-based. Even though we often play the same songs, it's a different set each time, which keeps it interesting.
Along the same lines, it seems songs like "Bop" are going to stay with you forever. Do you want to keep playing and updating them or are you ready to retire them for new material?
With a song like "Bop," it's true that we have been updating and refining it since we've first started playing it, and we probably won't be getting rid of it any time soon. But we're now at a point where we'd like to do completely new things, and get rid of the older material to a degree. Of course we'll keep some of the older material in our live sets, but we aren't going to do any new versions of updates of "Bop."
Working with the Ensemble means there are obviously a lot more moving parts — human ones at that — which you have to coordinate and rehearse, etc. Is the Ensemble something of a handbreak on your compositional creativity? It's definitely an added challenge on top of your musical goals. How do you plan to challenge yourselves next?
The Ensemble isn't a handbrake on our creativity, because the opportunity to work with new people brings a new set of perspectives; and the members of the Ensemble bring their own ideas to the project, which is a good thing. Now our new challenge will be do something different with the Ensemble, maybe something that is more rocking, more for the dance floor. We don't really want to stick with the same concept with the Ensemble that we used on Mr. Machine; we'd like to be always trying new things with them. Right now we're in a period just before starting to record new material, which will lead to us deciding how we'd like to present it live. Even with the three-piece, we're looking at adding a live drummer and changing the way we perform. It's all very open. The members of the Ensemble will definitely have input on the composition of the new material. Different members will be coming to the studio as we're composing, and we would like for the composition process to be spontaneous.
In the classical world, groups are always playing other composers' work. Do you see any connection to that in the reinterpretations BBF does of songs by Emika and Agnes Obel, which ended up on Mr. Machine?
There is some connection to that tradition, but at the same time, with the material that we covered on Mr. Machine, in a lot of cases we weren't adhering so strictly to arrangement or even composition of the original. For example on the Emika track, we first made a remix (as a trio) using just the vocal from her original track. We made completely new music for the remix to place under her vocal. Then the version that appears on Mr. Machine is a new interpretation of that remix with the Ensemble. So it's not quite the same as taking another composers work and playing it faithfully. Even on something like "606 'n' Rock 'n' Roll," where there aren't vocals, we kept the rhythm and lead lines intact, but added more dynamics, the way the track slowly builds from the beginning to the end, whereas the original version was basically rocking from the first second.
Do you feel the versions of You Make Me Real songs on Mr. Machine are fuller interpretations of what you would have wanted to do on the first album, or just the adaptations for the full ensemble for playing live?
The new album isn't what we wanted to do with You Make Me Real, we actually did everything for that album the way we wanted to do it in the first place. The Ensemble arrangements were made specifically for performing live, and we decided we would like to record them because they sounded quite different from the originals. We were quite happy with the results.
I've read you recorded the album with Rashad Becker. What was that experience like? Obviously his name is more often associated with mastering; was he mostly engineering?
Yes, we recorded with Rashad, and Axel [Reinemer] from Jazzanova. Rashad was mostly engineering, and also placing the microphones together with Axel. We also did a really long mixing session with Rashad, and he really knows what we wanted, but also has his own ideas about the music we play. So we generally came up with something between what we wanted and what he wanted, which made for the best results. We were sort of approaching things from a techno perspective, whereas he was looking at it from more of a modern classical perspective, and it was to the benefit of the album to have these different ideas and even some arguments. We get along very well, and it helped to have different perspectives. And of course his mastering and engineering expertise played a part as well.
Who did the artwork for this album? Was there anything you were trying to convey with it?
Mr. Machine is maybe the first half human/half robot on the planet, and we have all these body parts and are just putting them together, and they still work if you attach a battery. It's about the line between real and technical, and Mr. Machine is all that at once. The idea came from a sign for an electrical supply shop or hardware store, which featured a hand with a light bulb as one finger, which served as the basis for the idea. A friend of ours, who also worked with us on the "Pretend" video, helped us construct the objects.
Whose idea was it to put 16 minutes of silence at the end of "606 'n' Rock 'n' Roll"? Have you always been fans of Easter eggs/surprises on albums?
Yes, we have always been a fan of that sort of thing. Of course, it works better if you're listening to the CD as a whole. We actually got an email from someone who had bought the album on iTunes, and thought something was wrong. But the idea that you could put the record on, and then you forget about it, and the music comes back again when you're not expecting it is something that we liked. I don't remember whose idea it was to begin with, though.
You personally have made several mentions of UK bass music and drum n' bass as inspirational music. Those influences have seeped into a couple works, like your remix of Roman's track. Is this something you look to incorporate more in the future?
Definitely. At the moment we are really inspired by these sorts of beats, and are working at recording drums and percussion that go in this direction. We even took certain tracks that we really liked and tried re-playing them, to get a feel for potential arrangements, and how to get the same power of some of the UK bass music we like. The next music that comes out from Brandt Brauer Frick will likely be influenced by that kind of music.
Where are you looking to take the BBF sound in the coming months? How much will you be utilizing the Ensemble in 2012?
We'll keep on going with the Ensemble, and will continue to incorporate new music with them as well. The most recent show we had with them in Berlin was very encouraging, and we're definitely excited to continue to work with them. But the first priority right now is changing the three-piece live act and maybe incorporating a visual element. I've been speaking with some artists who are interested in contributing on a visual level, so we have some exciting options there.
Tell us about the podcast you made.
The podcast is basically comprised of the music we've been listening to and inspired by over the last year. Half of it we recorded with vinyl, and half of it we put together in Ableton. We started it in Berlin, and actually worked on it on tour, especially one day in Austin. We had a day off, and worked on it on our computers in the hotel. Many of these tracks are our favorites from the last year.