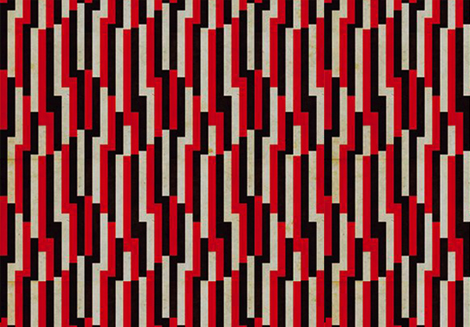 Artwork by Sophia Drevenstam
From humble beginnings, Levon Vincent has grown into a force to be reckoned with. Starting his Novel Sound and Deconstruct (with Anthony Parasole) labels in 2008, their stamped white labels were borne out of economic reality instead of perceived style, pre-dating (and, together with WAX/Equalized, likely causing) the proliferation of stamped labels. The sounds etched in those grooves, however, are what has led Vincent to his present status on house music's Mount Olympus — the first name the heads rattle off when asked who their favorite artists are. The gritty dub-techno of "Invisible Bitchslap," the frisky, beat-down house of "These Games, the rain-dance rave of "Man or Mistress," and the tender sing-along "I Owe You Everything" have all, among many others, solidified Novel Sound and Deconstruct as two of the most coveted labels in recent memory. Droves of techno heads immediately drop what they're doing and go to the store right now when the newest ones come in and make Faustian deals for back-catalog issues. Keeping his releases close to home and few and far between, Vincent has etched out a space all his own in dance music and has pursued it with aplomb, most recently with his definitive CD for Fabric. It's with great pleasure that we ring in the new year with Vincent at the helm for our 149th exclusive podcast: a journey through his record bag stocked with favorites new and old.
LWE Podcast 149: Levon Vincent (81:34)
Audio clip: Adobe Flash Player (version 9 or above) is required to play this audio clip. Download the latest version here. You also need to have JavaScript enabled in your browser.
Tracklist:
01. Mark Ernestus, "Meets BBC" [Honest Jon's Records]
02. Shifted, "Trouble" [Mote Evolver]
03. Ryo Murakami, "Night Dew" [Baud]
04. Vtothed, "NYE Space Session" [White]
05. Radio Slave, "RJ" [Running Back]
06. Brothers Vibe, "Because Of You Dub" [Jersey Underground]
07. Manzel, "Manzel #001" [Manzel]
08. Marcel Dettmann, "Push" [Ostgut Ton]
09. Prince of Denmark, "To the 50 Engineers" [Giegling Staub]
10. Levon Vincent, "???" [Novel Sound[
11. DJ Qu, "In This Society" [Strength Music]
12. DJ Qu, "Circuits" [Strength Music]
13. Los Niños "DIRTY"
14. Dario Zenker, "Works" [Vakant]
15. Gkahn, "Weird And Radical" [Semantica Records]
16. New World Aquarium, "Energy" [New Religion]
17. Ministry, "All Day"
What's the idea behind the mix?
Levon Vincent: Just trying to start the new year right! Thanks for having me.