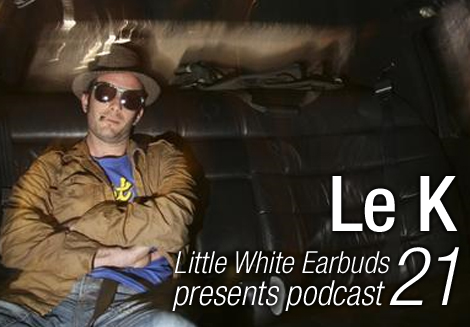 Hailing from the city of Perpignan, Sylvain Garcia, aka Le K, exemplifies the curveball of French underground producers. In terms of style, he fits in the same milieu as compatriots dOP and Noze, favoring floppy, organic sounds, and a playfully anti-purist attitude. In the past few years, he's released records on Circus Company, Thema, and Feinwerk, and has remixed artists like Scott and Paul Frick. As this exclusive mix reflects, his unique personality and focus on eclecticism set him apart as a truly original, and truly French house artist.
LWE Podcast 21: Le K (89:51)
Audio clip: Adobe Flash Player (version 9 or above) is required to play this audio clip. Download the latest version here. You also need to have JavaScript enabled in your browser.
Tracklist:
01. Moondog, "Caribea" [Prestige]
02. Cesaria Evora, "Angola" (Pépé Bradock's Get Down Dub) [Lusafrica]
03. Kenny Larkin, "Glob" [Planet E]
04. Keinzweiter, "Quantum" [spontanMusik]
05. Lee Jones, "Soon" [Aus Music]
06. Ian Simmonds, "The Woodhouse Suite" [Musik Krause]
07. Sonar Kollektiv Orchester, "Rej" [Sonar Kollektiv]
08. Tom Ellis, "Detach" [Hartchef Discos]
09. Le K, "Back Boutique" [Thema]
10. Beckett & Taylor, "You Gotta Work" [Hand on the Plow]
11. Scott & Aroop Ry, "Anytime" (Le K remix) [My Best Friend]
12. Paul Frick, "Favourite Song" [30porumalinha]
13. Trankilou, "Atom Funk" [Kif Recordings]
14. Daniel Wang, "Like "Some Dream (I Can't Stop Dreaming)" [Balihu Records]
15. Mr. G, "The Struggle Of My People" [Duty Free Recordings]
16. Le Chien Perdu, "Handsome Interruption" [Karat Records]
17. Terrence Dixon, "Links" [Yore Records]
18. Le K, "Moody Rainbow" [30porumalinha]
19. Pépé Bradock, "Intriguing Feathered Creature" [Atavisme]
20. Kink, "Let's Talk About Drum" [unreleased]
21. Spandex, "I Love My V50" [Sleep Debt Records]
22. The Black E, "Y-O-Y Jack" [Sleep Debt Records]
23. Aluf, "Buddy Bloden Blues" (Le K Humanity remix) [unreleased]
24. Dick Annegarn, "Coutances" [Astralwerks]

What's the idea behind the mix?
Le K: It reflects my position on dance music — my image, my style. For me, dance music has to be… weird? Not so much more drugged people, more for peopled drinking red wine. And really eclectic. I really love eclectic sets and I love eclectic DJs. When I go to a club and the set is just one kind of music, if the DJ is not really really good, I can get bored pretty quickly. So I try to present an eclectic vision of what I like.
How do you mean "not for drugged people"?
Ah, well, when you DJ or play every weekend — actually, I usually play live, not DJ –you can tell within five minutes whether it's a more drugged crowd or drunken crowd. And it's totally different either way — the music has to be different for each crowd. For my music, it is much better if the crowd is less drugged, more drunk. I'm not against drugs! I took some, of course. But with drugs, the vibe is totally different — it's a different kind of party, every person is in his own bubble… the vibe is more egocentric, focused on one point. I like the music that works in this kind of party, but I cannot play this kind of music.
Who are some of your favorite DJs from past and present?
Well, of course I like some French artists, like Ark and Krikor, and Daft Punk used to be amazing. The first time I was ever shocked by electronic music, it was at a Daft Punk concert in 1994, at a big festival in the South of France. It was really fucking amazing, man, not like the bullshit they do now. The mainstream French scene now is just some of the worst music: Justice, Ed Banger, for me it's hell. It's like AC/DC, or dance music from the Supermarket. But yeah, until about 2003, Daft Punk were great. Today, I really like some artists you often talk about on your site who I know personally: Paul Frick and Dave Aju. Pépé Bradock is great also. And I really like Frivolous, a new guy on ~scape.
What can we expect from you for the rest of the year?
I did a remix for my Greek friend, Aluf — it's on the mix. He was supposed to release it on his label but he had some problem with the money, his girlfriend… house, dog, all this shit…. I've been working on my first album for three months and I'd like to release it by the end of the year, but it keeps going in new directions. One day I make a really pure dance track, another day I make something really low tempo with piano. So, we'll see. (Interview by Will Lynch)
LWE Podcast 21: Le K (89:51)