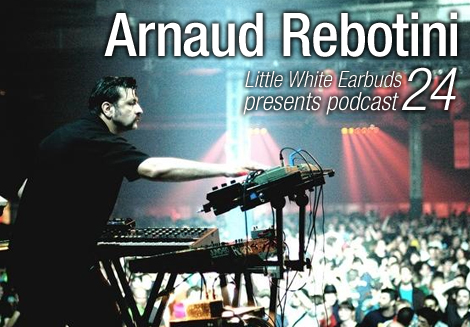 One of the reasons we love doing LWE is that at any time, someone we admire could send us something incredible out of the blue. Recently we were graced with an exclusive mix from Arnaud Rebotini, the analog giant behind Black Strobe and well-versed solo producer, whose churned out raw house, banging techno and leather-clad electro for labels such as Versatile Records, Artefact and Source Records. Tomorrow his debut solo album, Music Components (which if you haven't heard, do yourself a favor and check out this album mix), arrives digitally on iTunes and in American shops. In this mix Rebotini jumps from disco flavors to more chugging beats and back again. It's a great mix and we're excited to share it with you.
LWE Podcast 24: Arnaud Rebotini (61:58)
Audio clip: Adobe Flash Player (version 9 or above) is required to play this audio clip. Download the latest version here. You also need to have JavaScript enabled in your browser.
Tracklist:
01. Black Strobe, "Back From Beyond" [Supersoul Records]
02. Panthers, "Goblin City" (Holy Ghost! Extended Disco Bud Mix)
[Permanant Vacation]
03. Georges Vert, "Jovan Freak" (Rune Lindbaek Nomaden Mix) [Lo Recordings]
04. Little Boots, "Stuck On Repeat" (Alexander Robotnick remix)
[This Is Music Ltd.]
05. Friendly Fires, "Photobooth" (Mock & Toof Mix) [People In the Sky]
06. Arnaud Rebotini, "Horns of Innocence" (Xaver Naudascher remix)
[Citizen Records]
07. Dolle Jolle, "Balearic Incarnation" (Todd Terje's Extra Doll Mix)
[Permanant Vacation]
08. The Shift ft. Mike DeVellis, "Swoscillator" (Nick Chacona Nu-disco Mix) [Blunted Funk Recordings]
09. Tensnake, "Holding Back (My Love)" [Running Back]
10. Autokratz, "Always More" [Kitsuné]

When and where was the mix made? Is there a concept behind it?
Arnaud Rebotini: I made this Monday just [after coming] back from Calvi on the Rock — it's a festival on an island in the south of France. It's really cool festival in a sunny beautiful town. I tried to made a mordern disco mix, something for the summer.
Who are a few of your favorite DJs past and present and why?
DJ Hell, because he can play really easy records and really dark records in the same set; he really knows how to play with the audience. Laurent Garnier when he plays techno, no one plays techno better than him. Prins Thomas for his musicality.
If we were at your home, what recently played records would we find by your turntable?
Betty Davis, Nasty Gal; Ike & Tina turner, 'Nuff Said; ZZ Top, Rio Grande Mud; Jon Spencer Blues Explosion, Acme; and The Horrors, Primary Colors are my top five records for home listening.
Which do you enjoy more: DJing or playing live? Why?
I think I prefer live. Nowadays I get a lot of pleasure from playing live sets with only vintage machine, because with it I can make people dance and be a live musician — it's like being in studio and on stage at the same time.
What's coming up from you for the rest of the year?
I'm working on a new Black Strobe album, and a new 12″ will be out on Supersoul Records in October — it's the opening track of the mix.
LWE Podcast 24: Arnaud Rebotini (61:58)