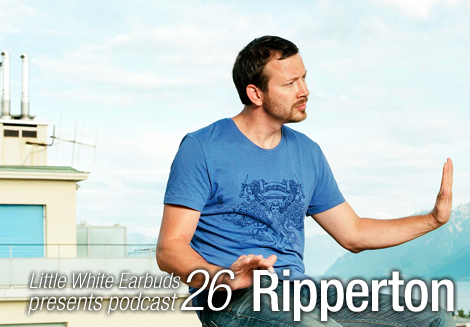 Like many techno and house producers, Raphaël "Ripperton" Gros first laid down musical roots as part of a band. Though his groups Soul Merge and Reasons mined the live dance territory that was his calling (and even garnered critical renown in his native Switzerland), the appeal of coordinating eight members and their ideas wore off in favor of solo production. Soon his sleek, tech-house tracks adorned Connaisseur, Systematic, Sthlmaudio Recordings and liebe*detail singles, and he paired with Mirko Loko to form Lazy Fat People. While the pair's project yielded their most widely received tracks to date (for Planet E, Border Community and Wagon Repair), Ripperton once again rides solo, dedicating much of his time running Perspectiv with Sam K and DJing around the world. The Swiss label boss and top notch jock curates LWE's 26th exclusive podcast, offering a peak into his monthly residency at Lausanne's D! Club.
LWE Podcast 26: Ripperton (59:20)
Audio clip: Adobe Flash Player (version 9 or above) is required to play this audio clip. Download the latest version here. You also need to have JavaScript enabled in your browser.
Tracklist:
01. Ndru, "Bubur Kacang" [Perspectiv*]
02. Adolf Noise, "Bäume Strahlen Stress Aus" (Robag Wruhme remix)
[Freund Am Tanzen]
03. Jus-Ed, "I'm From Connecticut … Bridgeport" [Underground Quality]
04. Moody, "Freeki Mutha F cker" (Catz 'N' Dogz rework) [unreleased]
05. Agnès, "Love Tempo" [Sthlmaudio Recordings]
06. Blagger, "Strange Behavior" (DJ Koze Aka Swahimi remix) [Perspectiv]
07. Jonny White, "Gush" [No.19 Music]
08. Chaton, "+91 Ahead" (Dachshund Version) [Plak Records]
09. Agnès, "Que Pena" [Perspectiv]
10. My Favorite Robot, "Modest Goddess" (Jonny White remix)
[My Favorite Robot Records]
11. Headless Ghost, "Neverending Stories" [Sthlmaudio Recordings]
12. John Daly, "This Is A Lonely Beat [Drumpoet Community]
13. Utku Dalmaz, "I Miss U" [Fhd Records*]
14. The Tape vs. RQM, "Luvely" (Kalabrese remix) [Mouthwatering Records]

When, where and how was this mix made?
Ripperton: Just before my residency party at the D! Club in Lausanne. Every two months we have our party there with all the Perspectiv artists and friends.
How did you select the tracks for the mix? Does it have a theme?
This is a melting pots of rare tracks, fresh news and forthcoming tunes, from Switzerland's friends or people I really like.
Who are a few DJs you would love to see spin? Who are a few of your favorite DJs?
I've never heard DJ Koze play, but I can imagine how funny and groovy his sets are. Or maybe Omar-S. For the rest, I love so many producers at the moment who are maybe bad DJs, or perhaps the inverse 😉 I go often outside to discover some fresh music, and I adore seeing live bands.
What's next for you and Perspectiv in 2009?
I just finished my first album, Niwa which I think will be released around September. It's a real personal work, something I've been working on over the last two years. I'm currently working on two remixes, one for the Stimming's first album single and another one for James Teej on Rebirth. Oh, one last thing: As Agnès has said, "Get your kicks and buy wax!"
LWE Podcast 26: Ripperton (59:20)