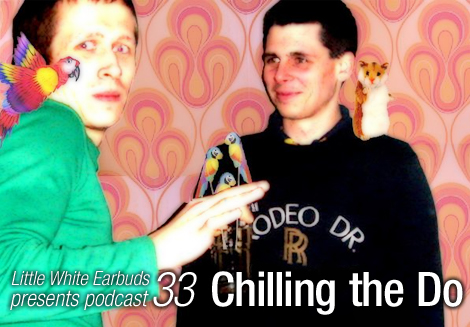 Though their records are some of the most cutting edge stuff coming out these days, Kassem Mosse and Mix Mup are techno atavists. This is easy to guess just from hearing their music: Kassem Mosse's tracks have the dusty, rough edged feel of an all-analog set-up, while Mix Mup's material is consistently raw and clangy, with his own New Wave vocals giving it all a charming whiff of throw-back. Of the all the musical sentiments the two producers share, one of the most potent is their longing for a time (namely, the 90's) when nightclubs provided an outlet for more challenging, un-danceable electronic music. This is the raison d'être behind Chilling the Do, a musical project that combines records, field recordings and mixed media snippets to gleefully antagonistic effect. LWE Podcast 33 offers an exclusive and abridged version of what the duo might unfurl in a nightclub over the course of several hours. It's dark, campy yet deeply compelling, and as they'll be the first to admit, not for everyone.
LWE Podcast 33: Chilling the Do (77:26)
Audio clip: Adobe Flash Player (version 9 or above) is required to play this audio clip. Download the latest version here. You also need to have JavaScript enabled in your browser.

How did you two start working together?
Kassem Mosse: We worked together on the last Workshop release, we edited and did the final mix together.
Mix Mup: We also did a radio show some time ago, and realized we worked together really good. The radio show ended, and then we got this idea for Chilling the Do, a collage thing.
K: Yeah, that's what the radio show was like, lots of samples and collage stuff. Just on a local station here in Leipzeig, called Radio Blau. But we had a lot of people listening in. Sometimes people still tell me they used to listen to the show, which is very strange, because we never had much feedback.
How would you explain the concept behind the mix?
M: In the 90's there were many chill out zones in clubs. There was the main floor, and then the chill out floor. Nowadays, you have the second floor, but it's also a dance floor. So we miss this chill out location.
Isn't this collage a little more experimental than usual chill out room stuff?
K: Well, it's very much our chill-out room. It's maybe not the typical concept you think of when you think of a chill out room, not just nice melodies and stuff. Our idea of it is a place where you go and you try to actually listen to something. Maybe you're talking to your friends and then you get surprised by something, so you keep listening, without dancing. This one is supposed to be a bit more eerie. It goes back to our radio show — we would have a topic, and collect radio snippets and sounds that fit the topic and then go from there.
K: Usually, Chilling the Do is a live thing. We do it for four hours or more. On the radio show, we would just play with samples, there was not much talking. It was like communicating through samples, through snippets from a TV series, interviews from the Internet, old movies. Now we do this live, and it's very long — like, the whole night. In this case, we chose a theme that is inspired by old horror movies… we show our dark side in this mix. This was kind of a special thing — it's not live, it's a mix. Usually we play instruments.
K: Yeah, there's some stuff on there that's unreleased material, but usually we'd have instruments. We didn't do that for this [podcast] because we didn't have enough time, it wouldn't fit; we didn't want to be rushing through things.
What kind of setting would you perform in?
M: We want to do this in nightclubs, in a typical chill out zone, where people come back from the dance floor and listen to something that's not a straight 4/4 beat. But it's very difficult nowadays — I think people have lost their patience for this sort of thing. So, we'd like to do it in nightclubs and we know its possible, but, well, it's not always possible. Sometimes we do it in other locations, like bars, or we could do it in something more like an art space, but that's another kind of crowd.
K: Yeah, that's another idea. You know, there used to be a time where you wouldn't have just DJs playing on all floors. Nowadays you go to a club and you have two floors or three floors, and you just have DJs playing dance music on all floors. There was a time when it wasn't like that, where you could go to some space and just hang out and talk to your friends, and you really don't have that anymore. Maybe you have a back room or something, but it's just not really a special place. But sometimes you do have it and people don't like it — we've had a very negative reaction to this. They go to a place where usually there's two floors of techno, but tonight we're playing, and they say, "What is this? Play some techno! What's the point of this? We don't get it." Its not enough for them to go to one floor to listen to techno, they need always two floors. I mean, nothing against techno or anything, but I mean, this behavior — I don't get it. People are not so open-minded as perhaps they were some time ago.
Do you think maybe, as techno attracts more of a mainstream crowd, they're less likely to understand something so experimental?
K: Yeah, sure.
M: I think so. I don't like to talk like this, but I'll do it now again [laughs]. When I first experienced techno in the 90's, when I was like 14 years old, and for the first time went to a club in my hometown in East Germany, everything was very new, and you went there because you wanted to hear something you never heard before. It was all very experimental, everyone there was very open-minded.
K: I think it has to do with expectations. Actually, I was reading that [LWE] post on Innervisions, and Dixon was saying that he doesn't give away mixes because he doesn't want people to have expectations when they come to a club. And maybe that's the thing — back in the days when this was new, people didn't know what to expect, and nowadays they just want to hear this or that type of thing. But in the 90's it was not like that, people were more curious. I sound like a grumpy old man, but still. [laughs] Sometimes I'm missing a little tension in clubs, I want the DJ to play something different, that doesn't fit too well.
M: We need surprises. We are looking for surprises, and we can't find it, so we do it ourselves — we surprise each other.
K: That's true — because when we play as Chilling the Do, we don't know what the other one is going to bring, we don't listen to the stuff before hand, so it's like a constant ping pong kind of affair. It's a way of keeping things interesting for us too.
What's an example of a time and place where Chilling the Do performed and it really kicked ass?
K: How could it kick ass? [laughs] The best example would be when we played at this local place, which was exactly one of those nights where on the one hand you have people approaching you saying, "This is a techno floor, why are you not playing techno?" but you also have this perfect situation, because the way people were sitting was like a subway train somehow, they sat sideways in rows. So we played a lot of train sounds, to make it feel like everyone was on a train, traveling around. Very surreal.
M: It was a recording of the subway in Jena… we recorded it for an hour or so from the main station.
I would have expected you play in art spaces rather than clubs.
K: Yeah, right, but that's not enough for us, we're not content to play in art spaces.
Chilling the Do has a focus on hardware and improvisation that's fairly unusual for live acts today. Would you say there's a statement involved in that?
M: Well, we're just doing what feels natural for us. But at the same time, it comes to a statement, because we're not just doing it at home for ourselves.
K: And you know, we want to see a certain change perhaps, we want to see more open structures. You have people trying that, doing these laptop orchestras and stuff like this… but you need more of a possibility that something can go wrong. There must be room for mistakes — if something goes wrong, that's OK, it happens, it's alright. Everybody's playing it safe, and that's something I don't like so much. Especially with new technology, everything's just very safe. You can get your timing fixed and then mold everything together, you can have ten mp3s all going at the same speed, but what's the point? It's more interesting if you have these things where you can see that someone has to know how to work these things. Perhaps things go out of sync for a moment, but then you bring it back together — it gives it kind of a human edge. Perhaps that's something I'm missing — the chance to fail.
Are there any live acts right now you really admire?
K: Well there's Rancho Relaxo, that stuff is kind of like what we do.
M: There's also The Midnight Episode… one of our friends… on Myspace.
K: Yeah, they're really cool people, really like-minded kind of project. It's very good music.
LWE Podcast 33: Chilling the Do (77:26)