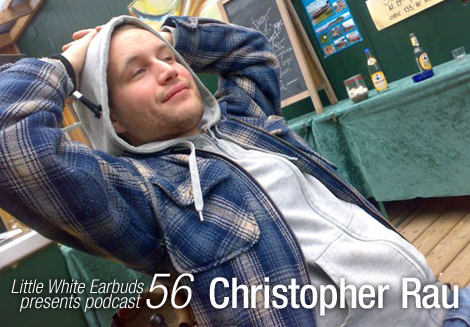 It's hardly been a year since Christopher Rau's name first appeared in LWE's pages. At the time, we made a note to watch for more of his looping, wintry house tracks and, well, we didn't have to wait long. In no time, the Hamburg-based DJ/producer's woozy sounds were weaving their melancholy magic for such keenly-followed local publishing houses as Smallville and Laid. Working alone or, as on this year's "Cloverleaf Days," with Jacques Bon, Rau's staked out an affecting sound that marries cotton-packed miniature melodies to gently determined rhythms. Lovely on headphones, tracks like "My Lesson" and "Soulful" are fully bewitching in the right club environment. Little wonder, then, that you'll find Rau's work sandwiched between tracks by John Roberts and Fred P. With his debut album due to arrive on Smallville this fall, we wanted to shed a little light on the man behind the music, and Rau was good enough to field a few questions for us. More exciting still, he's also put together our 56th exclusive podcast for us, extending the "bluesy, calm atmosphere" that is his metier over a selection of tracks from STL, Efdemin, Break SL and more.
LWE Podcast 56: Christopher Rau (57:44)
Audio clip: Adobe Flash Player (version 9 or above) is required to play this audio clip. Download the latest version here. You also need to have JavaScript enabled in your browser.
Tracklist:
01. Break SL, "Kids" [Philpot]
02. Reggie Dokes, "Black Thoughts" (Dubbyman Remix) [Deep Explorer]
03. Quince & Benny Rodrigues, "7 Up" [Smallville]
04. Efdemin, "There Will Be Singing" [Dial]
05. Ricardo Miranda, "Urbanism" [Hour House Is Your Rush]
06. STL, "Radionoize" [Something]
07. Orlando Voorn ft. Blake Baxter, "Love Break" (Afterlife Dub) [Divine]
08. STL, "From A Distance" [Smallville]
09. RVDS, "And Love" [It's]
10. Camp Lo, "Sparkle" (Mr. Midnight Mix) [Traffic]

Please tell us about your podcast mix. When/where was it made, and what's the general theme?
Christopher Rau: I recorded the podcast in end of May 2010 in my parlor using vinyl records. I was trying to build a smooth 'n mellow structure just for relaxation.
I first heard your music last year, but how long have you been making tracks?
I started to create patterns and loops around ten years ago. Back then I was producing hip-hop tracks. I think four or five years ago I started to do my first house and techno beats.
I understand that your father is a trained pianist. Was any of that keyboard expertise passed down to you? Did you have a musical upbringing?
Yes and no. I did some piano lessons when I was a young boy. I also had a little drum set: bass drum, tom, hi-hat, snare and a ride, but I was never that good. Too lazy to practice.
Your productions to date have been woven with strains of absorbed melancholy. I'm curious if there's a particular mood, or impression maybe, that you look to achieve when making music?
You got it. Mostly I want to create a bluesy, calm atmosphere. But that's just the aesthetic I want to hit.
You've already carved out a rather distinctive voice, but one that's very much at home with venerated Hamburg labels like Dial and Smallville. To what degree would you say that the sounds coming out of the city has influenced your own work?
I would say very much. I was listening to Smallville and Dial records before moving to Hamburg. I was and I am a fan.
Speaking of Smallville, you've known those guys for a bit. When did they express interest in releasing your music?
I don't know exactly, but I remember that my friend Axel told me, 'Hey, they are doing this compilation. Come on, give them some tracks.' And I did.
You've also appeared on both of Dérive's extant releases. How involved are you with that label? And could you discuss the label's interest in the Situationists?
Dérive Schallplatten is Björn, Maximilian and me. We are friends, two based here in Hamburg and Maximilian lives in Munich. He's also the one to discuss those certain interests.
What can you tell us about the releases you have lined up for the near future?
I recently released a 12″ on Gieglings' Staub Series called The Blessing. Then I have a remix for Freund Der Familie on their label and an album for Smallville to be released October 25th. There are some other projects which are not ready to be discussed now.
Finally, we've recently finished up our mid-year coverage at LWE. What have been the most exciting records for you so far this year?
Wax, No.30003 [Wax]
RVDS, Waiting, Kiss & Love EP [It's]
Smallpeople, The People EP [Underground Quality]
Goldwill, What Is Behind [wandering]
DJ Duke, Core – 1995: Heard [Slow To Speak]
LWE Podcast 56: Christopher Rau (57:44)