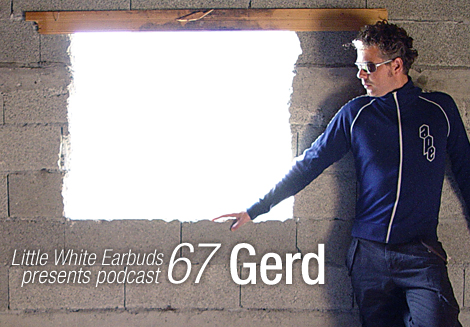 Few masters of dance music operate at the same high level as in their initial heyday, yet Gert-Jan Bijl is still at the top of his game 22 years in. One could attribute the Dutch producer's consistency to his relentless pursuit of new sounds and set-ups spread out over more than a dozen monikers and even more collaborative projects. By pushing himself beyond the American influenced aesthetics he started in, Bijl kept his productions fresh for himself and his audiences. So whether you know his funky disco tunes as Amplified Orchestra, his tougher techno slabs as Literon, the broken beat work with Paulo Delgado as Delgui, or his unique deep-house slates as Gerd (to leave out quite a few — even Discogs hasn't captured his full back catalog), your ears have been well taken care of for more than two decades. The Rotterdam-based artist is also the proprietor behind 4 Lux, Amplified, Fortek, Lifeworld, and Rize Radical imprints, providing a home for dozens of artists including Alex Agore, Kez YM, Swell Session and his own various projects. Despite his long career there's little info available about Bijl on the web so LWE had to grab him for an interview and our 67th exclusive podcast: a toasty 71 minutes of lush house music fitting of an artist with his reputation for excellence.
LWE Podcast 67: Gerd (71:07)
Audio clip: Adobe Flash Player (version 9 or above) is required to play this audio clip. Download the latest version here. You also need to have JavaScript enabled in your browser.
Tracklist:
01. Erdbeerschnitzel, "Suave" [4 Lux Black]
02. Alex Agore, "The Dayz Of Wayback" [4 Lux Black]
03. Iken, "Mind's Eye" [Real Soon]
04. Jacob Korn, "Supakrank" [Dolly]
05. The Shake Up Connection, "Untitled" [Amplified]
06. Ka§par, "Ode To The Ancient Ones" [*]
07. James Johnston, "Feeling Good In The Dark" [4 Lux Black]
08. The Gathering, "In My System" (Jef K's System Mix) [Silver Network]
09. Headless Ghost, "The Journey" (Tribute Mix) [Sthlmaudio Recordings]
10. Mood II Swing, "Function" [Music For Your Ears]
11. Jitterbug, "Speakers Corner" [Uzuri]
12. Gerd, "Freedom" (Vocal Mix) [4 Lux Black]
13. Joint Movement, "Untitled-A2" [Balance Alliance]
14. Gerd, "Time & Space" [*]
15. Sound Stream, "Deeper Love" [Sound Stream]
16. Gavin Herlihy, "Train Dodging" [Cadenza]
17. Gerd, "Friendly Fire" (Extended) [Royal Oak]
18. SBTRKT, "Jamlock" [Brainmath]
19. Roska & Untold, "Long Range" [Numbers]
* denotes tracks which, as of the time of publishing, are unreleased

Tell me a little bit about how/when the mix was made and its theme if any.
Gerd: Well, I didn't have any theme in mind. I just went in my studio and dropped some records. The mix was made pretty spontaneously. The only thing I had in mind was that I wanted to play some house records I enjoy. The mix was made with two turntables, two CDJ-players and a mixer in November 2010.
What was your involvement with music as a child? How did you first hear dance music and what drew you to it?
I was drawn to music at an early age. I was always playing and listening to my mothers' records. She had a lot of (popular) film scores (think: Morricone, Jack Parnell, etc.). I loved to look at the artwork and I loved the smell of the vinyl, of the paper. My older nephew had a pirate radio station which I joined at the age of nine. I think it's around that age that I started to buy my own 7-inch singles and, later on, twelves. My music collecting started out with popular dance but when I grew older I discovered the import shops here in Rotterdam city. It's through mix tapes I discovered early house. When I first heard "House Nation," "Jack Your Body," "Love Can't Turn Around," Marshall Jefferson's "House Music Anthem," etc. my heart was sold to HOUSE. Especially the, at that time, obscure acid music from the likes of Mr. Fingers, Armando, Hot Hands Hula, Phuture, et al. made me wanna make music myself. At that time in Europe it was hardly known how this kind of house was made. A long investigation and search resulted in buying my first drum computers and a TR303 bass line!
I've read about your explicit preference for hardware rather than computers. How much were new sounds and musical directions the result of purchasing new hardware/equipment?
Musical directions were never the basis for me to buy new equipment really. It's the hunger to new sounds and especially the hunger to just be able to touch and feel a new piece of hardware. It's like an addiction. Just like with vinyl records, this is about collecting too. For me it was a journey. At first when I didn't make any money with music I had several jobs and worked my ass off to save some money. I had a long list of hardware I wanted to own. I did my utmost to get all pieces on that list one by one which resulted in buying more and more synths, samplers, effects, compressors etc. Later on when I made money with music it went a bit quicker of course. I just got to work with every new piece I obtained and if I didn't feel it (the way it operated, the way it sounded) then I sold it again. The ones that got me hooked are still in my studio today. By the way: with plug-ins getting better and better I also do a lot of work with computers nowadays. VST-plug-ins give me, besides the hardware, another color on my palette.
Over the years you've collected innumerable production aliases, both solo and in collaboration with Dirk-Jan Hanegraaff. Why operate under so many different names? Do you have any favorites?
It's hard for me to stick to one style. That's one of my strengths but also one of my weaknesses. I get bored very quickly. I need to be challenged, that's why I try to explore as many styles as possible as long as those styles intrigue and inspire me. Discogs is NOT complete when it comes to my work and aliases. I have done house, techno, soul, jazz, hip hop, lounge, ambient, dub, disco, broken, etc. These are all styles that tickle my fantasy and ask different sides/talents from me, as a producer, to create. I thought they all needed a different project name. I am very proud of the work I do/did under my own Gerd and Literon aliases as well as the Delgui project I did with Paulo Delgado and the P-funk inspired Milez Benjiman project that I recorded for Tru Thoughts. And I just love the Amplified Orchestra stuff, too.
Tell me about how you ended up working with Dirk-Jan Hanegraaff across so many projects.
It's a thing that just happened. I mean, back in the days it was a common thing to just sign for a label for several singles or for a longer period of time, so once a project was signed to a certain label we couldn't use the same name when we were asked to record for another label. Besides that, we felt that we covered many different styles/sides of the dance spectrum and thought it would be cool to just invent different projects for every (sub) style we explored.
In your nearly two decades spent making dance music, what's changed in how you write or execute your tunes?
The answer is simple: In the past I just started with a drum pattern and from there I went on building with sounds. Nowadays it is the other way 'round: I start playing a bass line or a melody or fool around with some samples and then the rest follows. I also have clearer ideas of the tune I am about to start working on. I, more or less, know what I am going to create whereas in the past it was more of surprise to me and went along with the flow I was in. Sometimes I miss that way of working. Then I just go into the studio and have a cool unprepared ride like I am back in 1990.
With such a large back catalog, I wonder how you've stayed prolific for so long. What keeps you feeling creative?
It is difficult to be creative at some points, let alone staying creative for a longer period of time. I have a love-hate relationship with making music. It might sound strange but I know a lot of fellow producers have the same sort of battle. I guess that comes with a creative mind. It is hard to decide when your song is actually finished. I mean, you always hear things that can be improved but, for various reasons, it's not always simple how to achieve such improvement. I sometimes suffer to bring beautiful music. What I have learned throughout the 22 years of creating music, though, is to just keep on trying and keep on searching for ways to start, perfect and/or finish songs. I learned to literally force myself to be creative and when I really focus I can always call for my creativeness.
Besides that, as said before, I am bored quickly. So when I am bored producing a particular style I just go and create something in another style of music. That, to me, is also a very good and natural way to keep the creative flow going. At the end of 1999 I was bored with the breakbeats, techno and house stuff that I did. I started to create music for commercials, movies, theater plays and TV shows and I do lots of other things besides the dance industry. Change is a good way to stay creative.
Do you ever go back and listen to your older work? Is it difficult not to repeat yourself?
I don't listen to my older work a lot. Sometimes I do so when other people come and visit me and ask me to play something I did in the past. But when I am alone I prefer to play other people's music. I do enjoy it when I hear my music being played in a club or when I am relaxing in a swimming pool on a holiday or when I am visiting a clothing store shopping for new jeans or watching a documentary or TV show on television with my music used as underscore, etc. I mean, at those occasions I am proud to experience other people enjoying themselves to something I created. Within every style it is difficult not to repeat yourself indeed. It is a question that kept me busy for a long time. Nowadays I don't care really. I mean accents may change as well as techniques and sounds may evolve but in the end good house is good house, good soul music is good soul music, etc.
Most producers tend to focus on a few specific sounds or genres while your sounds are all over. Do you admire most types of dance music? Are there other styles you're still interested in attempting?
Yes, I admire all types of dance music. I can hear something beautiful in most styles. Marketing wise it is clever to focus on just one or two types of music. You'll get more recognition and quicker too. I never thought like that and I was only interested in the creative processes of music making. Strategically (read: from a commercial point of view), it would be better for me to just focus on one or two projects but I care too much about the art too so don't be surprised if I take on other styles like blues and rock in the future. But seriously: at this point there is no style I would like to explore. I re-found my love for (early) house music and techno, so that will be the stuff I'll focus on in the future. Besides that I still do music for commercials, movies and television. I love to create music within a creative team of people, so I will keep on doing that as long as possible too.
Recently your "For 12 Minutes She Danced With An Alien" single was sort of reissued by Joris Voorn's Green label. Why did you opt to use a new remix instead of the original? Do you have much interest in reissuing any of your other work, and if so, what specifically?
Back in the day, "For 12 Minutes" was a record that went cross-over. I mean, techno DJs played it (besides the A side, "Arkest's Blaze," of course) but also UK and U.S. garage DJs played it. I thought the original was a bit too fast for current house music. House music now is slower paced (thus more sexy in the end) hence my choice to do a slower version.
Indeed, I get a lot of requests from labels to re-issue some of my older work. But I won't choose to do so as long as I am not feeling the track in question. Right now I am thinking about a request to re-issue an old Literon track called "Machines." There are also plans to re-issue an old Gerd track called "Vorpal Blade." I still love those two songs, so I might go ahead with those.
More recently 4 Lux and Amplified seem to have embraced some digital only releases, which have been popular with some labels but avoided by others. It even appears your latest album as Amplified Orchestra was only released digitally. What importance do digital releases have for you? What does your choice of format say about your feelings on the release?
I was advised by a good friend (and label manager at my digital distributor) not to miss the boat when it comes to releasing music digitally. I started releasing music this way back in 2004 or 2005. At first I really had to get used to the digital format. I mean, I am an old fashioned guy who grew up with wax and I just love vinyl too much. However slowly but steadily I started to enjoy releasing digitally as well. Simply because of the fact that I learned that there are actually a lot of people enjoying buying digital downloads. I get a lot of response from people buying mp3's and WAV files. Besides that, I learned the importance of digital releases is one that cannot be ignored if you want to be a label releasing music in the long run. Everything is (going to be) digitized in this digital age, whether you like it or not.
The choice of format does not say anything about my feelings on the release. In fact my latest Amplified Orchestra called "Doctor Ohio" is my best AO so far. I choose not to release it on wax simply because of the difficult situation on the vinyl market. It is hard to break even on vinyl sales nowadays. Besides that I also think the opinion of our physical distributor is of importance. Again, I would have loved to release "Doctor Ohio" on wax but my distributor didn't feel it as much as I did. I think there's no use releasing vinyl if the people who need to work with it don't like it as much as I do.
What's coming up from you and your labels in 2011?
I am working on new Gerd material for my own 4lux label as well as for Clone. Maybe a new release on Philpot will follow too. In fact I am thinking of doing a full album as Gerd. The same goes for my Literon moniker: a few releases in the pipeline and a full album. My new Amplified Orchestra album is almost ready. This album will actually get a double vinyl release. So all you vinyl hunters be on the lookout for that one. Last but not least we have a lot of releases coming up on 4lux and Amplified by producers such as Erdbeerschnitzel, Alex Agore, Lump, Solab, Ka§par, James Johnston, FantastikClick & Sport G., and Native Rush. A great jazz album by Orakel (featuring collaborations with Dwight Trible and Dorian Concept) will get a vinyl release on our downtempo offshoot called 4lux White in March. So a lot of things happening in 2011!
Download: LWE Podcast 67: Gerd (71:07)
Audio clip: Adobe Flash Player (version 9 or above) is required to play this audio clip. Download the latest version here. You also need to have JavaScript enabled in your browser.