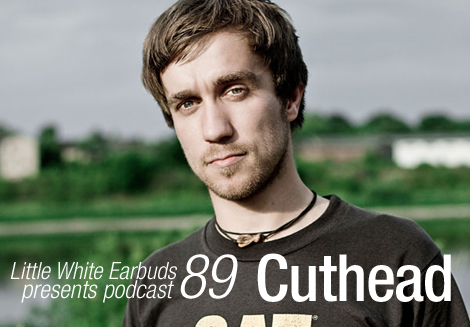 Dresden was once called the "valley of the clueless" because of its lack of contact with West German media, but now it's the rest of the dance music world that's finally clued in. Robert Arnold is part of a new generation of Dresden house producers affiliated with Uncanny Valley whose ceaseless creativity is too great to be ignored. Although he's experimented with various beat-driven styles since the early aughts under the name Cuthead, he's still rather new to physically releasing music. Still, his two contributions to Uncanny Valley's various artists EPs have been tremendously memorable, each offering a dynamic take on sample-led house. "The Sinner" in particular has barely left the LWE HQ turntable. Hungry for more information (and word of new tunes), we got in touch with Arnold to find out his philosophy on sampling, his time at the Redbull Music Academy, and what made his Dresden parties so wild. He also contributed LWE's 89th exclusive podcast, a tour de grooves taking listeners through lush deep-house, percolating funk, and fizzy acid.
LWE Podcast 89: Cuthead (56:28)
Audio clip: Adobe Flash Player (version 9 or above) is required to play this audio clip. Download the latest version here. You also need to have JavaScript enabled in your browser.
Tracklist:
01. Flying Lotus, "Do The Astral Plane" [Warp Records]
02. Sek, "Suspicious Mindz" [Apparel Music]
03. Rinder & Lewis, "Lust" [Pye Records]
04. Space, "Carry On, Turn Me On" [Hansa]
05. Blaze, "My Beat" [True]
06. MANIK, "Pure Liquid" [Poker Flat Digital]
07. Oskar Offermann & Moomin, "Hardmood" [Aim]
08. Makam, "Boss And Lomber" [Sushitech Purple]
09. Unknown artist, "SLH003-A1" [Slowhouse Recordings]
10. Kerri Chandler, "Rain" [Nervous Records]
11. Quiet Village, "Can't Be Beat" [Whatever We Want Records]
12. Johan Fotmeijer, "Love Unlimited" (Resoe's Unter Den Linden Dub)
[Baum Records]
13. Cuthead, "The Sinner" [Uncanny Valley]
14. Luke Vibert, "Acidisco" [Warp Records]
15. Mr. Oizo, "Skatesteak" [Because Music]
16. Motor City Drum Ensemble, "There's A Truth" [Timothy Really]
17. Syl Johnson, "That's Just My Luck" [Hi Records]

When did you start producing?
Robert Arnold: I started in 2001 with Fruity Loops. First I did some rap beats for my friends.
You would later turn to making more dance floor-oriented tracks. What facilitated the change in styles? How does hip-hop inform the music you make now?
I do sample-based music and that's what I like in both styles. Hip-hop is really good music and I still listen to it at home a lot, but I also wanted people to dance at a party. Most of the hip-hop jams were really lame. Also hip-hop is very much about battle and competition between different crews. In dance music it is much more collaborative.
In 2008 you participated in the Redbull Music Academy in Barcelona. What did you take away from that experience?
The Academy was great! I got introduced to so many different music styles and workflows. It really enhanced my musical horizon. Moritz von Oswald, Chuck D and Tom Oberheim did lectures and spoke about their lives. The work of fellow participants like Dorian Concept and Onra impressed me very much, too. It kind of lifted me out of the provincial level and got me connected to people from all over the world.
So far you've self-released two digital-only albums. Why did you go this route instead of physical releases or working with another label?
I am a lazy person. I just wanted to release my music without any financial pressure and nearly no organization. I still like free download albums, because it's free for the listener and the artist. It spreads all over the world and gets known to a wide audience. There was a guy from the Philippines who asked for a Cuthead t-shirt, that was really cool. The problem nowadays is that there is so much available for free that people need some kind of filter or pre-selection. A real vinyl release or a label can provide this function for the listener.
How did you get involved with Uncanny Valley? As part of the UV crew, what do you contribute to the label besides tunes?
Dresden is a very small scene, concentrated only on few locations like the Altes Wettbüro, so everyone knows each other. Jacob Korn is a close friend of mine since some years and also the rest of the Uncanny Crew is connected amicably. We do listening sessions every month and sometimes I do some photos or video documentation for the lable, like the press pics for Stefan Lohse and Korn on the website.
Who came up with the name Uncanny Valley and what was the thinking behind the name?
I think Jacob came up with the name. It's a psychological effect, if you find a face likable and how life-like it is. But it's also an allusion to "tal der ahnunglosen" (valley of the clueless), which Dresden was called during the GDR days because there was no radio or TV reception from the west of Germany.
Your video for "The Sinner" was quite enjoyable and professionally done. Do you make many videos? Are there plans to make more videos for UV tracks?
I hope so. Shooting films is my latest passion. It's really fun and combines music, pictures and technology. Let's see what happens; I am really new to this stuff.
Your crew, Kunst:stoff Breakz, were known for throwing some wild parties in Dresden, some of which involved police intervention. Were they wild for Dresden or wild in general, do you think? Care to tell us how/why they got so wild?
The circumstances and locations were wild. We crept in abandoned buildings with the speakers and the generator and did some free parties. It was thrilling because you never knew if the police had noticed and if the equipment would hold up the whole evening. Also the different locations were really cool. I remember a party where all the guests had to climb down some boxes through a hole in the ground to reach a secret cellar room. I think to arrive in a unknown location after half an hour walking in the woods really enhances the party experience. People were already in a good mood when they arrived because of this adventurous journey.
Although you've been releasing since the mid-00s, it seems you're somewhat new to the 12" format. Why is that, and what do you like/dislike about the format?
That's true. The latest releases on UV convinced me about the advantages of a physical medium. It's just lovely to hold a real record. Also the resonance is much greater in comparison to the mp3 releases, even if it was downloaded more often.
Samples have always been central to house music, even if their popularity changes over time. Right now samples are super popular and are central to your own house music. What do you do to keep that use of samples fresh and exciting in a sample-crowded environment?
I love the music of the 70's. The musicians in the past recorded instruments, synths and vocals with different microphones and various equipment. There are so many different sounding recordings of just one instrument and the challenging thing is to find and combine sounds. To me it's pointless to record a Rhodes organ today, because there were engineers in the 70's who spent their whole life finding the right microphone and compressor setting. It is and was a very technical task and I think you don't need to reinvent the wheel and focus on the creative combination of these sounds.
What are your plans for the rest of 2011? What about for Uncanny Valley?
After the various artist releases there will be some artist EPs later this year. Mine is hopefully going to be released in autumn.