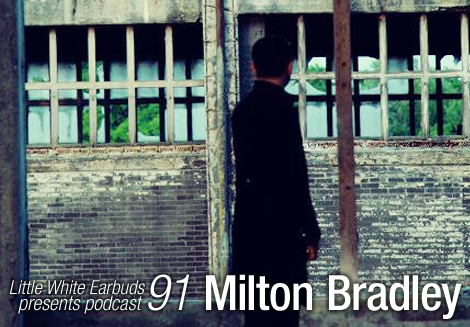 Milton Bradley (also known as The End Of All Existence and half of K:209) releases bassy, tripping, grimly psychedelic tracks on his own Do Not Resist The Beat! imprint, as well as Prologue and Zooloft, and is one of the rare instances where the stoic, anonymous techno thing actually works. His sonic signature is so distinctly ethereal and mysterious that the whole press production seems secondary, maybe even unnecessary. Obviously, though, we couldn't resist asking the German producer some questions about his approach, and his answers reveal a careful idealism that's perfectly in line with his music's depth and narrative qualities. In addition, he's provided us with a recording of a recent live set in Stockholm, which showcases the techno end of his sound alongside the apocalyptic ambience of his The End Of All Existence project. Although he resists the idea of recording a full-length, this set serves a similar purpose. It's an outstanding exhibition for his material, rhythmically diverse, thematically consistent, and thoroughly druggy and dystopian.
LWE Podcast 91: Milton Bradley (63:16)
Audio clip: Adobe Flash Player (version 9 or above) is required to play this audio clip. Download the latest version here. You also need to have JavaScript enabled in your browser.

I feel like I sort of have to throw this out there: is your name really Milton Bradley? if not, any particular reason for naming yourself after a toy company/notoriously crazy baseball player? If so, no offense intended!
My real name is not Milton Bradley. The games publisher MB part of my youth and stayed in my mind. While I was searching for a pseudonym I was playing the the MB game Vectrex from 1982 and all of a sudden a name was found.
How did you get started producing music; what made you want to start making tracks? You were a DJ for a long time prior, right?'
In the 90s I already had the idea to release my own records and bought several machines, but I never was convinced of my output back then. I would have needed much more equipment to reach the sound in my mind, but I spend a lot of my money on records so I couldn't afford more equipment. For me it was also more interesting to present myself through DJ sets and so I postponed my record releases. In the beginning of 2008 the time was right to work on new stuff. The modern software made it possible to combine remaining gear and modern sounds. I didn't take long to produce the first tracks and in January 2009 I released the first Do Not Resist The Beat!
You produce as Milton Bradley, The End Of All Existence, and K209. How do you approach these projects with respect to their differences?
Milton Bradley does not focus on only one sound or style. Milton Bradley stands for my current moods and sounds. At the beginning, The End Of All Existence was only a track title. I was working on the track and the result was that I had several tracks I was able to combine under this alter ego. It is the soundtrack to the down of the world. No club music. It is more an album type of music, but I prefer the DJ friendly 12″ format so I decided to release the music as EPs. K209 is my project together with Henning Baer who is the one part of Grounded Theory Berlin. K209 is the name of the label and the artist when we both produce together. K209 stands for raw club tracks.
Is there any difference between a track on Do Not Resist The Beat! and, say, one on Prologue? What makes you save certain material for your own label?
Every Do Not Resist The Beat! release follows a certain concept. Always three tracks. The A-side track is always broken beats. The B-side 4 to the floor. The broken beat tracks rules the whole release. The track titles are very important. They express what I was feeling while I was making the track. I try to transport the feeling with the track itself and the title. With my release on Prologue I tried to stick to my concept. The only difference is that the A-side track is 4 to the floor with a little more melancholic mood.
What is your production setup like? Do you constantly look for new gear or do you keep more of a fixed studio?
At the moment I use only software. I try to reach the limits I have with what I am using. I think too many possibilities would limit myself. I use a lot of effects to fuck up sounds. I like to do experiments on sounds. I spend more money on vinyl. Maybe I start buying hardware again.
For me, one of the things that sets your sound apart is its bassy undercurrent and sort of swung trippiness. I was wondering if you could pinpoint where you got that rhythmic influence from, as it sounds fairly unique to me?
I am not aware of a certain influence. I listen to many different kinds of music that eventually determine what I am doing. I don't try to sound like xyz. I do what I do, trying to express what I am feeling. Transport myself through the music to your ears. I think it is not good to try to follow a current style or trying to copy someone or his/her sound. Just let it run and see what happens. That is authentic and will bring you further. Many things happen during playing with sounds and samples. The rhythm in my tracks are always connected to the main sounds. It has to fit together. This is what I am working on the most, making it fit together.
In a recent interview you said the grounded theory party — as well as your own production — is based on idealism. What is that ideal? Could you talk a little bit about the party?
Idealism to me means having a very exact idea of the reality I'm try to follow determinedly. In terms of music this means to me that the music is in the center, not the person. That is also why my name is not on my releases. That also pertains to my researching new sounds and not copying yourself over and over again. Too many tracks nowadays sound too much the same. The good old 12″ is also part of my idealism. Due to it's material character it give the music a certain value. The music becomes listenable, viewable and touchable. The medium vinyl also brings a needed pre-selection due to limit space. With the Grounded Theory nights it is the same regarding idealism. They do it for a reason and not for the profit. I can identify myself and my idea of idealism with them. This is also the reason why we work together also regarding my bookings and management. We share the same vision. We are on the same page.
Can you give us some background on the set you've given us? What kind of setup did you use here, and is it a "typical" live set for you?
The set I gave you was recorded at Boys Club Stockholm, a party in Sweden's capital run by very nice guys. I played there live on May 22nd together with Henning Baer, who was DJing. I used my laptop and a controller. Pretty simple setup. It is the current Milton Bradley sound with a little bit of The End Of All Existence. I played also some unreleased material.
How often do you perform live compared to DJing these days? Do you enjoy one more than the other?
I don't play live that much. I prefer DJing cause you can play tracks you like from other artists. I keep my gigs rare in general. I want to keep my fire burning. Live performances are always special because no set is like the one before. When I DJ I play all kinds of stuff.
Have you found the ideal live setup for yourself, or do you plan to/are you tweaking it at all?
I think a setup can never be perfect. You could always change something to make things work better or different. It is the same with making music: Is a track somewhat perfect? I try to take the experience of making one to the next one to improve myself.
Judging by the set I think your stuff really works in a longer, maybe more narrative format. Do you have any interest in doing an album?
As I mentioned above, I am not a friend of the album format. As a DJ I think it is less effective. I think it works as EPs as well as I noticed with doing The End Of All Existence.
What's coming up for you?
Currently my track on the new Zooloft EP is out. The third End Of All Existence is to be released by the end of the year. Many tracks are in the pipeline but nothing is confirmed yet. I keep myself flexible. I don't like long planned release schedules.