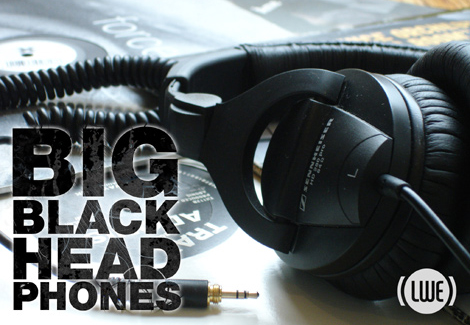 There's been a lot of talk on LWE recently about people stealing or, uh, creatively sampling other artists' work. Melodic themes (Rodriguez Jr.) and even whole tracks (Joe Louis) being appropriated without due credit to the originators seems to equal pissed off producers and fans alike. So how would you feel if one of your favorite records of all time (and a worldwide hit and bona fide classic to boot) had its bass line jacked wholesale without so much as a "by your leave"? This is the situation I was faced with a few weeks back. Having popped into one of London's Music and Video Exchanges, done my usual trawl of the racks, and come out delighted with a Nu Groove record for a mere £2, I put the needle to the wax of Major Problem's "The Effects Can Last Forever." After thirty seconds of fuzzy beats and John Lennon intoning, "take this, brother, may it serve you well", the familiar dungh-dungh-dungh-durr-dungh of "No Way Back" comes crashing through. Did I feel ripped off at Adonis being ripped off?
Nah, not at all. The theft is far from being the centerpoint of the track, and Lenny Dee and Ralphie Dee's rough and ready chopping of the bass line, aligned with the druggy melody and addictively bouncing bleeps make this record still sound fresh almost 20 years after production. While the other three tracks aren't quite as great as the A1, "Overdose (The Final Trip)", they nonetheless are well worth the £2 I paid, and the £12 or so that it will cost you on Discogs or eBay. "The Rush (Freakout Mix)" is probably the strongest, with its Giorgio Moroder-aping synth line, out of breath panting and MDMA-soaked sweatiness. "Paranoia (The Bad Trip)" is a nasty acid track, while "Flashback" is typically tough Nu Groove house.
Audio clip: Adobe Flash Player (version 9 or above) is required to play this audio clip. Download the latest version here. You also need to have JavaScript enabled in your browser.
In case the titles don't make it apparent, this record is about drugs. "The Effects Can Last Forever" was released in May 1990, at exactly the time that many punters were just starting to discover the merits of both ravey techno and the accompanying lifestyle products. One half of Major Problems, Lenny Dee, was very much amongst that cohort, and indeed the label art comes from his almost hilariously un-PC reaction to an anti-drugs campaign: "I was in a very strange place, experiencing ecstasy for the first time. The UK government ran an advert with a guy attached to a life support machine with the slogan 'The Effects Can Last Forever.' This poster and billboard was all over the United Kingdom. Needless to say, I thought it was fuckin' great, as I was totally into X." While the standard ignoramus' reaction to house and techno is "how can you listen to this repetitive stuff when you're not pilled off your face," this is a record that was made when the producers were indeed pilled off their faces, but in fact still sounds amazing when you're not pilled off your face.
Nu Groove, like that other legendary New York label Strictly Rhythm, has such a gargantuan back catalog and such a wide variety of styles that it's difficult for the neophyte to know where to start. This isn't a bad place to begin. With the rise of the Nu Groove-indebted Levon Vincent and the reappearance of original Nu Groover Elbee Bad (check his new remix of Lerosa's "Metaphor" on Uzuri), there's also no better time to start digging. Eternally great, "The Effects Will Last Forever" really does deserve to be danced, played, and listened to for a very long time to come.