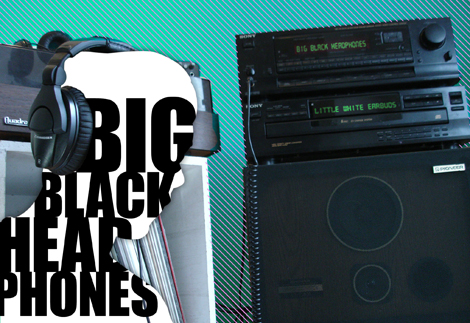 [Oral]
In 2003 and 2006, two early-80s minimal electronic records resurfaced on the Montréal-based label Oral Records. The long out-of-print, limited-release Monotonprodukt albums are the work of Konrad Becker, a multidisciplinary artist who now writes and conducts research about media. While Becker is currently busy doing work for the Institute for New Culture Technologies/t0, Public Netbase, World-Information.Org, and the Global-Security-Alliance.Com project, he was once, as if in another life, the inspired mind behind Monoton, an art project he started in 1979.
Audio clip: Adobe Flash Player (version 9 or above) is required to play this audio clip. Download the latest version here. You also need to have JavaScript enabled in your browser.
Perhaps more than anything Monoton is similar to the rigid formal exercises of Asmus Tietchens' absolute music, except Becker takes a more direct cue from mathematical structures, which surprisingly results in a less clinical sound. Indeed, Konrad Becker wrote (presumably to Oral label-owner Eric Mattson) that "Monoton on a quest for the spirit in the machine investigated the representation of a numeric structure on resonance field level; numerical systems and mathematical nature constants as values and proportions for bionic sound…" One of my favorite tracks off the new release Applied Psycho-Acoustic Meta-Mathematics, "π 3.141592653589793," which sounds like DAF yoked to a house beat and dates back to 1981, is a case in point. The mathematical patterns are obviously at work in the harmonic sequences of "Squared Roots" and "Periodic Primes," but then Monoton runs off in a completely different direction with the deranged "Wizard-64." Available as two 10″s or a CD compilation, the new batch of hitherto unreleased Monoton furthers the mythology of Becker as a prescient guru to contemporary electronic music, whether dance or drone.
Remarkably, the more his music sees the light of day, the more it is revealed how much ground Becker was covering in the early 80s. Monoton very much evokes the sounds of his contemporaries, the minimal electronic of Sky Records, composers like Conrad Schnitzler and Tod Dockstadter, and many a hybrid post-punk/Krautrock/prog band. What distinguishes Becker from them is how uncannily his work anticipated future trends in electronic music; so many of the tropes we associate with current electronics can be found in his music. History has it that minimal techno began with Robert Hood, but "Batacuda79," which appears as a bonus track on the Blau, Monotonprodukt 02 26y++ reissue, makes the case such ideas were explored almost fifteen years earlier and remained long dormant. In my opinion, "Batacuda79" could have been to minimal what E2-E4 is to Detroit techno, house and trance. There is an unexpected similarity here to Villalobos, Basic Channel, and Black Dice as there is a contextual one to Suicide and Throbbing Gristle.
Audio clip: Adobe Flash Player (version 9 or above) is required to play this audio clip. Download the latest version here. You also need to have JavaScript enabled in your browser.
Monoton, more so than coldwave and minimal wave, is further testimony to the fact that a less-is-more, dub-influenced approach to electronic beats was in gestation long before the nineties. To conceive of the minimalist techno aesthetic as a branch in the chronological tree with Cybotron at its root is to discount the existence of Becker's work. This is to believe in the myth that the provenance of minimalist techno lies solely in the Detroit techno and acid house that preceded it, and therefore minimalist techno should be evaluated as a photocopy of a photocopy. So why then didn't a track like "Batacuda79" exert a strong influence on electronic dance music like Manuel Göttsching's E2-E4?
The answer is Becker never released it back in 1980 because he felt the equipment he was using at the time was sonically inadequate to realize his artistic intentions. He waited 27 years for audio technology to reach a point of advancement that satisfied him. He resolutely did not believe a retro sound was necessarily purer and better than a modern one; what mattered was the appropriateness of the sound to his vision. It's almost criminal "Batacuda79" was hibernating in Becker's archives until its recent remastering. It could have been a marginal revolution of sorts, changing the scape of electronic dance music today had it been pressed almost thirty years ago.