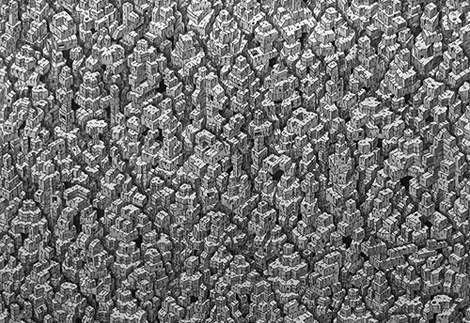 Illustration by John Borowicz
For some time now, I've been quietly fascinated by the hot-blooded reactions that Nicolas Jaar elicits. That's no sideswipe about the quality his productions at all, rather an observation that each subsequent release which confirmed him as the prince of mid-tempo, blank-canvas ambiguity has been trailed by louder and more insistent commentary that he is the savior of deep house, or slow house, or slow techno, or experimental electronica. In his defense, Jaar has never claimed to be any of these things (in an interview he once told me that he identified his music mostly with hip-hop), but his new collaborative project with his touring guitarist Dave Harrington will challenge even the most elongated of genre classifications that have been looped around Jaar's work thus far. In a sense, DARKSIDE does play to Jaar and Harrington's strengths, bristling with live instrumentation and on-the-fly arrangements, but from first note to last, Darkside EP can't seem to escape the dowdy neck-to-knee garb of MOR music.
There's a swampy, bluesy feel seeping into the msuic, but I wish Harrington would just go with it and cut loose for a minute from his tidy guitar licks. There is atmosphere but it's been scrubbed clean, never attaining the damp, grey tones of Jaar's debut album. It is undeniably mature, yet not at all ripe. Then there are the vocals, another of Jaar's assumed wins, but the execution here is consistent. "A1" has an effective suggestion of alter egos, with Jaar's falsetto mirrored by his own deep murmurs, before a subtle gear change moves towards an engaging crescendo of manipulated voices and laptop trickery. "A2" shows early promise, but collapses into an honestly quite ghastly passage of off-key harmonies. "A3" is much less awkward, with a chugging, chant-like tempo, but stops short of completely getting off the ground. It is of course possible that, as with a number of Jaar's projects, I've missed the point of Darkside EP entirely. Still, I suspect that even for Jaar's most devoted and defensive fans, Darkside EP still tallies up to be too much of one thing and not nearly enough of another.