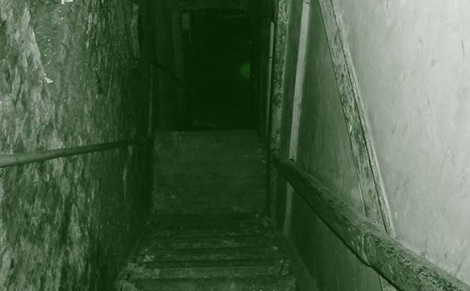 So far in 2009, Ostgut Tonträger has charted a course favoring harder, more aggressive sounds than in previous years. As the label arm of Berlin's preeminent Berghain club, whose name has become synonymous with dark and uncompromising techno, this isn't entirely surprising. Prominent resident DJs/producers Marcel Dettmann and Ben Klock have also seen their stock skyrocket since the label launched in late 2005, furthering the case for harder stuff. And while a discography notched with several releases from Prosumer & Murat Tepeli, 12″s from MyMy and Âme, and the Shut Up and Dance! Updated compilation evinces diverse tastes, one wonders if Ostgut Ton's recent focus portends a broader shift. If commissioning an EP and album from Luke Slater's ferocious Planetary Assault Systems project was the tipping point, the "Deuce EP," a collaborative effort from Dettmann and Rene Pawlowitz (aka Shed), lays bare how astringent and foreboding the path ahead may be.
Audio clip: Adobe Flash Player (version 9 or above) is required to play this audio clip. Download the latest version here. You also need to have JavaScript enabled in your browser.
Deuce is a natural pairing of two producers for whom texture and space are equally, if not more important than melody: they feature prominently in Shed's debut album and initially anonymous Equalized and WAX releases, and practically serve as the M.O. of Dettmann's eponymous record label. The duo's common ground serves as the basis for the highly concentrated "Deuce EP," which wastes no energy offering footholds for wary listeners. Instead, tracks like "Twerp Wiz" dare dancers to leap over itchy aural barbed wire, dodge rapacious bass drum patterns and withstand distress signals snarling from on high. A gargantuan (think concert band-sized) bass drum dominates "Guttering" as it craters the dance floor, leaving just enough room for unnerving drum machine chatter and a thrumming pulse to raise the threat level. "Cue Ed," the least caustic cut, sounds surprisingly anachronistic in comparison. Like an Internal Empire-era Robert Hood production, its well lubricated 909 patterns churn methodically, yet a few deliberate changes reveal its creators' hands at work.
Unlike many Ostgut Ton releases, the "Deuce EP" appeals to a relatively narrow band of listeners more likely to utilize its tracks as foundations for beguiling new blends than enjoy it through the home hi-fi. Personally, I find some of the fastidiously crafted timbres (particularly those of "Twerp Wiz") too grating without a buffer of DJ-afforded additional layers. Yet no matter how niche Deuce may be, their debut EP pushes the label further towards a harder edged sound. And with an imprint as prominent as Ostgut Ton leading the charge, the greater techno scene may soon venture into more austere territory as well.