Back in March LWE flagged the line-up for Echo Festival 2013, citing it as one of the more exciting festivals taking place this summer. With the festival fast approaching, we wanted to highlight five of the artists who make this Kanegra, Croatia-based festival a can't miss event. So after checking out the full line-up and ticket info, have a look at a few of the names who had us checking our bank balances.

John Roberts
There was a long pause in the music output of John Roberts after his debut, a period which allowed him to pursue other interests (like The Travel Almanac, the magazine he helped found). But it also allowed him to dig deeper into his own sound — to evolve even further outside the comfortable "house music" categorization. This is also captured on his newly released sophomore album, Fences. He'll be performing live at Echo Festival, so if you want to hear how he feels his new material best fits together, you best catch this set.

DjRum
One reason why so many UK bass music artists have run into the arms of house and techno is how staid much of that sound has become. DjRUM didn't get that memo because he's been too busy breaking open various types of bass music to see how they work. The Frankenstein beats assembled from the wreckage are oddly compelling, especially on his recently released Seven Lies LP. Let DjRum twist your melon beach-side at Echo.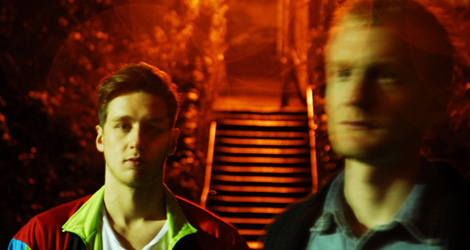 Outboxx
You could tell early in Outboxx's discography that there was something special afoot. The Bristolian duo's releases for Idle Hands, BRSTL, Well Rounding Housing Project, and Immerse Records were sticky to the ears, combining some excellent melodic chops with precisely meted out drum work. Their self-titled album, recently released by Idle Hands, showed even more stylistic range and featured charming vocals by Naomi Jeremy. This time around they'll be DJing, which — given the breadth of their work — ought to be a delicious voyage.

Audio Werner
Here's someone I didn't expect to see on any festival bills. Audio Werner is a name for those in the know, a German producer whose slow but steady pace of releases has been worth following since the early 00s. Perlon, Hello?Repeat, Circus Company, Story, and his own Hartchef Discos have all captured some of the uniquely hypnotic grooves he peppers with garage-like percussion. And although LWE has been unable to get a podcast from this often elusive producer, we have no doubt he'll deliver the goods while playing live at Echo.

Nick Höppner
These days Nick Höppner is best known as the head of Ostgut Ton records, the label arm of Berghain/Panorama Bar. But the reason he's on the line-up is only somewhat related: Höppner is a killer DJ. Sure, he's made memorable music as half of My My and on his own, but for me the best way to hear him is behind the decks. He knows just the right angle to bolt techy fixtures onto house sentiments; when to bring the funk up a few notches; and how to work a crowd until they can't take it anymore. Don't miss this Panorama Bar resident in action.