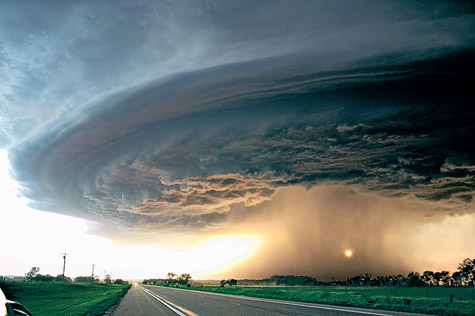 Given the wobbly state of music distribution after the shuttering of Syntax, Amato and Watts Music and a dollar value which shrivels daily next to the euro, Detroit/Chicago-based label echospace can be forgiven for being stingy on new releases. Echospace released the majority of its catalog last year as well, which makes this year's new additions look scant in comparison. But after digging in to the label's seventh release and first from heretofore unknown producer Intrusion, fans will be glad its owners (and in-house producers of a sort), Stephen Hitchell and Rod Modell, waited to throw their weight behind such a fantastic release. The 2×12″ comes on multi-colored vinyl and arrives April 30th.
As with many echospace releases, the massive scope of sound captured on "Intrusion" could score an ecosystem in mid-breath. The 12 minute behemoth ebbs and flows between a natural drifting momentum and the more deliberate structure of two rhythms (kick and upstroke) syncing together. Arriving suddenly, an affected organ tone sizzles through circuitry as its pitch defrays into many smaller notes, roughly following the loping main progression through the sonic obstacles of hiss and more effects. To call it an immense piece of music would be an understatement, as it's easy to find something new during each spin through "Intrusion"'s many eddies.
But just in case you're the rabid fan who quickly commits every note to memory, there are two extra versions to turn your head inside out. Hitchell's once secret cv313 moniker provides a more streamlined version which could actually fit inside a club. Its bumpy yet singular progression mutates and bounces back upon itself as it's pressed through ever more delay and effects. It's the pared down, floor-pounding techno mix from Phase 90 (who? a guitar pedal enthusiast?), however, which captivates me the most. Like a giant oar scraping in its well, the tune churns with great force and explodes into a rolling 4×4 groove at the kick drum's arrival. Padded with pneumatic hi-hat swish, the spartan Phase 90 mix nicely compliments the dark and dubby sounds of Shed/Ben Klock/Marcel Dettmann; don't be surprised to hear them playing it out this summer.
Then there's the "Reflection" side of the equation, which is comparatively closer to conventional dub techno. A perpetual and affected give-and-take transforms a wandering liquid melody trickling through the first minutes into electrified bolts of singing tone on "Reflection I." By contrast, "II" is nearly beatless and almost ambient, a muffled pitch rumbling through sheets of manipulated fizz. "Intrusion/Reflection" is a strong way for Intrusion and echospace to start 2008, one much more thoroughly composed and versatile than the many derivations of dub techno bubbling around these days. It's certainly worth the wait and your hard earned cash. Watch this site for more exclusive and exciting content from echospace [detroit] in the coming weeks.