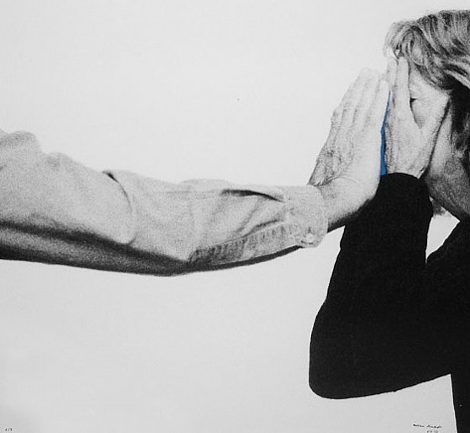 "Untitled" by Helena Almeida
Moving on from the languid house tapestry of his Workshop release earlier this year, Ital weaves two tracks for his own Lovers Rock imprint that extend their predecessor's opulent wooze with a noticeably brusque physicality. Reportedly the result of a couple of jam sessions recorded at the RBMA in Madrid 2012, these two tracks are also both refreshingly far removed from the proliferation of trackier hardware jams out there at the moment, displaying a hypnotic grasp of melodic progression.
Audio clip: Adobe Flash Player (version 9 or above) is required to play this audio clip. Download the latest version here. You also need to have JavaScript enabled in your browser.
"Throbbing" is equal parts romantic and seedy, based around a perfectly rounded kick with twinkling pads, ducking around the mix like intermittent shards of light from a disco ball illuminating shadowy carnal shenanigans at the back of a dark club. The effect can catch you off guard; the sonic palette has "low lit" written all over it, yet there is a sense of precise drive that cries out to be played at the very start of a fierce session. If "Throbbing" hints, then "Nodding" goes fully in, with a devastatingly low kick frequency offset by weird little sci-fi flashes and off-kilter interjections that wouldn't have sounded out of place on Ital's superlative Interplanetary Prophets EP (alongside Jamal Moss) from earlier in the year. Throbbing / Nodding is a well-rounded 12″ that sees Ital's prolific run continue admirably — interesting house music full of eccentric personality and spaced romance.