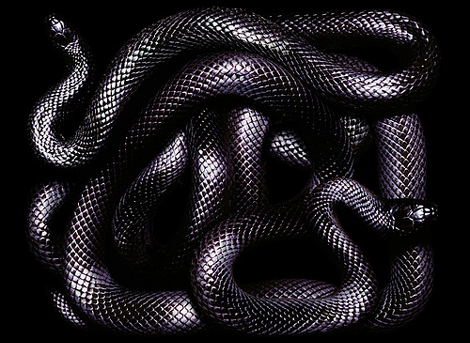 [Hyperdub]
Recently, Martin "Blackdown" Clark delivered one of his "state of bass music" columns for Pitchfork, an appropriately cluttered treatise on the cluttered UK scene, partially ripped from the Dissensus message board. If the piece has a thesis, it's the notion that the scene "is in fact just what Kode9 called a 'holding pattern' for the next big thing, the palate cleanser between meals, musical 'sorbet' if you will. And while sorbet's nice, you probably wouldn't want to eat an entire meal of it."
Audio clip: Adobe Flash Player (version 9 or above) is required to play this audio clip. Download the latest version here. You also need to have JavaScript enabled in your browser.
Between his academicism, production work, and genre-bending DJ sets, Hyperdub boss Kode9 has long been a figurehead in that amorphous world. Black Sun, his second LP with Spaceape, feels like a well-timed counterpoint to Clark's fears about dissociation: it has a distinctively rough, striking sound, and is definitely not "sorbet." Kode9's squashed, stepping paranoia and oddly-tuned synths provide a solid foil for Spaceape and new collaborator Cha Cha's smoke-choked musings. Much of its success depends upon one's reaction to those musings, however, and Spaceape can be an acquired taste.
A large portion of his lyrics here are filled with a kind of post-punk pessimism, peppered with phrases like "it's like you're waiting for a miracle to happen," and "anger is an energy/suicide a remedy" (the "anger" phrase is an actual P.I.L. line). If the production maintains a constant focus, the lyrics seem to be about the lack of it in the outside world. "Am I," for instance, finds Spaceape displaying an oddly militant ambivalence over belligerent, Kevin Martin-esque production. He wavers between a series of opposites before deciding that he "cuts straight through the middle like a surgical knife" in the chorus. He doesn't sound particularly frustrated, and thus his aggressive lyrics and delivery are rather confusing.
Audio clip: Adobe Flash Player (version 9 or above) is required to play this audio clip. Download the latest version here. You also need to have JavaScript enabled in your browser.
There are moments where everything just gels, however. "Promises" has a creeping, eerie intensity, delicately building on toms and synthetic vocals, its emptiness adding a lot of weight to Spaceape's vocals. The previously released "Love Is The Drug" combines a swinging bounce and seasick synth lines with real patience, with Cha Cha's stoney contribution nestled comfortably low in the mix. "Otherman" is almost half steely synthesizer wooze, steadily building up to the simultaneous entry of a heavy, slightly broken rhythm and a muffled Spaceape. The instrumental "Green Sun" combines a similar synth sound with rolling, tropical drum patterns, its bass line both playful and supremely heavy.
Black Sun may not signal the sea change Blackdown seems to be hoping for, but it does an admirable job of sticking to its guns. It shows a mastery of tensely swung rhythms and sound design far beyond many of his peers, and since it's such a contained, fluid collection of tracks, it's difficult to find fault with, beyond perhaps a few scattered Spaceape lines. Still, the trio's interplay is central. As Kode9 mentioned to Spaceape in a recent interview, "…it's weird because your lyrics are fucking intense in that track ["Black Smoke"] and she's [Cha Cha] just humming away in the background." The track, like the LP, is equal parts cohesion and diffusion, and it's that challenge that makes it a compelling, fully contemporary effort, its implications reaching beyond the health of any "scene."