For the past ten years the kindly folk at Red Bull have been assembling some of the hottest and most revered musical talent from around the world to pass on their knowledge to a younger, up and coming generation of heads. Each year one city plays host to two intakes of successful applicants whose musical backgrounds vary as much as the guests who provide unequaled insight into their experiences and expertise of the music industry. Participants are treated to a wealth of knowledge through daily seminars, whether it be Hank Shocklee from the Bomb Squad breaking down the intricacies of sampling and making hip hop into a rebellious art-form, Theo Parrish talking about early inspiration and everything from the Music Box to Garth Brooks, or the inimitable Tony Allen, regarded as the best drummer ever to have graced this planet, discussing the early days of meeting Fela and music as the weapon of the future. Although the Academy itself is open only to the participants, there are club nights happening all over London for four weeks, featuring a staggering array of talent that will leave you well and truly schooled. And if you want to drop in on some of the past lectures you can check out the archives of over 200 full length videos and text manuscripts from previous academies. Here's a run down on some of the nights taking place over the next month in London.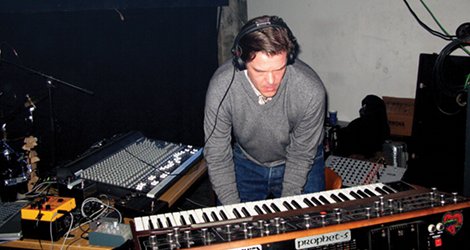 RBMA & RA @ Royal Festival Hall, Southbank Centre – Friday February 12
Without a doubt one of the highlights of this year's Academy and one that will have many LWE readers chomping at the bit, as Detroit legend Carl Craig, neo-classical's most open minded son Francesco Tristano, the peerless Moritz von Oswald, German house stalwart Henrik Schwarz, gender bending NYC house luminary DJ Sprinkles and guests descend on the Southbank Centre for one special night. Along with Matmos, Bugge Wesseltoft and Andras Fox, these innovators will be doing what they do best: pushing at the edges of electronic music and the soulful threads that tie it all together. A small handful of this year's RMBA participants will also have guest slots at this event. For a chance at a pair of tickets for this show, scroll to the bottom for a trivia question.
Sin City @ Plan B, Brixton – Friday February 12
If the above event doesn't look quite bassy enough for you then this ought to sate your need for low-end frequencies. With a stellar line up of old school purveyors of bass culture alongside some young guns, Brixton will treated to three generations of artists and selectors in a massive soundsystem rinse out. Ms Dynamite, David Rodigan, Appleblim, Ramadanman, Hatcha, N-Type, El-B, J Da Flex, Kenny Ken, MC Skibadee, Oneman, Youngsta, DJ Heny.G, Jay 5ive, Kromestar, Walsh, Soul Jazz Sound System, Flava D, Cohoba and Mau'lin lay down the manifesto of bass from the roots to the future sound.
Red Bull Music Academy Concert & Production Workshop, ICA – Saturday February 13
As already mentioned, the Academy and its staggering array of lecturers and such are only available to those fortunate enough to have been accepted into the two intakes, but as a way to show the public just what they're missing out on there is this special event at the ICA. By day you get treated to a session in bass management by Hessle Audio head honcho Ramadanman, or you can amuse yourself at one of the many production work stations and receive tutelage by Tony Nwuchukwu while you're at it. Poirier, Jazzie B, Toby Tobias and more will also be on hand for further lectures and workshops. When the sun goes down, Drums Of Death, James Pants, J-Wow and selected Academy participants will jump to the decks to keep you entertained.
3D Soundclash, Royal Albert Hall – Thursday February 18
A soundclash of mind warping proportions as Martyn Ware from the Human League and Heaven 17 installs his 3D Audioscape in the Royal Albert Hall, taking listeners on a journey that transcends the usual parameters of surround sound. Imagine sound that can cut so close it sails right past your nose, or perhaps it attempts to cut you off at the knees, or seemingly come through you and you're almost there. To compliment such a concept, some of Warp's finest (Plaid and Mira Calix) grace the turntables alongside Ninja Tune stalwart DJ Food, with King Cannibal, Clark, The Bug, and raggamuffin don Daddy Freddy all adding to what will surely be an excellent night.
Pick'N'Mix, Dalston Super Store – Thursday February 18
Across town in Dalston on the same night is a gig tailored to the underground feel of the club and surrounding area. Featuring five of the Academy participants who are already making waves in clubs around the world with their productions and DJing abilities, expect deep house and fathomless techno from Juekz, Mark Fader and Axel Boman, whilst Markur hits the controls on the psyched-out tech console with Venice channeling a playful spaced out Italo vibe.
Banzai Skydive, The CAMP – Friday February 19
A farewell party of sorts as the participants of the first term get the sayonara treatment in fine style from Maurice Fulton. Held at The City Arts and Music Project on City Road right by Old Street station, there is a special surprise guest being flown in from outer space to add to the disco mayhem that will surely ensue as thirty very accomplished feeling RBMA participants celebrate their graduation.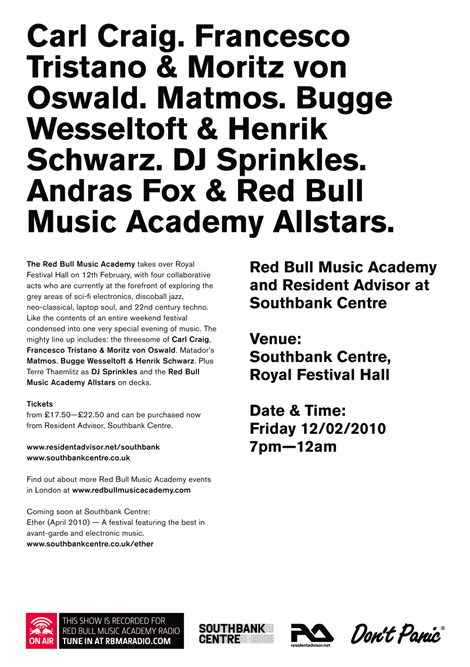 For a chance to win a pair of tickets to this spectacular event, simply answer this trivia question: On which NYC street did DJ Sprinkles famously spin during the 80's? Send your answer with "Red Bull Music Academy Contest" in the subject to editor[at]littlewhiteearbuds.com by Friday, Feb. 12th at 8am CST. The contest is now closed.