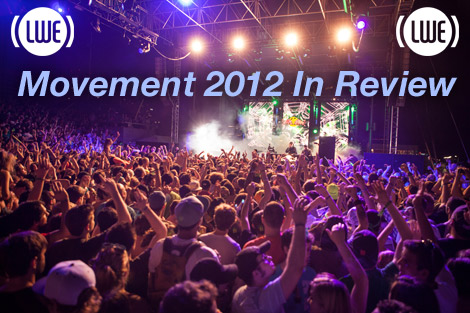 Photo by Movement/Douglas Wojciechowski
After a few weekends' rest, LWE's editor-in-chief, Steve Mizek, and contributing writer Elly Schook offer their thoughts on Detroit's annual dance music pow-wow.
In the twelve years since Movement: Detroit's Electronic Music Festival began, America's musical environment has undergone what many would consider a sea change. Not long ago dance music and its adherents were viewed by the broader population as a one-note, ignorable sub-culture that bought up all the glow sticks. These days dance music is pop music, the underpinnings of almost every radio single and the one bright spot in a music industry that desperately needs one. When Movement started it was among the first festivals of its kind; today it is one of dozens of electronic music festivals vying for consumers' money. That's a lot of pressure for a festival whose bookings have often catered as much to passionate fans of dance music's underground scene as to casual fans of beat-driven music. The temptation to book fewer acts for the heads and more who would draw in EDM's new found followers must have been immense.
Credit is due, then, to Paxahau, Movement's organizers for the last six years, for resisting the urge to cash in. 2012's line-up was just as well stocked with underground artists as in previous, Paxahau-organized years, with a few nods to the Electric Daisy Carnival contingent as well. Detroit was once again well represented in the lineup and, much to the delight of fest-goers who come specifically to see the city's indigenous talents, given a dedicated, open-air stage to play on. There were times during the festival where a LWE reader was spoiled for choice, needing to clone themselves to take in Todd Terje and Marcellus Pittman or MK and Juan Atkins simultaneously. There were lulls, too, but few could justifiably claim they had to sit through much garbage just to hear something halfway decent. In the end,the festival captured the attention of a record breaking number of attendees (more than 107,000, the highest since it started charging for admission) without compromising the overall quality of the line-up.
Peaks

Todd Terje. Photo by Donte Parks
Some of the festival's most enjoyable moments belonged to DJs who were adept at blending the familiar with more underground sounds. Todd Terje's mainstage set was a clear standout in this regard, finding the through line between house flavored with African percussion and vocals (at least one Fela Kuti remix was rinsed), Latin vibes, and then Tensnake's "Tranceman Remix" of "Trainmann" by Lauer. The transition between disco classics like Donna Summer's "Hot Stuff" and his own "Inspector Norse" united fans of new and old under its spacey arpeggios.

Derrick Carter. Photo by Movement/Douglas Wojciechowski
Derrick Carter did an admirable job following this set, first by resetting expectations with an a cappella version of Those Guys' "An American Poem." Like stretching before a run, this prepared the mainstage crowd for propulsive party house, heavy on vocals and hardly shy of melody. And if anyone could get away with playing Azealia Banks' deliciously rude "212," it was Carter, which he did to the delight of a packed audience.

Rick Wilhite. Photo by Donte Parks
Rick Wilhite similarly infused his brand of Detroit house with classics like Giorgio Moroder's "The Chase," Yazoo's "Don't Go," New Order's "Blue Monday," and Donna Summer "I Feel Love" (the lattermost of which undoubtedly serving as this festival's anthem in tribute, getting dropped several times each day). Even Wolf + Lamb's brand of R&B clad house also went down a treat, quickly salvaging a set that began with a trainwrecked transition.

Mathew Jonson. Photo by Movement/Paul Kelley
Mathew Jonson offered a surprisingly aggressive live set that defied his fans' already high expectations. Stepping away from his usually loopy jamming of past performances, he quickly transitioned between tracks and fluctuated tempos wildly, packing in old favorites, new edits and unreleased material to create a more frenetic energy. The set culminated in a monstrous unreleased version of "Decompression" that had inspired plenty of stomping and fist pumping to its breaks-heavy old school rave rhythms.

Kyle Hall & Jay Daniel. Photo by Movement/Amy Hubbarth
Despite some sloppy mixing, Kyle Hall and Jay Daniel provided a house set that fluctuated between deep New York sounds and bouncier Chicago-heavy rhythms. The Made In Detroit stage was often populated by some of the best house dancers and bboys/bgirls from Chicago, and watching them relish Hall and Daniel's set –each taking turns showing off their best moves in the small cipher — was the stuff of fond memories of this year's festival.

Nina Kraviz. Photo by Andrew Schook
Nina Kraviz managed to slowly lure a crowd toward the main stage in the blistering afternoon heat on Memorial Day, using the deadly one-two punch of her feminine wiles (she modeled through nearly every moment of her set) and her crowd-pleasing track selection. Beginning with nearly all of the Chicago-styled jack tracks heard in her last RA podcast, she quickly transitioned into a slew of vintage clubby techno cuts, riling the crowd up as she winked and posed her way through the end of her set.

Cassy. Photo by Bryan Mitchell
Cassy, who picked up where Nina left off musically, commanded the stage with chugging techno and the occasional vocal-infused house track thrown in. Performing with her typically serene demeanor, she let her silky smooth mixing do the talking, delivering one of the best main stage sets of the festival. A regal looking Anthony "Shake" Shakir positioned himself behind Cassy center stage, watching her mix from a chair, proudly presiding over his techno kingdom. The ladies certainly stole the show that afternoon.
Valleys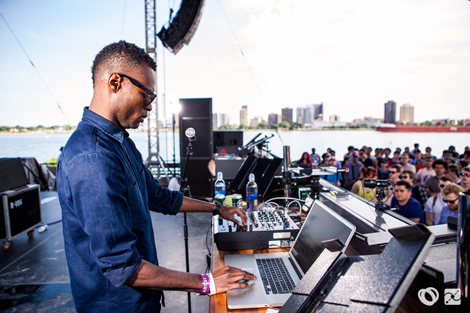 Actress. Photo by Joe Gall
For every stellar set there were more than a few that stopped short of scratching an itch. A prime example was Actress's live set on the Red Bull Music Academy stage, which for our tastes arrived far too early in the day to match his often foreboding sound. It didn't help that his live PA acts as a tour through the connections he sees between his songs, offering bits and pieces of favorites like "Maze" and "Always Human" between longer stretches of more abstract material. The crowd weathered the set quite well considering, although Actress maintained the permanent scowl throughout.

Lil' Louis. Photo by Movement/Douglas Wojciechowski
Lil' Louis' Saturday headline set was enjoyable if you were primarily concerned with hearing his own tracks played out in full, yet offered little else ("I Feel Love" notwithstanding). It felt like Andres gave up too early on his set to really get going, dropping his 2012 anthem, "New For U," early in the set but losing energy as the crowd started to dissipate.

Photo by Matthew Stocker
A few of the festival's most anticipated sets didn't quite live up to their potential. Maya Jane Coles, undoubtedly one of the year's biggest new stars, started off promisingly, playing a mixture of thumping yet melodic tracks similar to her own music. Part way through she became lost in more middling fare, putting aside the dynamics that make for a great set in favor of keeping the large crowd at the Beatport stage. Towards the end, however, a surprisingly strong string of techno tracks including Skudge's "Below" (Boddika Acid Refix) brought the performance back into the positive column.

MK. Photo by sensoredmedia
Many were eager to see 90s Detroit house legend MK headline the Made In Detroit stage on Sunday, yet at the beginning it seemed like he was going to waste the opportunity. Never known for being a DJ, MK started by barely mixing together a string of big tracks from the last 18 months, heavily indebted to the Hot Creations/Visionquest/Crosstown Rebels axis of labels. Just when it seemed like the Hot Creations sticker on his laptop would say it all, he took direction from the listless crowd and changed direction: a bumper to bumper set of his own classic 90s remixes. To say this was enjoyable would be an understatement, although it was tough to ignore how minimally he mixed the tunes together, as well as the lack of depth in his track selection. It provided further evidence that producers who aren't DJs should either truly learn the craft or stick to live PAs.

Pursuit Grooves
Other acts did the best they could with the circumstances they were given. Brooklyn's Pursuit Grooves was given the unenviable task of opening on the RBMA stage on Saturday, moments after a torrential downpour sent people running for cover. Her set straddled techno and bass music and was cut with Missy Elliot vocals that gave it a more human touch. A Tale of Us exceeded exceptions for the couple tracks we caught, yet suddenly their gear blew out and some of the crowd soon followed. Known to rock a party with his feel good jams, Lindstrom tried to find those kinds of moments in his last two albums of material and struggled.

Lindstrom. Photo by Donte Parks
Some producers — ones Paxahau couldn't find room for elsewhere — were just bound to have a rough go of it, as they were assigned to the sound muddying Underground stage. Keenly aware that his more nimble material would struggle in the concrete tomb, FaltyDL opted for a techno heavy set that bypassed his more desirable tunes. Jimmy Edgar's rough but ready live PA worked better in the bunker, yet Matias Aguayo's Latin-infused rhythms and catchy vocoded singing would have been more appropriate outdoors. It's understandable that Paxahau doesn't want to waste an extra stage location, especially one whose sound doesn't bleed into the others (unlike many of the others). But how many times must a terrible location obliterate its performances before Paxahau lets this pointless stage go?
Pits

Flava Flav. Photo by Movement/Douglas Wojciechowski
Among the biggest disappointments was Public Enemy's headline performance on Sunday. Given the festival's emphasis on all things 4×4, there was definitely room for other sounds. Unfortunately, the once groundbreaking hip-hop act felt sadly anachronistic and tame. Chuck D is still a consummate performer, but Flava Flav barely rose above being his own backing track's hype man. Their live backing band didn't do any favors, either, struggling to be heard and generally feeling out of place.

Photek. Photo by Joe Gall
This year's line-up didn't have the variety the festival had in years past. Electro, dubstep, drum & bass, hip-hop, breakbeats, juke/ghettotech, and ambient, and many other non 4/4 genres were underrepresented. Sadly, one of main drum & bass acts on the lineup, Photek, delivered one of the worst sets of the weekend — his mediocre blend of new bass music and drum and bass carelessly trod upon by a lackluster MC/hypeman. Women artists were similarly underrepresented and often grouped together into all-female blocks in the schedule. AvA and Pursuit Grooves played overlapping festival-opening sets on Saturday at different stages, while Camea, Heidi, and Maya Jane Coles played back to back, as did Nina Kraviz and Cassy. The only other female performer on the entire lineup was the masked and mysterious "To Nhan Le Thi" from Dopplereffekt. It would be nice to see the likes of Steffi or Tama Sumo, for example at a festival like this.

Dopplereffekt. Photo by Donte Parks
With American dubstep starting to play a major influence on younger generations' perception of dance music, it was almost like a sociological experience witnessing crowds' reactions to older forms, like the proto bass music, electro. While listening to the hypnotic, minimalist sounds of Dopplereffekt's slow-burning, Drexciyan electro in the underground pit (theirs was, arguably, the only set that sounded clear on that stage and certain highlight), many young revelers quickly fled the area disappointed. Trying to get a better view of the stage felt like a salmon swimming upstream. Our eyes nearly rolled out of our heads when we overheard the departing people moaning, "This music has no drop! Where's, the drop, bro?" In spite of this, Paxahau booked way fewer DJs who play the wobbly, bombastic, synth-shredding variety of dubstep this year compared to their bookings in 2008 through 2011. They were outnumbered by tee-shirts declaring allegiance to dubstep, including the all too common "I <3 You But I've Chosen Dubstep" logo. Neon reigned to a degree that would start to make the 90s blush, dotted with 2010's Deadmau5 apparel. Perhaps the oddest part of the festival was the house music photo installation drive from a film project directed by Lil' Louis entitled "The House that Chicago Built." Stored in the underground area, it featured dozens of portraits of foundational artists and DJs. While the exhibit included cool items like a reel-to-reel and an 808, there were no captions on anything to provide a bit of the story. Instead, Lil Louis's self portrait featured several times throughout the exhibit; and those inclined could buy a tee-shirt with his picture on it next to the phrase, "Beat me, Daddy." The stern father of house music role is kind of unsettling when he's trying to fill it.
After the party is, well, the after party
After parties are perhaps the best ways to local, regional, or even international talent, many of whom were not booked for the festival itself. Whether you enjoy seeing them at a concert hall, a bar, a warehouse, a roller rink, or a rooftop deck, they're a more intimate opportunity to hear an artist shine in a way they simply can't when on a Movement stage. Ben Sims, for example, played one of the best sets of the weekend during the KMS 25 – Tribute to Detroit event. Delivering a no-holds-barred pummeling set of deftly-mixed classic techno (even a crushing techno remix of "I Feel Love"), Sims drove the already disgustingly hot main room of St. Andrew's Hall into a total frenzy. After parties are where DJs can play what they want, as opposed to pleasing a large diverse festival crowd while battling the difficulties associated with playing on a giant sound system. For example, Mike Huckaby played a far better mixed and musically deeper set in the small-scale, no frills setting of St. Andrew's upstairs room.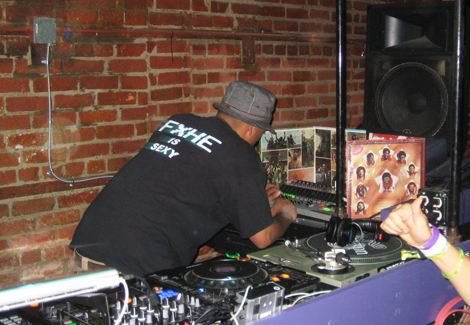 Omar-S. Photo by Andrew Schook
Alex Smith performed his first ever Omar-S live set for Beretta Music's 10 Years of Techno event at The Works. He played several of his own tracks using carefully hidden hardware, inviting Aaron Fit to play live bass guitar and female vocalist to join in on the first couple songs. He couched these short live performances in some excellent DJing, blending techno and acid house for a raw warehouse-style set that had the entire room jacking with reckless abandon. Even with the disruptions from transitioning between performances, this set seemed totally seamless for the listener and stood out as the best of the party.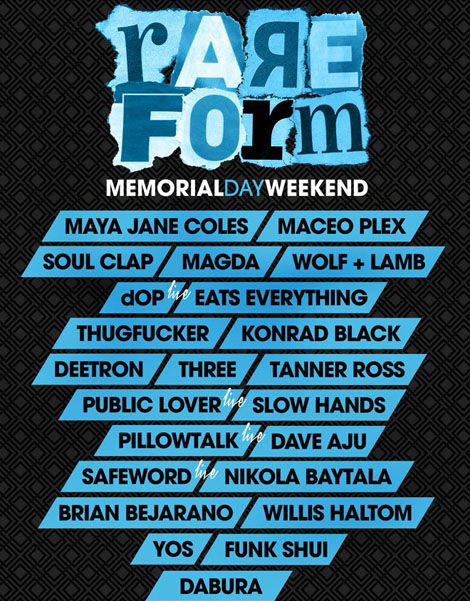 According to many sources, React Detroit's Rare Form party was quite a mess. There were too many DJs on the lineup, poor communication that led to tickets being oversold by almost twice the capacity of the venue, and many of the headlining acts (Magda, Soul Clap, etc.) never played due to technical and logistical problems. Dozens of ticket holders never made it into the venue, and those attendees who were standing on a particular floor were apparently forced into staying there due to fire code issues. The social media response to this debacle was quite irate and many ticket refunds have been issued in the week following.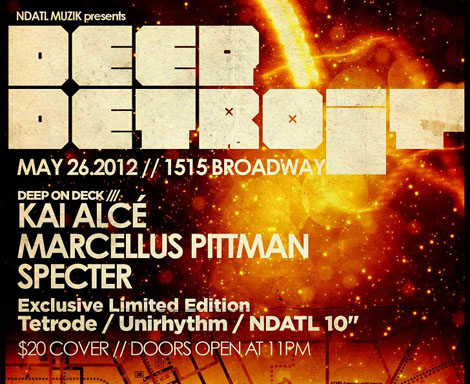 In contrast with many of the overstuffed line-ups, this year's best after parties were the ones that kept it simple. NDATL's Deep Detroit party, again hosted at 1515 Broadway, was a paragon of this approach. As in years past they only offered three DJs — Specter from Chicago, Marcellus Pittman, and NDATL founder Kai Alce — which allowed each jock to stretch out and showcase multiple facets of their taste. The intimate setting of 1515's back room, including the well tuned soundsystem, made it easy to get down to Specter's deep and sultry house, Alce's unique blend of house textures and melodies, and Pittmann's late night adrenaline-spiking selections.
Another favorite was The Story Narrated by US, hosted by TV Bar/Lounge on Sunday night. Initially planned to take place over nine hours, the party was cut short at 4am due to the previous night's busted Circo Loco party. So while that meant many on the bill played before the crowd filed in (and was accompanied by news that a double-booked Chez Damier would not be headlining), those who did play did a fantastic job. Basic Soul Unit gave one of the weekend's best performances, injecting energy into a tired crowd with his range of techno and house cuts. Fred P. closed out the party with flair, using volume/EQ trickery to animate his often hypnotic choices — including what sounded like some exceptional new material by the man himself. Taking place outside in the cooled down Detroit night — thanks to the bar owners deciding to knock down a wall at 5:30 on Saturday morning — it was the perfect alternative to the hotbox that was St. Andrews.
Because a festival weekend is, in essence, a choose-your-own adventure situation, we can only say that Paxahau and the many promoters who put on day or after parties (simply too many to mention) did an admirable job assembling good choices to pick from. The festival itself was executed without many glitches and provided for a variety of tastes even if some were overlooked. And as long as you had money and the energy to keep dancing, the after parties provided the more full-bodied sets the deepest fans desired. There's a reason events like this happen once a year: it's easy to get your fill at Detroit's weekend long dance music buffet.