Photo by Diego Cupolo
I'm an armchair promoter, which means I spend a lot of time dreaming up lineups for imaginary festivals in exotic locales. Last year's MUTEK festival came pretty close to my fantasies: the Montreal festival's 11th edition featured Theo Parrish, Actress, Shed, and Move D, among many others, and while not every performance lived up to expectation, it was seriously impressive. On the basis of its bill, MUTEK's 12th edition didn't quite reach the same fantastical heights as its predecessor, with many of the headliners either past their prime or commanders of cult fanbases. Even so, the festival's wide range of talent, reaching from DeepChord to Sun Araw, created unexpected juxtapositions that gave plenty of reasons to attend.

Emptyset. Photo by Andrea
Wednesday's A/Visions 1 took place at Salle Pierre-Mercure, which is a seated theater. I took a seat minutes before Emptyset took the stage, positioning themselves behind a table of complicated electronics. The duo's first movement featured a sparse tunnel of thickly blotchy bass, occasionally punctured by bits of noise. This was accompanied by a projection of a seemingly aimless journey through a forest, with the camera sometimes focusing in on bark or leaves. The combination formed a kind of abrasive, disorienting trance; the camera's eventual movement inside, climbing the stairs in a crumbling building, came as a relative shock. The journey from outside to in seemed to be leading to something, though no palpable conclusion arrived. Instead, the ambience shifted into a swung, though no less smudgy, techno movement, while the projection became increasingly abstract and frenetic. Emptyset's narrative ambitions are a little disjointed, and the random jaggedness of the first movement hampered its resonance. But on the whole, it was a memorable and layered set, with clearly a lot of attention spent on sustaining tension. Mika Vainio was apparently working with entirely new gear after a robbery, and perhaps as a result his set was entirely devoid of visuals, performing in near-darkness. In spite of this, he effortlessly proved that audiovisual spectacle is little match for technical mastery. Starting with a series of low drones, Vainio built up into several blistering climaxes where it seemed like everything was running at once, notably punctuated by a sound that sounded like a pig squealing. Although his set was less expansive than Emptyset's, Vainio seemed in complete control, with no part out of place.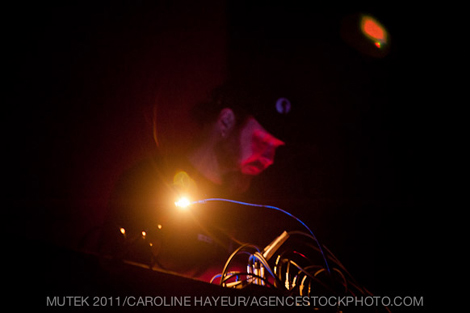 Mika Vainio. Photo by Caroline Hayeur
The next evening, I attended the Para Nocturne event at SAT, an airy box of a space with an appropriately intimate setup for the evening's collection of artists. There was a wall of screens behind the low stage, and it was possible to stand or sit around three of its four sides. Attendance was fairly low, probably owing to Modeselektor's concurrent showcase at Metropolis. Montreal duo Sundrips began things with a guitar-and-synth set that recalled a strung-out Emeralds, the guitar fully smudged by an impressive selection of pedals. Arp followed with a kind of reduced version of Sundrips' stage setup, relying less on effects than a focused balance between guitar and vintage Moog, his lines all extremely crisp. I missed Amon Tobin's spectacle, so I might be the only one making this claim, but Arp's set featured the most impressive visuals of the festival. Unlike the gaudy flashiness so prevalent on the dance side of things, his set accompanied a projection of transfixing landscapes — some were lifted from Tarkovsky, and I think there must have been a few from Herzog films as well, all mesmerizingly beautiful and perfectly paired with his languid compositions, largely culled from last year's The Soft Wave LP. The final crescendo merged with seriously blissful imagery: shots of Mediterranean coasts, a man piloting a yacht, people running down sand dunes, a fragmented poem that said something lovely about "letting go." Next, Organ Mood made an unsubtle attempt at mimicking Animal Collective, chanting over their synths and passing out maracas to the crowd, while their friend messily drew on an overhead projector.

Amon Tobin. Photo by Caroline Hayeur
Hype Williams get billed as everything from UK bass to hypnagogic pop, but really they sit closer to a group like Sun City Girls — a cryptic, wholly uncompromising cult act, i.e. you either get it or you don't. Flanked by two slowly dancing girls, a mask-clad D. Blunt handled the beats in the back while Inga Copeland played a synthesizer and sang (through heavy delay) in front. Often maintaining a weeded distance on record, they felt like real love live, incredibly deep and coherent. Shifting from the sweetly droning ambience of "Your Girl Smells Chung When She Wears Dior" into the slow-motion funk of "Rise Up" and the anthemic "Blue Dream" (launched by a Copeland monologue in Russian), the set expertly showcased the phases of their chameleonic sound. Sun Araw closed out the night. The trio have a real ear for spacious grooves, their parts interlocking in a rugged maze of organic and synthetic. At several points their subtle, sluggish shuffle felt redolent of producers like Matthewdavid (with whom they've collaborated) and Ras G. Unlike that Angeleno beats scene, however, Sun Araw are hardly sketchy, and their drawn-out jams sounded like fully realized landscapes.

DeepChord presents Echospace. Photo by Miguel Legault
Friday's Nocturne 03 event, staged at the sizable Metropolis club, featured a live performance from Plastikman as its centerpiece. I arrived around midnight, as DeepChord presents Echospace were launching into their opening set. It was apparent from the moment I walked in that the night was going to be particularly intense — the duo are obviously all about bass, and in anticipation of this, the system was almost oppressively blasting. As a result, their typically pristine compositions sounded muddy, the low-end was imbued with an uncomfortable pummel. Moreover, it's no great secret that Echospace are downers — this is an act that dedicated an album to Michigan winter, after all — and their opening the night hardly stoked fires of excitement. People were excited anyway, though. Richie Hawtin is a megastar, and the place was instantly stiflingly packed, which is to say rock concert wall-to-wall packed, good-luck-dancing packed. Hawtin performed behind a screen, a constant barrage of projected visuals giving way to live video of the producer in action. The sound was quite crisp, but ultimately I am not that diehard about Plastikman and checked out the second room, which was hosting a bunch of Canadian bass producers.

Plastikman. Photo by Miguel Legault

Skinnybones. Photo by Caroline Hayeur
I'm hardly a diehard bass guy either, but the room was approaching platonic ideal in contrast to the headliners' over-the-top spectacle. Skinnybones and XI played homemade material in a significantly quieter space (the sound was quite good, though): lots of chopped up pop samples, heavily swung rhythms, bass drops — we all know the "future garage" drill by now. The crowd was sparse but enthusiastic, steadily growing (perhaps out of frustration) as Plastikman's set went on. To be frank, the main room made me ask myself things like, "Why am I trapped here in this endless horde of bodies?" The second room was a respite, all smiling faces, people actually dancing, plenty of space to find my own corner — a pleasant reminder of why I was there. Eventually I made my way out into the wreckage of Plastikman — the floor was a mess and the atmosphere was appropriately post-apocalyptic — to catch Traversable Wormhole. Adam X was clearly putting a lot in, scrambling back and forth between machines and pausing to make comically intimidating faces at moments of intensity. Unfortunately, the room was unusually bright and the crowd was slow to get into it — slightly understandable after Plastikman's onslaught. Traversable Wormhole is tense, and would have made a lot of sense placed beforehand as a kind of gritty teaser.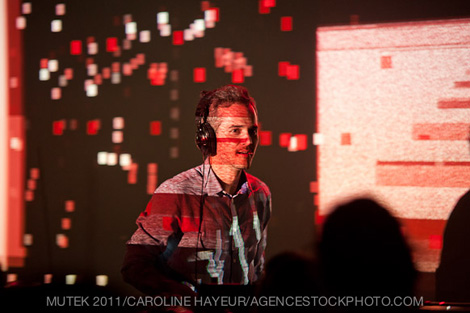 XI. Photo by Caroline Hayeur

Traversable Wormhole. Photo by Miguel Legault
Piknic 1, held at Parc Jean-Drapeau (an island in the St. Lawrence River), promised a markedly mellower lineup. There's hardly a better way to hear Luke Abbott's delirious, sunkissed electronics than under a warm afternoon sun. Abbott's material is fairly laidback, and his set was more tailored to relaxing and milling about than to any actual dancing. Floating Points followed, armed with his E&S rotary mixer, which of course made his stack of records sound pretty amazing. He whipped people into a serious frenzy with an impressive collection of bouncing disco bass lines, as well as some funk and hip-hop odds and ends. As with Abbott, his set was perfectly suited to the venue.

Luke Abbott. Photo by Diego Cupolo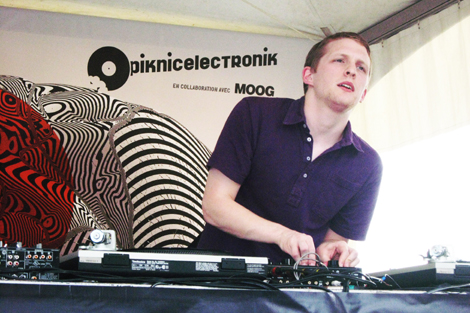 Floating Points. Photo by Andrea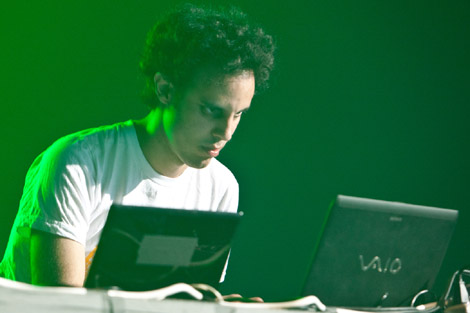 Four Tet. Photo by Miguel Legault
I showed up at Metropolis for Nocturne 4 in the midst of Four Tet's set, which fluctuated between his recent excursions in dance music to more experimental numbers and updated versions of old tracks. The energy sagged a bit when he wasn't playing things like "Love Cry," but generally he was engaging, helped by the sound, which was far less bloated than the night before. Elektro Guzzi were next, turning out one of the festival's highlights. To be honest, the live-band techno thing doesn't usually work for me — many seem to waste their energy trying to replicate machinery, rather than settling for simple tightness. Elektro Guzzi do imitate house and techno but they're also incredibly limber, and part of the excitement of their set was in that looseness and human feeling, and even the anticipation of failure in wondering how long they could stay in locked groove. Around three, James Holden took the stage to close out the night. As much as his set was filled with trancey, Border Community-style progressive house, he did a great job curbing that genre's epic tendencies, keeping things perpetually on the edge of euphoria. The inclusions of Actress' "Maze" and Daphni's "Ye Ye" were both particularly welcome and fitting — trippy, but not without pop appeal. It was light out when it ended around five, but it still seemed to have ended much too early.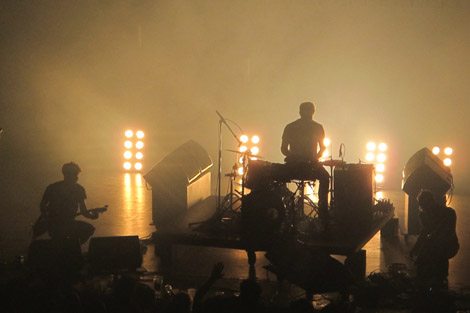 Elektro Guzzi. Photo by Travis Bourque, courtesy of CBC Radio 3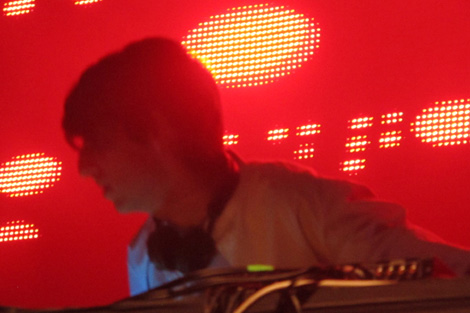 James Holden. Photo by Travis Bourque, courtesy of CBC Radio 3
As in past years, MUTEK was expertly executed and felt like an inherently world-class event. Its success has always sprung from its pairings of fresh younger talent with newer experiments from more established artists. While this was still the case in 2011, it seemed like a disproportionate level of attention was paid to marquee staples like Plastikman and Modeselektor, overshadowing exciting new artists such as Hype Williams and Elektro Guzzi who would've otherwise stolen the show. In fact, it felt like the less well-attended events were also those with the friendliest, most exuberant crowds. It's tough finding a balance between experimentalism and accessibility, so the festival organizers deserve a fair amount of credit for doing it as well as they did. Overall, MUTEK 2011 offered five days of superb, nuanced performances and fulfilled its promise, if not my fantasy line-up.