Having put together Eastern Europe's top avante-garde music festival in Krakow, Unsound Festival founder Mat Schulz took on a new challenge: bringing his festival to NYC. From February 4th through the 14th, across venues and art spaces around the city, the Unsound Festival New York will offer a finely tailored selection of shows, screenings and discussions that are a refreshing respite from more populist dance music-related festivals. As one of Unsound's proud media sponsors, we're offering a run down of the festival with our favorites highlighted.
Thursday, February 4th 2010
Unsound Festival New York: Opening Event
Vladislav Delay + Lillevan (A/V performance) [USA debut]
9:45 pm: Sebastian Meissner + Kwartludium = Solid State Transmitter
[USA debut]
@ Target Free Thursdays, David Rubenstein Atrium at Lincoln Center,
Broadway at 62nd Street, New York, NY
Free / Please come early limited capacity venue

Finland's Vladislav Delay and German video artist Lillevan open Unsound Festival New York with the continuation an ongoing series of electronic music and video improvisations in their first ever U.S. gig together. Experimentalist Sebastian Meissner, well known for his work as Klimek, teams up with Polish new music quartet Kwartludium to perform modern classical interpretations of music from the legendary American punk rock label SST. You've never heard Black Flag or Hüsker Dü like this before.
Friday, February 5th, 2010
Warhol Program
nsi. – live soundtrack to Andy Warhol's "Kiss" [U.S. debut]
Carl Craig – live soundtrack to Andy Warhol's "Blow Job" [world debut]
@ The Film Society of Lincoln Center, Walter Reade Theater,
165 West 65th St, New York, NY
7:30 pm: first screening (nsi. & Carl Craig)
9:30 pm: second screening (nsi. & Carl Craig)
Tickets $25 per screening

In what is sure to be one of the festival's highlights, respected electronic music innovator Carl Craig from Detroit and nsi. (non standard productions aka Tobias. & Max Loderbauer) a Berlin duo renowned for analog-based experiments, perform specially commissioned synth-based soundtracks for rarely screened 1960's Andy Warhol movies "Kiss" and "Blow Job." One night, two performances. Part of a special series of Warhol-related events during Unsound Festival New York. Funded and commissioned by the Goethe-Institut New York and Krakow. Download a free nsi. track here.
++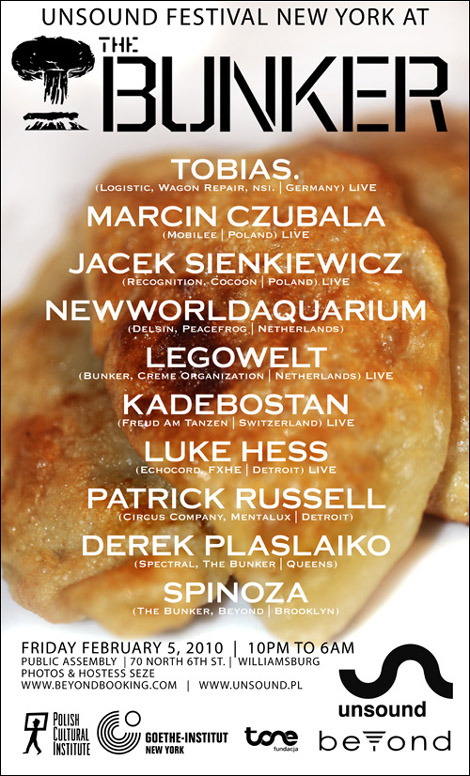 Bunker Unsound Edition 1
Front Room
11:00 pm: Legowelt [live]
12:00 am: Kadebostan [live, U.S. debut]
01:00 am: Jacek Sienkiewicz
03:00 am: Marcin Czubala
05:00 am: Tobias. [live, U.S. solo debut]
Back Room
10:00 pm: Spinoza
11:00 pm: Luke Hess
12:00 am: Newworldaquarium [U.S. debut]
02:00 am: Patrick Russell
04:00 am: Derek Plaslaiko
The Bunker @ Public Assembly, 70 North 6th St, Brooklyn, NY 11211
Tickets: $25 advance, $30 at door

A night of innovative contemporary techno by artists from around the world, both DJing and playing live. Performing live, Legowelt brings his mind bending electro-infused sound, while Germany's Kadebostan bends minimal techno into new shapes and Tobias., fresh from having performed with nsi. earlier in the evening, brings a set of vintage machine-based dancefloor oriented experimentation. Two of Poland's top techno DJs, Jacek Sienkiewicz (Cocoon Recordings/Recognition) and Marcin Czubala (Mobilee), both from Warsaw, make rare stateside appearances, while Newworldaquarium finally sets foot in a U.S. club. Detroit's acclaimed new school of DJs and producers, Luke Hess and Patrick Russell plus Bunker residents Derek Plaslaiko and Spinoza round out the line-up.
Saturday, February 6th, 2010
Warhol Program
Groupshow (Jan Jelinek, Andrew Pekler, Hanno Leichtmann)
perform with Andy Warhol's "Empire" [U.S. debut]
@ Le Poisson Rouge, 158 Bleecker St, New York, NY 10012
Free / 12:00 noon – 8:00 pm
A special free show featuring German electronic music trio Groupshow in an eight-hour long live improvisation to Andy Warhol's film "Empire." Download a free track by Groupshow here.
++
Warhol Program
@ Goethe-Institut Wyoming Building, 5 East 3rd Street, New York, NY 10003
Lillevan's Screen Tests Studio
Free / 2:00 – 3:30 pm
Come get a screen test made by video artist Lillevan who's doing his own take on Andy Warhol's classic Screen Tests. Tests will later be used as VJ material at the Bunker club night on Friday Feb 12th. Afterwards, Lillevan talks about his project Screen Tests, explaining the background of Andy Warhol's original Screen Tests and his own extrapolation on the idea.
The Hidden History Of The Vocoder
Free / 5:00 pm
Music writer Dave Tompkins, author of the forthcoming book "How To Wreck a Nice Beach: The Vocoder From World War II to Hip Hop," presents a history of the Vocoder as it has evolved from military device into a major element in electronic music.
++
A Century of Dance Music
10:30 pm: Ensemble LPR presents music of Ravel & Mussorgsky
12:00 am: Moritz Von Oswald Trio [live, U.S. debut]
01:30 am: Levon Vincent [DJ set]
@ Le Poisson Rouge, 158 Bleecker St, New York, NY 10012
Tickets: $25 advance / Doors open at 10:00 pm

Tonight, legendary producer Moritz Von Oswald unveils his trio featuring Vladislav Delay on drums and Max Loderbauer on electronics in their first ever North American performance. In tribute to Von Oswald, the evening opens with New York City's Ensemble LPR — the flexible house band of the venue (Le) Poisson Rouge, led by LPR's two young founders David Handler (violinist/composer) and Justin Kantor (cellist) along with fellow Manhattan School of Music graduate Orlando Alonso (conductor/pianist). The Ensemble performs new renditions of Ravel's "Bolero" and selections from Mussorgsky's "Pictures at an Exhibition" based on remixes Moritz Von Oswald and Carl Craig assembled in 2008 for the Deutsche Grammophon album Recomposed (released only in Europe). Von Oswald and Craig used original Karajan conducted recordings as the basis of their work. Rounding out the night after Von Oswald's trio will be rising American DJ Levon Vincent who will pay tribute to Von Oswald's continued influence on dance music with his own late-night, dance floor-focused take on dub techno.
Sunday February 7th 2010
Kids Electronic Music Workshop
@ Harvestworks, 596 Broadway, #602, New York, NY 10012
11:00 am – 5:00 pm — $25 all sessions
Electronic music producers will show kids and young adults how to create music using simple technologies, found objects, and their own ingenuity. Each student will walk away with the experience of having performed using their very own inventions, and will be able to take home with them not only the objects created in workshop, but a spirit of collaboration and innovation. Participants in the workshop will perform at Le Poisson Rouge on Wednesday, opening a night of world class experimental music. Presented with Communikey Festival and Harvestworks. NOTE: Registration closed January 29th.
++
Panel Discussions
@ Goethe-Institut Wyoming Building, 5 East 3rd Street, New York, NY 10003
Panel: Music Journalism
Free / 2:00 pm
What does it mean to write well about music, and how should we do it? A panel of working music journalists lead by Andy Battaglia and Simon Reynolds discusses issues related to the art of music-writing, as well as the changing practice of covering music in an increasingly eclectic and diversified world. When so much is available globally, how does one search for the new?
Panel: The Hidden Issues: The Art of the Party
Free / 3:30 pm
A panel discussion explores the hidden challenges involved in producing music events in New York, from small club parties to big concerts. This will include everything from obtaining legal U.S. work permits for international artists to dealing with agents and gatekeepers. Participants involve prominent artists, promoters, and organizers, including Wordless Music's Ronen Givony, Lincoln Center's Bill Bragin, The Bunker's Bryan Kasenic and artist/organizer Jessica Schmitz.
Panel: Who Programs Who
Free / 5:00 pm


How do you create sounds that have never been heard before? What is the connection between music consumption and creation? And how do technology and music making software influence this quest? Do we program machines, or do they program us? Vladislav Delay, Sebastian Meissner, Jacek Sienkiewicz and Ezekiel Honig talk about the process of finding an original voice in electronic music.
++

Eastern Promise
Polish Sound Postcards Exhibition opening
@ Devotion Gallery, 54 Maujer St, Brooklyn, NY 11206
Free / 7:00 pm
During 60's and 70's Polish communism, when vinyl singles were rare, sound postcards became extremely popular. Bearing striking designs, they contained analogue recording engraved in a laminate layer. Sound quality was low, but they meant access to hit songs from the West. In Mat Schulz' and Rui Silva's exhibit, tracks are transferred to mp3s, revealing how recording technology changes over time.
Monday, February 8th, 2010
Kids Electronic Music Workshop
@ Harvestworks, 596 Broadway, #602, New York, NY 10012
4:30 pm – 7:30 pm
$25 all sessions – this is the second session
++
The Delian Mode [NYC debut]
@ Goethe-Institut Wyoming Building, 5 East 3rd Street, New York, NY 10003
6:30 pm / Free

The NYC debut of Kara Blake's 2009 documentary "The Delian Mode" which explores the life and work of electronic music pioneer Delia Derbyshire, the woman behind the distinctive Doctor Who theme music created at the BBC in the early 1980's. The film provides a glimpse into Derbyshire's creative process and supports her slowly growing notoriety as an innovative and influential figure in the history of electronic music.
++
Anticipate label night
08:00 pm: Borne [DJ set]
09:00 pm: Sawako
10:00 pm: Alexander Kaline
11:00 pm: Ezekiel Honig
visuals – Joshua Ott via superDraw
@ Littlefield, 622 Degraw, Brooklyn, NY 11217
8:00 pm — $10 — 21 and over
New York native Ezekiel Honig's 2008 Surfaces of a Broken Marching Band album generated worldwide buzz. Now he's put together a special showcase for his Anticipate label which he describes as an evening of various electro-acoustic pursuits, in both sonic and visual form. Bringing together New York artists along with affiliated friends, expect muted rhythms, textured melodic directions and an experimental bent that warms to the touch.
Tuesday, February 9th, 2010
Kids Electronic Music Workshop
Harvestworks, 596 Broadway, #602, New York, NY 10012
4:30 pm – 7:30 pm
$25 all sessions – this is the third session
++
Electronic Bridge
Zenial [Poland]
Zavoloka [Ukraine]
Bora Yoon [USA]
@ Issue Project Room, 232 3rd St, Brooklyn, NY 11215
Tickets: $15 / Starts at 8.30 pm
This night showcases two artists from Europe's eastern side. Zenial is Lukasz Szalankiewicz, a long-time feature on Poland's experimental and electronic music scene known for his delving deep into drone, ambient sound and harsh noise. Zavoloka (aka Kateryna Zavoloka) experiments with digital and analogue synthesis, unusal rhythms and a deep appreciation for the traditional Ukrainian music around Kiev, Ukraine. A New York mirror to these composers is interdisciplinary practitioner Bora Yoon showcases her unique brand of experimentalism which has received increasing praise from diverse sources like the Wall Street Journal and The Wire.
Wednesday, February 10th, 2010
Panel Discussion
@ The Goethe-Institut Wyoming Building, 5 East 3rd Street, New York, NY 10003
Panel: Rework, Recontextualize, Review
Free / 6:00 pm
This panel looks at how historical avant-garde films have been used in recent music performances. Lee Renaldo and Alan Licht, of Text of Light, a project devoted to putting music to films by Stan Brakhage, meet with Lillevan as well as Hanno Leichtmann and Andrew Pekler of Groupshow, an act involved in Unsound's Warhol series. Moderator: Andrew Lampert (Anthology Film Archives).
++
Silence and Noise – Part 1
08:00 pm: Kids Electronic Music Workshop [live performance]
09:00 pm: Mountains
10:00 pm: Tape
11:00 pm: Radian
12:00 pm: Tim Hecker
@ Le Poisson Rouge, 158 Bleecker St, New York, NY 10012
Tickets: $15 / Doors 7:00 pm / Event at 8:00 pm

Europe meets North America in this event exploring everything from post-rock to field recordings. Opening the night is a special performance from the children from the Unsound Kids Electronic Music workshop (see above for more details). Ambient duo Mountains (aka Brendon Anderegg and Koen Holtkamp) released their third album Choral on Thrill Jockey last year receiving comparisons to both Brian Eno and Fennesz. Stockholm based trio Tape (aka brothers Andreas and Johan Berthling and Tomas Hallonsten) mine a similar territory albeit with their own unique edge that has been compared to the work of Finnish writer Tove Jansson (writer of the wonderful Moomin stories). Experimental Austrian trio Radian (Martin Brandlmayr, Stefan Nemeth and John Norman) explore a terrain between free improvisation, post-rock and electronica that is all their own. They released their fifth album Chimeric late last year on Thrill Jockey. Canadian sound artist Tim Hecker has recorded highly respected "structured ambient" works for a broad range of labels including Kranky, Alien8, Mille Plateaux, Room40, Force Inc, Staalplaat, and Fat Cat.
Thursday, February 11th, 2010
Walking Tour Dream House

Unsound leads a walking tour of minimalist composer La Monte Young's legendary Dream House in Tribeca. A discussion of the installation, in process now for 17 years, will help provide context at the Wyoming Building, followed by an experience of the work on-site, in a loft with plush carpeting, pillows on the floor, and banks of big speakers. Meet @ The Goethe-Institut Wyoming Building @ 6:00 pm.
++
Eastern Promise: The Contemporary Sound World of Poland
Jacaszek
ACME plays the Music of Henryk Górecki
@ Le Poisson Rouge, 158 Bleecker St, New York, NY 10012
Tickets: $15 / Doors 7:00 pm / Event 8:00 pm
A night exploring older and newer forms in Polish contemporary classical music. Opening is New York new music ensemble ACME performing the String Quartet No. 2 ("Quasi Una Fantasia") of Henryk Górecki, the internationally renowned Polish master. In a complementary vein, the young Polish composer Jacaszek, whose 2008 album Treny brought him worldwide attention, combines electronics with strings, finding connections with Górecki's work, as well as the likes of Zbigniew Preisner and Arvo Pärt. For this performance, Jacaszek will be joined by the cellist and violinsts of ACME. Co-presented by the Wordless Music Series.
++
Brooklyn Electronic Music Showcase
09:00 pm: Treehouse DJs, Raspberry Jones & Treeboy
10:00 pm: Blondes [live]
11:00 pm: Neurotic Drum Band [decks & fx's set]
12:00 pm: Morgan Geist [DJ set]
@ Littlefield, 622 Degraw, Brooklyn, NY 11217
Tickets $5 w/RSVP to treehousebklyn@gmail.com / $8 at the door.

Rest assured, Brooklyn is more than just indie bands, so the monthly Treehouse party accordinglky showcases live and DJ sets from three BK-based acts who make the whole city dance. New kids Blondes offer their analog driven take on Balearic grooves; Neurotic Drum Band (aka John Selway & Elliot Taub) and their mix of classic house, Italo and techno; and Morgan Geist, one half of the seminal Metro Area duo who will be exploring the city's history in records.
Friday February 12th 2010
Silence and Noise – Part 2
Xavier Van Wersch
David Daniell
Nadja
@ Issue Project Room, 232 3rd St, Brooklyn, NY 11215
Tickets: $15 / Starts at 8:00 pm
David Daniell from Chicago has collaborated with the likes of Thurston Moore, Loren Connors, Douglas McCombs (Tortoise) and Christian Fennesz. Tonight Daniell will employ guitar and electronics to explore the vast terrains of the contemporary dronescape. Like a modern Frankenstein, Xavier Van Wersch constructs custom sound making machinery from parts of deceased equipment and disfunctional devices. These custom machines form the basis of his organic approach to the field of electronic music. Canadian duo Nadja (Aidan Baker & Leah Buckareff) create a wall of noise that has been described as ambient doom and shoe-gazer metal.
++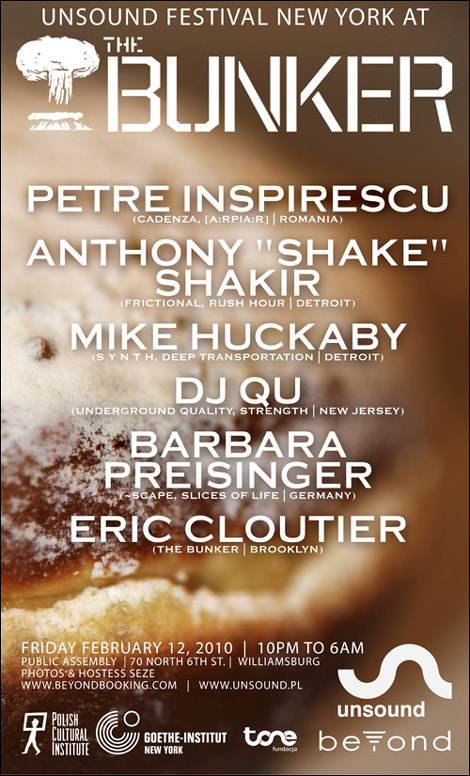 Bunker Unsound Edition 2
Front Room
10:00 pm: Barbara Preisinger
01:00 am: Mike Huckaby
03:00 am: Anthony "Shake" Shakir
Back Room
10:00 pm: Eric Cloutier
01:00 am: DJ Qu
03:00 am: Petre Inspirescu [U.S. debut]
Visuals: Lillevan's Screen Tests
@ The Bunker @ Public Assembly, 70 North 6th St, Brooklyn, NY 11211
Tickets: $25 advance, $30 at door / 21 + only

This night's great line-up includes the U.S. debut of new school Romanian Petre Inspirescu who is now well known worldwide for his recordings on Luciano's Cadenza label and ~scape recording artist Barbara Preisinger who'll show us how the Germans do it. But the core here is American talent — Bunker minimalist Eric Cloutier will open, followed by the under-recognized rising New Jersey talent DJ Qu who follows a path all his own despite being associated with Jus-Ed, Levon Vincent and Fred P as part of the Underground Quality crew. Mike Huckaby is currently much in demand as a remixer for his takes on dub techno and house, while Anthony "Shake" Shakir, who has been releasing music since the late 80s when he was amongst the first wave of Detroit techno producers, has just released his first ever album, Frictionalism 1994-2009 on Rush Hour. Shakir rarely performs outside Detroit so it's especially a treat to catch this quirky and totally unique artist in action. German video artist Lillevan will screen his Andy Warhol inspired Screen Tests shot around New York during Unsound Festival New York 2010.
Saturday, February 13th, 2010
Panel Discussions
@ Goethe-Institut Wyoming Building, 5 East 3rd Street, New York, NY 10003
Panel: Bass Mutations
Free / 3:30 pm
How have bass-heavy forms of music shifted in recent years? Where did the genre called dubstep come from—and where is it leading? How does it differ in New York, London, Berlin, Minsk and Bucharest? Writer Mitch Strashnov (URB, Electrodrone) will lead a discussion with artists from the Bass Mutations club night lineup.
Panel: Mapping Sound in Art
Free / 5:00 pm
In America, sound art remains a fluid catch all term for a range of acoustic activities. Conversely, in Europe, sound as art occupies narrower practical methods and concepts. Kabir Carter leads a discussion on the role of sound in the arts with curator/writer Regine Basha, philosopher, writer and co-editor of Audio Culture: Readings in Modern Music (Continuum, 2004), Christoph Cox, composer/artist Michael J. Schumacher and Swedish installation artist Asa Stjerna.
Dialogue: Vince Aletti
Free / 6:30 pm

Storied disco critic Vince Aletti, one of the first to cover disco during its 1970;s heyday, talks about the history of the formative dance music as it happened in New York. Discussion focuses on Aletti's recent anthology The Disco Files: 1973-78, as well as his memories of the scene as he saw it firsthand. In discussion with music journalist Andy Beta (Spin, Village Voice).
++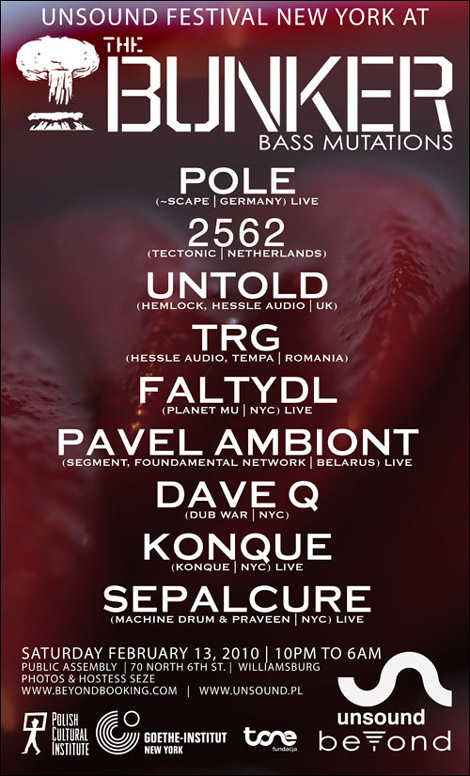 Bass Mutations
Front Room
10:00 pm: Dave Q
12:00 pm: TRG
01.30 am: Untold [U.S. debut]
03:00 am: 2562
Back Room
10:00 pm: Pavel Ambiont [U.S. debut]
12:00 pm: Sepalcure
01:00 am: Konque [live]
02:00 am: Pole [live]
03:00 am: Falty DL [live]
@ The Bunker @ Public Assembly, 70 North 6th St, Brooklyn, NY 11211
Tickets: $25 advance, $30 at door / 21 + only

Bass music and its many mutations from dubstep to far beyond will be explored in this bold club night. Perhaps traveling the farthest for Unsound is Belarus' highly prolific dub experimenter Pavel Ambiont, he opens the night alongside Dave Q resident DJ from the much loved Dub War party. Romanian TRG proves there's more to his native land than a great film movement with his own brand of bass attacks. New Yorkers Falty DL as well as Sepalcure and Konque (aka Sasha Kaline, Eddie Krilov and David Last) show Americans have much to offer to the bass movement as well. Pole is a long standing innovator in dub techniques; 2562 is one of Europe's rising stars both in house/techno and dubstep. Untold will be making his much anticipated U.S. debut this night. Prepare for the bass!
Sunday, February 14th, 2010
Panel Discussions
@ The Goethe-Institut Wyoming Building, 5 East 3rd Street, New York, NY 10003
Panel: Connections
Free / 3:30 pm
Presentation of Eastern Promise emerging from ideas integral to Unsound Festival and its international projects in New York, Poland and Eastern Europe. This includes "Connections," which linked Belarus and Western European electronic musicians. With "Connections" co-ordinators Stefan Betke aka Pole (~scape) and Mat Schulz (Unsound), as well as Pavel Ambiont (Belarus), Zenial (Poland) and Petre Inspirescu (Romania).
Dialogue: Morton Subotnick
Free / 5:00 pm

A talk with electronic-music pioneer Morton Subotnick, whose career goes back to the 1960s and includes some of the most important early work with modular synthesizers in the popular realm. Anecdotal talk focuses on Subotnick's work, both as it plays into history and as it has evolved into the present. In discussion with music journalist Andy Battaglia (A.V. Club, Pitchfork).
++
Official Unsound Festival Closing Party
Queen of Hearts Valentine's Day Party
Mike Servito (Ghostly International)
+ two surprise guests TBA
Well-known electronic music DJs eager to play different kinds of sets composed of music from outside of the respective genres. The intimate venue will be decorated in a sea of hearts, and guests are invited to dress up in festive outfits of red and white. Come help close Unsound Festival New York with a warm, heartfelt event.
@ Rose, 345 Grand Street, Brooklyn, NY 11211
8.00 pm / Free
Presented with Kiss & Tell