Photo by Katrin Schaefer
Each year at the end of May, thousands of somber looking people wearing muted tones descend on Montreal for Mutek, a festival celebrating electronic music performance. It's one of the most important electronic music festivals in the world, and along with Movement, one of the two biggest in North America. In some respects, Mutek offers a counterpoint to Movement. Kicking off only a week after the Detroit festival ends, Mutek focuses on electronic performance of all kinds, including the avant-garde, while Movement is primarily a festival for dance music. Furthermore, while Movement is characterized by swarms of DJs at official and unofficial parties, Mutek encourages artists to perform live rather than DJ. This makes for a rather unique experience for electronic music fans who rarely get to see and hear their favorite artists playing their own songs. Which isn't to say the festival looks down on DJing as an art form. Rather, Mutek strives to offer a panoramic view of everything going on in electronic music today, from ambient drones to schaffel beats and everything in between. For their 10th anniversary, Mutek pulled out all the stops and put on a truly exceptional festival, affirming their position as one of the best music festivals worldwide.

SND. Photo by Sherry Kennedy
I arrived in Montreal on Friday night, having already missed three days of performances, including Appleblim, Ezekiel Honig, and worst of all, Gas. (Painful, but who can afford five nights in a hotel these days?). After seven hours in the car, I was ready to get loose, but my weekend began on a very experimental note: A/Visions 3, with SND, Nsi. and Artificiel, in an intimate, old fashioned theater called the Monument National. It was hard to get too cozy with the likes of SND, a very Raster-Noton outfit with ultra-clean synth sounds that gimp along awkwardly, falling into a glitchy groove every now and then. Their performance was good, but would have benefited from a dance floor; to a seated audience, their lapses in and out of rhythm had much less impact than they should have.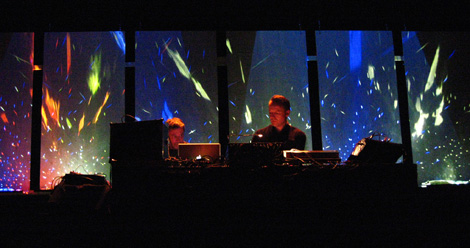 Nsi. Photo by Andrea
Nsi., on the other hand, were much better suited to the venue. Throughout their hour-long set, Tobias Freund and Max Loderbauer led us through a vivid sequence of inky soundscapes that were equal parts soothing and unsettling. The pair had a very good sense of pace; whenever the audience began to zone out, they would jar us back into attention, once with some of the clacky piano meanderings a la Plays Non Standards, and later with a pair of truly creepy vocal samples ("JA!" and "nein…"). It was hard to tell exactly what they were doing, though from the balcony I could see Max playing piano and Tobias holding his hand beneath a very small, rapidly pulsing light. The entire performance was elegantly back-lit with an installation by Jimmy Lakatos, consisting (from what I could tell) of little more than tin foil, canvas and light. The result was something very distant and mysterious, and perfectly compatible with Nsi.'s set. I found myself dozing a bit during Nsi., so rather than sticking for Artificiel or trying out the good-but-not-great lineup of that night's Nocturne event (Mike Shannon, Ernesto Ferreyra, Ghislain Poirier, etc.), I opted for poutine, blonde beer and bed. At festivals like this, its important to conserve your own energy, and Saturday's lineup promised to be wonderfully exhausting.

Robert Henke's "Atom." Photo by Andrea
The day started with Robert Henke's "Atom," an event I'd been anticipating for quite some time. "Atom" is, in short, an audio-visual performance involving 64 remote-controlled balloons that move and flicker in patterns, with live music by Henke (member of Monolake and one of Ableton's developers). The performance took place in a pitch-dark room in the back of the theater, with the audience all sitting cross legged on the floor while the balloons drifted and flashed over our heads. The music was very experimental at first — maybe closer to rhythmic sound art — with all of the meticulous attention to detail one would expect from Henke (some unbelievably clear metallic clicks toward the beginning stand out in my memory). The balloons moved under the control of Christopher Bauder, the visual artist who produces "Atom" with Henke, shifting back and forth between nebulous swarms and more architectural configurations, always flickering in patterns that mirrored Henke's music. A bass drum appeared about thirty minutes into the performance, and was followed by a very stark and heavy Monolake-eque techno track.
For this "scene," the balloons formed a pyramid consisting of several wobbly rows, with each row flashing in correspondence to a different loop in Henke's track. This was the best part of the performance, though virtually every moment seemed to hold the crowd agog. Of the dozen or so experimental performances I've seen, this one most easily held the audience's attention from beginning to end. Later, the room filled with red light and the balloons continued to bob and flicker, forming more of a static art installation for members of the audience to approach and inspect. Henke and Bauder stuck around for an informal Q&A session, during which I heard Henke say, "Yeah, I pretty much used Ableton for the entire thing." As I left, someone asked for his autograph.
Outside the Theatre Maissoneuve, the wind was up and the sun was bright — good news for the Piknik Electronik, which until then I had only attended on gray, rainy days. Located in Parc Jean-Drapeau, the Piknics are possibly Mutek's most prized events, and understandably so: The setting is truly exceptional, with an amazing view of the Montreal waterfront and a strange metal sculpture encasing the dance floor. The park itself is accessible to festival goers as well; anyone looking for a break can wander down paths to secluded areas with picnic tables, waterfalls, and even a few woodchucks scuttling around. The only problem is the weather. At last year's Mutek, Piknic 1 got rained out, and Piknic 2 went on as planned despite highly mediocre conditions. This only made it more exciting to be headed to Parc Jean-Drapeau on such a bright and blustery afternoon — definitely the best weather I'd seen in Montreal. Brendon Moeller was giving off good vibes when I got there, playing a live set full of bouncy tracks like "Electricity" while a sunglassed crowd happily grooved. Thomas Fehlmann took over from there, and stole the afternoon with a live set of truly epic techno that sounded amazing under the sun and blue skies. His jacking schaffel beats and euphoric chords weren't always my style exactly, but there was no denying that he got the crowd more amped than anyone else that day.

Trus'me. Photo by Matt Cheetham
This made for a slightly awkward transition into Trus'me's live/DJ set, but it was only a minute or two before the crowd was swaying to the slow and baggy beats turned out by Prime Numbers' boss. His live set mixed samples and motifs from nearly all of his own productions, most notably "W.A.R." and a few things from other Prime Numbers artists, like Linkwood's "RIP." It was a great live set, especially for those of us who've gotten so much mileage out of "Working Nights," his 2007 album (I was particularly pleased to hear a few samples from Jackie Brown). But somehow he seemed eager to switch to the decks, and things picked up when he finally did. His set was heavy, loose and lethargic, and did a great job of easing the now-tipsy audience into a tawny dusk.
Sometime during Trus'me's set, I spotted Villalobos and Zip leaning against a rail and looking out over the crowd. Ricardo was wearing a nauseatingly busy zip-up that probably cost him five or six hundred euro, and was gleefully chatting up a group of fans. One young couple asked if he'd like to smoke a joint with them, to which he replied, "Ahh, I already said I would be smoking with some guys over there… but in general I mean, ja, of course… always!" The Mole came on around 7, and though it seemed like a lot of people were won over by his DJ/live set, I found it a bit sloppy and uninspired. The tracks were good, but the beats were only OK — I never got the feeling of being forced to dance, which Trus'me and Thomas Fehlmann had both achieved. Nonetheless, it was great to hear "Baby, You're The One" in such an appropriately sunny setting.

Alva Noto. Photo by Landon Speers
Next up was A/V+ at SAT, another experimental event, this time consisting entirely of Raster-Noton acts. I got there in time to hear Atom TM finish his set, during which I sat drinking beer on a surrealistically over-sized picnic table. He sounded pretty good, but an afternoon under the sun had left me feeling languid– I would need a little more recuperation time before I could enjoy such a glitchy affair. Fortunately, I was able to drag myself over to the stage for Alva Noto, someone I've enjoyed seeing live in the past. Like many Raster-Noton acts, he does an excellent job of making his music engaging in a live situation (which might seem hard to imagine after hearing his recent Xeroxx albums). He works the crowd with the same sleights of hand a DJ might use — deceiving everyone into thinking the bass has already dropped and then smothering us with low frequencies, or turning an awkwardly mechanical glitch sequence into an almost-funky groove by use of a single hand clap. His visuals were very original: behind him, a video screen displayed what looked like a map of his own audio-visual set up, in which various spectrographs jumped and shifted with the music. After a while, the "camera" would temporarily zoom into one section of the map, so that after a while each new song was characterized by a different spectrograph. Alva Noto himself was drenched in the light of the video projector, which gave him a fittingly creepy persona.

Tobias. Photo by Matt Cheetham
After a brief wink which turned out to be a rather long wink, I finally found myself back at Metropolis sometime around 2 am. Word had it that Matthew Johnson and Dandy Jack tore it up with their dual live set, but I missed them by a hair, arriving just as Tobias. was warming up. Upon entering the main room of Metropolis, I was immediately blown away by the stage lighting: Tobias. stood poised in the center of what looked like a fluorescent blue vortex, with a video screen behind him displaying a three dimensional geometric plain. I made my way onto the large dance floor while the crowd shifted awkwardly to "Go," which in this context, served as something like an extended break down. Tobias. looked exactly as he had during Nsi.'s performance the night before — handsome, with slicked back hair, a dark polo shirt, and the posture of a man 100% in control. (Incidentally, I heard he was having technical difficulties for much of the set, but at the time I was none the wiser.) Sooner or later a bass drum finally kicked, and from there Tobias. slipped through a long medley of his best singles, including "Street Knowledge," "I Can't Fight The Feeling" (with a much heavier beat than on record), and "Clapper," whose huge and menacing vibe sounded perfectly appropriate on such a massive dance floor. He finished with a few hard and reduced tracks I didn't recognize, one of which rode an undulating bass line that everyone on the dance floor could feel in their stomachs. He ended up being my favorite act of the night.

Carl Craig. Photo by Andrea
Carl Craig took the helm at 3 am, and quite ostentatiously so: the first five minutes of his set were modern classical music that started out minimal and swelled into an absurd crescendo before the bass finally dropped. Personally, I appreciated the nod to his recent work with Moritz von Oswald, and in general I think Carl Craig can pull off this kind of showmanship, but I know some people found his intro pretentious and overblown. Either way, it set the stage for several hours of hard, monolithic techno, during which the visual display became absolutely eye-popping. Craig has a real knack for breakdowns — it seems he has some kind of trick where, a measure or so after the beat drops, a swarm of new sounds rush in out of nowhere. He pulled this one at least several times that night, and the crowd went completely nuts every time. The only track I recognized during his set was Len Faki's new one, "BX 3," which sounds like basically all the other songs Craig played that night. Sometime around 5 am, the mammoth energy level still hadn't dropped, and I decided to call it an early night (by techno standards) and rest up for the weekend's most anticipated event: a seven hour back-to-back DJ set by Ricardo Villalobos and Zip at Piknic 2.
As I headed to Parc Jean-Drapeau on Sunday afternoon, the weather was good but the forecast was grim: Rain was predicted to begin sometime around 4 pm and continue throughout the night, with temperatures dipping as low as 49 degrees Fahrenheit (about 9.5 degrees Celsius). Metropolis had been reserved in case of rain, and the weather forecast probably would have convinced some other festival promoter to move the event there, but Mutek decided to roll the dice and have the party outdoors, on a windy island, with a dance floor only a dozen yards from the gusty waterfront.
At 3 pm the Piknic was packed. Zip and Villalobos were getting into some very bouncy, very minimal tech-house, and the crowd was eating it up. This was the poppiest part of their set; later in the afternoon and evening, they would get into long, trippy techno and house records, but for now it was diva vocals galore. The two played off each other just as well as I'd heard: Zip favored moodier, more melodic tracks, while Villalobos focused on extra-funky house, always dropping the beat a moment sooner or later than expected. Villalobos always knew exactly how to build on Zip's rhythms, so the really jacking moments always seemed to occur a minute or so after Villalobos took the helm.

Ricardo Villalobos and Zip. Photo by Matt Cheetham
The rain started right on cue around 4, but the crowd was unperturbed. More and more people showed up, and soon the dance floor was more crowded than I'd seen it at any Piknic. But after a while, the conditions got really miserable. People were visibly shivering, and some of the sound was getting lost in the cruel wet gusts repeatedly tearing through the crowd.
Everyone continued to be good sports, including the DJs: at one point, Villalobos put his palms up in a "what can you do?" gesture as one of his records seemed to sing "We're OK… under the rain…" Nonetheless, I soon realized I wouldn't make it for the whole afternoon like this, so I decided to take some drastic measures. I dropped $30 on an extra hooded sweatshirt, $7.50 on a double scotch, and left the dance floor to seek refuge under a canopy of leaves near a small pond. As the ripples increased on the pond before me, I wondered if (and hoped that) the party would be moved to Metropolis. I was admittedly in despair — it seemed ridiculous that something I'd been looking forward to for months would be spoiled by such avoidable circumstances. But the pond before me soon became glassy, and the sky went from gray to white. Encouraged by the whiskey and the muffled booms coming from beyond the treeline, I ventured back to the cold, wet dance floor.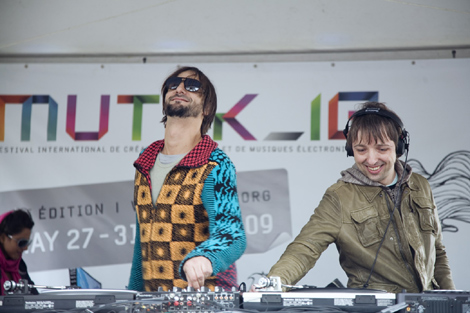 Ricardo Villalobos and Zip. Photo by Matt Cheetham
By now the party was really packed, and the energy of the music was way up. Everyone was jacking in spite of the weather, including the girls serving drinks and making crepes at the bar. Pot smoke swirled through the crowd almost constantly, and I saw at least several sets of massive pupils. I suppose it makes sense that Quebecers would have a high tolerance for bad weather, but I was still amazed at the crowd's determination to keep the party going. (A local told me later that a very popular edition of the Piknik Electronic occurs in the dead of winter, on a bed of snow, with everyone dancing in subzero temperatures.)

Mutek under sunlight. Photo by Katrin Schaefer
And sometime around 5:30, the tipping point finally came. Sunlight breached through the clouds during an extended break down, and a current passed through the audience. People pulled their hoods back and craned their necks around to see their newly amber-lit environment, while a spree of whistles peeled through the air. Someone threw a pair of panties onto the stage, and Villalobos laughed as he draped them around Zip's neck. Still laughing, he sauntered into the orange light at the turn tables, carelessly twisted a knob, and dropped the first truly explosive beat of the day, to hail of ecstatic cheers. From then on, the front of the dance floor was so packed it almost felt like a punk show — dense mass of bodies all bouncing and bumping to the music.
The rain made a brief encore, but hardly anyone seemed to notice. DJ Sneak showed up at one point, doughy and gray-skinned as ever, smoking a blunt and busting out his Case Logic. But for whatever reason, Zip and Villalobos didn't seem too keen on the idea of him getting on the decks, so Sneak just hung out while the three of them shared his blunt. By sunset, the weather had completely cleared, leaving a light purple sky as the backdrop for Zip and Villalobos' final tracks, many of which were beatless and very trippy, and played out while the duo collapsed on a couch in the back of the DJ tent. For the final transitions, their heads would pop up from behind the turntables, covered in rascally grins, and finally Villalobos finished the set while completely hidden behind the decks — only his right hand was visible as it tweaked the mixer.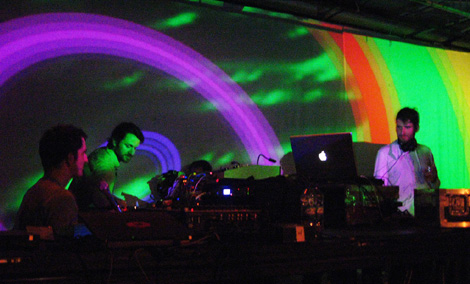 Modern Deep Left Quartet. Photo by Andrea
I swung by Nocturne 5 that night to catch sets by Stephen Beaupré and Akufen, neither of whom were terribly impressive, and left during Modern Deep Left Quartet (essentially Cobblestone Jazz plus The Mole.) Villalobos and Zip had been the climax to my weekend, and left me feeling extremely satisfied and extremely tuckered out. Some spotty weather aside, I couldn't have been happier with the festival, and like all great techno events, this one left me happily buzzing for days to come.