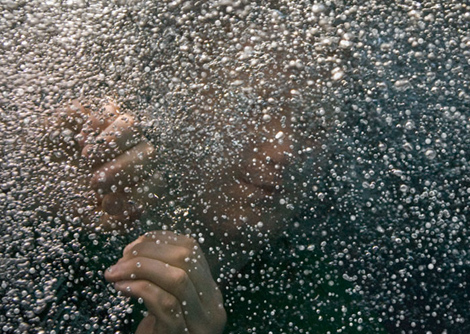 Photo by Barbara Cole
[Macro]
To Italo disco and Hi-NRG heads, Patrick Cowley will always be revered for his definitive remixes of "I Feel Love" and CBS favorite "Hills of Kathmandu," as well as megahits such as "Menergy" or Sylvester's "You Make Me Feel (Mighty Real)." Despite this cult status, Patrick Cowley's music hasn't received the critical acclaim afforded to a certain other disco auteur. The reasons for this are quite apparent; while Cowley and Arthur Russell's back stories are superficially similar (experimental backgrounds, disco and Larry Levan, tragically young AIDS victims), their music is not. Cowley's music seems too epic, too gay, too flamboyant, or even too "disco" for hipster appropriation; I mean, you've seen your uncle dance to "Do You Wanna Funk" at a wedding, right? All that may be set to change now that the good people at Macro have unearthed Cowley's incredible, late '70s new wave project, Catholic, made with Indoor Life singer Jorge Socarras.
Audio clip: Adobe Flash Player (version 9 or above) is required to play this audio clip. Download the latest version here. You also need to have JavaScript enabled in your browser.
Nothing quite prepares you for how downright weird this sounds next to Cowley's more mainstream offerings, certainly the reason why this was turned down by the record company at the time. DJ Bobby Viteritti attests Cowley was initially averse to the new wave sound before realizing its possibilities after a visit to club Trocadero Transfer, where Viteritti was weaving hits such as Blondie's "Call Me" in and out of disco. However,Catholic sounds far from the work of a charlatan casting around for whatever is hip. The influences are very apparent — Devo, Kraftwerk, Roxy Music, minimal wave — but what shines through most strongly is Cowley's talent for arrangements and songwriting. Socarras throughout maintains the kind of creepy, mannered pose that Bryan Ferry mastered so well for "In Every Dream Home A Heartache."
This is most apparent on "You Laugh At My Face" where the titular phrase is intoned over and over, until it's hard to hear whether the protagonist has more contempt for his carping assailants or the other way around. "Robot Children (Do You Love Your)" is similarly sneering, marrying a one night bass line and videogame effects to an invective-flecked monologue that mocks, "You once were into disco / but now you're into rock / you lived in San Fransisco / but now you're in New York." Some of the music is frighteningly current. "I'll Come See You" is a spooky incantation that could happily land on a Mordant Music compilation. Had it not been so pristinely restored by Stefan Goldmann, "Burn Brighter Flame" could probably pass as a gloomier older brother to Nite Jewel's Good Evening. Still, Catholic maintains its period trappings for the most part, and it wouldn't be a synthy new wave album without at least a token science fiction song. "Soon" is Catholic's adherence to that unwritten rule, but thankfully transcends the somewhat schlocky subject matter with Socarras' arch delivery and some genuinely extraterrestrial pulses. "Cars Collide" is some kind of JG Ballard inspired punk automotive eroticism, while "I Never Want To Fall In Love" rides a Buzzcocks riff with noticeably more tart lyrics.
Audio clip: Adobe Flash Player (version 9 or above) is required to play this audio clip. Download the latest version here. You also need to have JavaScript enabled in your browser.
Every song on Catholic is genuinely thrilling. Macro's description of it as proto-techno, while strictly accurate, doesn't do justice to its diversity and scope (closing song "Hurdy Gurdy Man" re-imagines fingers-in-ear folksingers on a day out to the seaside with stoned, giggly vintage synth nerds). While this astonishing rediscovery is unlikely to prompt Soul Jazz retrospectives, it ties in well with recent rekindlings of interest in minimal synth music (the new Louderbach album and the Minimal Wave record label being but two examples) and should also prove to be a gateway drug for a wider audience to Cowley's back catalog.