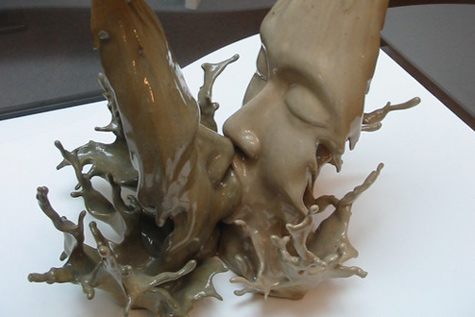 Matthew Chicoine, aka Recloose, would be hard enough to pin down even if he hadn't recently upped sticks and moved to a beautiful coastal hamlet in New Zealand. His famed "demo-on-rye" entry into the world of dance music certainly would have put him on the map even if he made average, interchangeable music. I say hard to pin down not because his music lacks style, but rather Chicoine has the confidence to explore, seemingly guided by an "anything goes, so long as it goes" mantra. Indeed, many Recloose records project the kind of confidence that comes from an almost self-conscious sense of style; I wouldn't be surprised if Chicoine is the kind of man who wears a hat [He's right -Ed]. This confidence has lead to moments of genius and missteps both, but you get the feeling that the genius (like the recent "Maui's Lament") couldn't come without the occasional missed mark.
His latest album, Perfect Timing is definitely representative of this good-with-the-bad aspect of Chicoine's music, but, like almost everything he touches, it is well worth putting up with a few moments played too fast and loose. The lovely-voiced, probably lovely-personalitied Rachel Fraser is the guest vocalist who bookends the album. Her smooth, coffee flavored voice is the perfect antidote to the adventures in down-tempo, funked-out beats elsewhere. "Catch a Leaf" is the perfectly gauged, insistent album opener with a jaunty modern R&B feel. "Solomon's Alive" features scat singing by Marcelo Pretto and what sounds like an African childrens' choir, as well as a range of collaborative musicians making terrific jazzy, bluesy, funk.
Audio clip: Adobe Flash Player (version 9 or above) is required to play this audio clip. Download the latest version here. You also need to have JavaScript enabled in your browser.
The biggest group effort, though, is "Deeper Waters" which credits nine other musicians including "Fat Freddy's Drop" vocalist Joe Dukie. "Deeper Waters" is chilled and a little blissed up; it's dribbling current of soul funk makes it the album's standout track. "Robop" is more purely electronic, although, like much else here, it clearly owes a debt to old soul records. Something about the way all the jive of soul records is transmitted in squiggly synth lines points to the brilliance on display here, and the same holds true for "Can It Be." Indeed, everything from 80's panache to dreamy techno obfuscation runs through the veins of Perfect Timing, all stamped with Chicoine's distinctive artistic voice.
Audio clip: Adobe Flash Player (version 9 or above) is required to play this audio clip. Download the latest version here. You also need to have JavaScript enabled in your browser.
However, a few tracks don't quite do it for me: "Emotional Funk," for instance, is a touch too strung out for its own good, and winds up slightly grating on the ears. But there's not too much point in quibbling with such a singularly individualistic effort as this album. There is so much warmth, life and personality in the whole of this CD that it demands to be heard out loud, with friends, late. It's just the thing to get me out of my Sennheisers and wiggling around the room to the sound of my crappy speakers. And that's definitely a sign of something worth hanging on to.