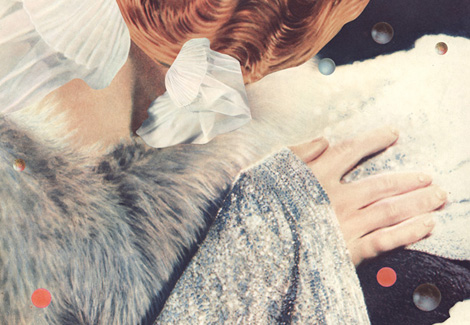 Artwork by Benbo George
Rekordah's Astro:Dynamics label has thus far been the UK's outpost for the kind of scatterbrained, hip-hop-informed beat music most often associated with America's West Coast, but it hasn't quite found its niche yet. Its debut eponymous compilation was almost too adventurous for its own good, a sprawl that was exciting yet overwhelming. Scottish producer Samoyed's solo debut for the label also marks its first full-fledged 12″ release after some digital EPs, a 7″, and a stunning cassette shared between Bristol producers Vessel and El Kid; but Spit makes a strong case for where the label could go in the future. The EP's title track is a Mount Kimbie-style pastoral landscape sketched out in fuzzy brushstrokes of static and the artifically elongated strum of string instruments. Gentle finger snaps take the place of the usual boom-bap and the producer's own vocals coo gently over the track: it's innocuous and meek, but the interplay of sighing melodies is just as affecting as any overdriven drum pattern.
Audio clip: Adobe Flash Player (version 9 or above) is required to play this audio clip. Download the latest version here. You also need to have JavaScript enabled in your browser.
Spit's other tracks wander around in the same plush yet decaying urban meadow, though they're more grounded with earthy rhythms. "Malamute" builds itself around a monotonously pulsating chime, enshrining Samoyed's vocals in an echo chamber of coldly resonant metal. They're suspended over a breathtakingly empty vista of wax and wane until clacking percussion barges in, but even it is folded under the soft filter of half-open eyes. The same can't be said for "Maybe Yes," where the EP's hardest-hitting percussion trips over itself, dragging the melodies grudgingly along with it until they overtake the track and gently ebb and bubble into silence. A self-consciously unconventional producer like Lukid seems an ideal candidate to remix the track, and he tries to rearrange the drums into something a little more structurally recognizable, fashioning one of his trademark bizarro-house jams in the process. Samoyed's debut EP is, like the label that plays host to it, charmingly inconspicuous and even shy, but look closely enough and there's an ecosystem of fascinating, nearly microscopic detail lying below the surface. It doesn't sound like much at first, but play Spit loud — or better yet on headphones — and lose yourself in a world that sounds like the quiet storm of producers like Klaus and Airhead taken beyond their logical extremes. It's an interesting place to be.